Anche i migliori sbagliano, ed è questo un caso che riguarda Game of Thrones. I fan hanno parlato e dichiarato che l'episodio della settima stagione "Beyond The Wall" è stato il peggior episodio della penultima stagione della Serie Tv. Un episodio controverso che ha portato i "magnifici sette" capitanati da Jon Snow oltre la Barriera. Tuttavia, questa ultima stagione di Game of Thrones, nel complesso, è classificata tra le migliori. I fan del Trono di Spade sono stati invitati a votare il loro peggior momento della settima stagione.
Le scelte includevano Samwell Tarly nell'intento di curare il morbo grigio e il viaggio di Euron Greyjoy. La scelta più popolare sembra essere il sesto episodio della settima stagione. Altre opzioni includevano la capacità del Re del Notte di evocare catene giganti dal nulla. Altre ancora mettevo in luce la super velocità di Gendry. Ma se ci pensiamo un attimo questo è stato uno dei più ambiziosi episodi di Game of Thrones fino ad oggi. Arya e Sansa cercano di venire a capo riguardo la questione della lettera di Robb, che porterà successivamente a smascherare la trappola di Dito Corto. Ma non solo, un orso dagli occhi blu uccide Thoros di Myr e abbiamo un primo accenno dell'intesa tra Jon e Daenerys.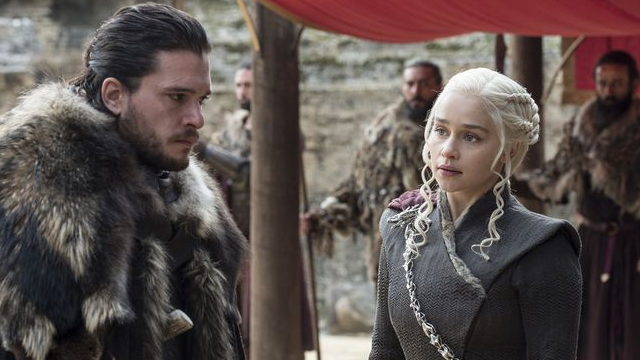 Come siamo stati abituati, il penultimo episodio di Game of Thrones è sempre stato quello che ha racchiuso tutti i colpi di scena della Serie Tv. Questa stagione contava solo sette episodi e Beyond The Wall ha dovuto competere con episodi come Blackwater e The Rains of Castamere, che hanno fatto da trampolino di lancio per il finale di stagione. Non dimentichiamo che alla fine di questo sesto episodio scopriamo che in realtà Vyserion non è morto, ma diventerà un drago di ghiaccio.
Siete d'accordo con questo giudizio?