Eccoci al terzo appuntamento della rubrica i #DeliridiSpade. Mai come questa settimana scritta con il boccetto di Xanax accanto al telecomando di Sky. Sì, perché anche se questo episodio di Game of Thrones (qui la recensione) è di una bellezza incredibile, fa un uso delle musiche magistrale e ci ha fatto rovinare il bracciolo del divano a causa delle unghie conficcateci dentro per 82 minuti, delle cose per cui delirare ci sono comunque.
Partiamo dal principio, dunque!
Come si sono resi conto in tanti, dopo circa mezz'ora dall'inizio, a causa del budget dimezzato per colpa dei soldi spesi per le lezioni di volo di Jon Snow nel primo episodio, la location di questa puntata si è spostata dall'Irlanda del Nord alla Bassa Padana, così da poter risparmiare quattro spicci e non dover ricreare con la CGI la nebbia finta. Si apre l'episodio con i nostri eroi schierati ai loro posti, fuori al freddo e al buio, molto buio. Tanto buio…
C'è chi ha perso quattro diottrie nel tentativo di vedere bene l'8×03 di Game of Thrones.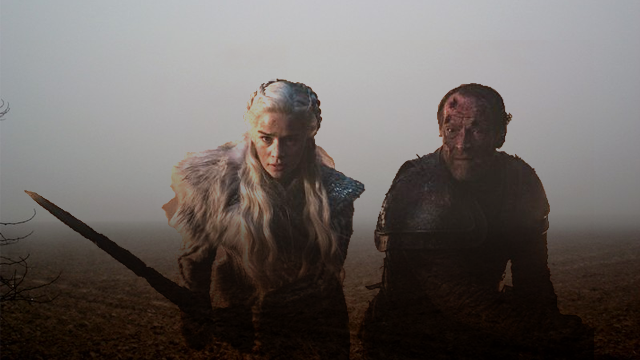 Tutti intenti ad aspettare lo spaventoso nemico. Non proprio tutti però, perché il Mastino, Gendry e Sam sono andati a vedere Avengers: Endgame e hanno pensato bene di farla tutta subito per non restarci in mezzo di nuovo con i bisogni fisiologici, nel caso anche sta fola duri 3 ore. Suspense già altissima mentre fissiamo anche noi il buio in attesa degli occhioni blu, finalmente qualcosa si avvicina ma non è il Night King. È Melisandre che, inspiegabilmente, passa di fianco ai non morti senza neanche accorgersene, in evidente ritardo pure lei. Ma se non altro porta i fuochi d'artificio per tutte le prime file.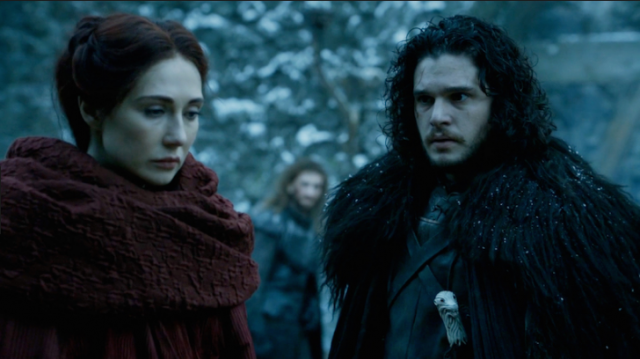 La battaglia finalmente inizia. Botte, sangue e violenza ale, aleee e perdiamo i Dothraki in 10 secondi. Non vediamo nemmeno come ma sappiamo che è successo male. Momento di massima tensione quando vediamo Spettro correre tra le prime file. Evidentemente Benioff e Weiss non hanno pianto per niente guardando John Wick e Io sono leggenda.
In tutto questo i draghi dove sono? Li vediamo due secondi, poi causa nebbia perdono di vista la pista di atterraggio, ma d'altronde si sa, in Emilia si mangia bene ma quando c'è foschia è un disastro. Finiscono fuori strada e ci regalano un altro momento evitabilissimo che ci fa mettere le mani nei capelli.
Manca solo che mentre roteano al chiaro di luna nell'alto dei cieli tra le nuvole parta in sottofondo "Il mondo è miooooo!!!" e siamo pronti anche noi a lasciare lo studio al grido di: "No Maria, io esco."
Soprattutto perché in pianura la battaglia fa sfracelli e la disfatta sembra imminente, l'umore precipita e nemmeno Melisandre che prova ad alzare gli animi con un Burning Man improvvisato sul momento sembra poter risolvere la situa.
Ci conviene dare uno sguardo anche all'interno però, perché pure lì accade del bello, ad esempio un paio di mash-up con altri telefilm di successo. Protagonista Arya "badass" Stark, magnifica anche mentre veste i panni di Xena principessa guerriera e fa vedere al Mastino quanto è diventata brava a Braavos nel parkour.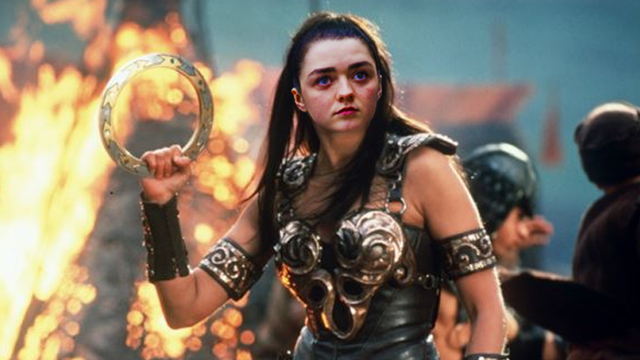 Brienne, Jaime, Tormund e Podrick le prendono di santa ragione ma non ci mollano, Bran (finalmente scopriamo chi è che lo ha riportato dentro casa dopo l'arrivo di Jaime!) e Theon vanno in giardino e aspettano il Night King che nel frattempo a cavallo del suo drago, con un'abile mossa strategica, aiuta i suoi ad aggirare il problema causato da Melisandre, sceglie la tangenziale e va a comandare.
Daenerys affronta il temibile nemico, prova a farlo arrosto ma mi sa che pure lui fa Targaryen di cognome, e in quel momento ci rendiamo conto che il Night King è più espressivo di Jon Snow, esce dalle fiamme e la guarda sorridendo.
Capito Bran? Pure lui sorride. Il Night King. Quello che per farsi due amici gli tocca criogenizzarli.
Ma gli occhioni blu sono dentro le mura adesso, mettono in disordine, sporcano, rompono neanche fossero i Mötley Cüre e nel frattempo, qualche piano più giù, Arya finisce involontariamente sul set di Hill House cercando le cripte. Si nasconde dagli zombie tentando di non farsi notare, agile e silenziosa come solo una No One sa essere, ma poi le viene il ciclo nel momento meno opportuno. Ciononostante, a suggerimento di tutto ciò che abbiamo visto negli spot della Lines, salta, corre e fa paracadutismo come se il Diavolo Rosso non l'avesse colta alla sprovvista nel momento peggiore. Viene salvata da papà Mastino e Occhio bello. Fuggendo si ritrovano a dividere il nascondiglio con Melisandre che ricorda ad Arya che in fondo ha fatto il mazzo a un botto di gente.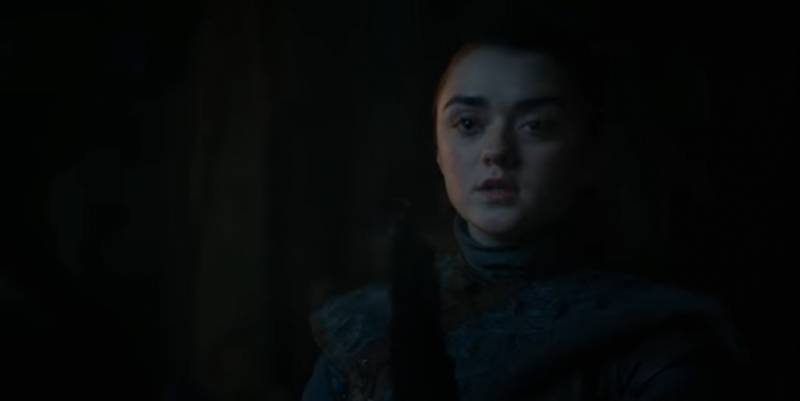 La giovane Stark riprende fiducia e li molla lì, correndo da qualche parte e facendoci temere per un attimo che stia per strapparsi la camicia stile Clark Kent ma per fortuna no, perché Arya gioca in serie A e di queste scemenze non ha bisogno.
Meanwhile in giardino troviamo Bran (e dove sennò?) con Theon e gli altri poveracci in attesa del Night King che, dopo aver lasciato Jon in compagnia dei suoi nuovi amici, va a cercare Il Corvo a Tre Occhi per regolare i conti. Ma non prima che Bran, ancora spossato dall'attesa di Jaime del primo episodio, schiacci un pisolino. Theon ci lascia le penne in modo eroico ma la cosa ci sorprende meno di Tyrion che beve di brutto giù nelle cripte. Pure Bran sta per lasciarcele e no, nel caso ve lo steste chiedendo, nemmeno stavolta la cosa sembra turbarlo minimamente.
Daenerys dal canto suo non se la passa benissimo, viene disarcionata, mollata da Drogon che infestato dai non morti batte in ritirata lasciando la mamma a vedersela con i sudditi più scontenti dei Sette Regni. Per fortuna il suo fan number one entra in partita ancora una volta, combattendo fino alla fine (letteralmente) per la sua regina. Drogon il coniglio, torna a partita conclusa con la coda tra le gambe e un buuuuu generale che si sente fino ad Approdo del Re.
Va beh… che dire gente, il resto della scena è pura magia. Senza ironia, Arya salva il mondo è colpisce tutti al cuore, come se ne avesse bisogno dopo aver tirato una riga sulla dinastia Frey nel modo più memorabile che potessimo immaginare.
Ma tiriamo le somme di questo terzo, entusiasmante, ansiogeno episodio di Game of Thrones.
Non avete anche voi la leggera sensazione che gli autori ci abbiano preso per i fondelli? Ci avevano fatto credere che avrebbero dimezzato il cast nel modo più crudo possibile, che ci avrebbero fatto consumare fazzoletti e abbracciare i nostri peggiori nemici colti da un irrefrenabile bisogno di supporto umano dopo averci spezzato il cuore. Ma in realtà ammettiamolo, hanno potato solo i rami secchi.
Va beh, con Lyanna mica tanto, anche se ho tremato all'idea di cosa poteva combinare con la forza di un Night Walkers quella piccola Asia Ramazan indimenticabile. Theon, Edd, Jorah, Occhio Bello vengono a mancare all'effetto dei loro cari, ma per quanto ci possa dispiacere, ammettiamolo gente, ci è andata grassa a questo giro. Li abbiamo praticamente ancora tutti in piedi i nostri eroi e con gli occhi del colore giusto.
Il problema vero adesso è: come faranno a tenere testa a Pazza Cersei per la conquista del trono considerato che sono rimasti in 20, che questa è famosa per far saltare in aria cose e persone quando le iniziano a dare noia e che ora e pure incinta e quindi bombardata da quegli ormoni che imbizzarriscono anche la più mite delle fanciulle? E che molto probabilmente, con tutto il tempo che ha avuto a disposizione, quei dannati elefanti alla fine li ha pure trovati?