Attenzione: evitate la lettura se non volete imbattervi in spoiler sulla sesta stagione di Game of Thrones 
"Quando vedo a cosa il desiderio riduce le persone e a che cosa ha ridotto questo Paese, io sono contentissimo di non provarlo. Inoltre l'assenza di desiderio lascia la mente libera di perseguire altri fini". Ogni volta che ci si pone l'obiettivo di comprendere fino in fondo le dinamiche di Game of Thrones, le parole di Varys regalano una nuova lezione di vita. Se poi si analizza il personaggio machiavellico incarnato da Ditocorto, uno dei manipolatori più scaltri dei Sette Regni, non esiste uomo migliore per fare luce.
La settima stagione in arrivo, infatti, potrebbe raccontare la fine di un uomo innamorato del potere come nessun altro a Westeros. Qualcuno si domanderà perché pensiamo questo, e la risposta è semplice: la scalata interminabile verso l'agognato Trono di Spade non è l'unica passione di Petyr Baelish. Un amore, quando si trasforma in ossessione, può trasformarsi nella motivazione più efficace per vivere, oppure nella principale causa di morte. Nel caso del nostro protagonista, potrebbe valere la seconda opzione. E Sansa Stark, quella che un tempo era la vittima prediletta del cinismo di un microcosmo contrapposto all'innocenza di una ragazzina spaesata, rappresenterebbe il contrappasso ideale. Non ci credete? Proviamo a convincervi, tenendo a mente il pensiero di Varys.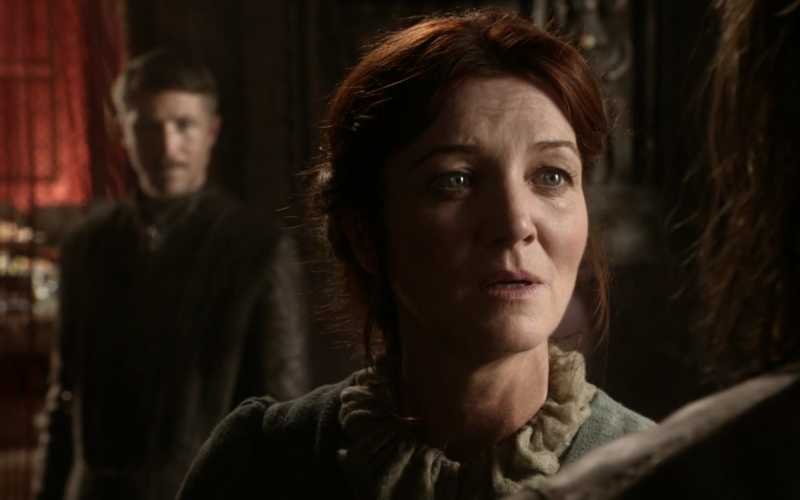 Così come è stata la voglia di rivalsa nei confronti di un destino anonimo verso il quale l'avevano indirizzato le sue origini a spingerlo gradualmente fino al Concilio Ristretto e al protettorato di Nido dell'Aquila, anche l'amore mai ricambiato di una donna d'alto lignaggio ha fatto da motore propulsivo decisivo. La brama per il potere e i sentimenti provati per Catelyn Tully sono andati di pari passo, e hanno condizionato enormemente il gioco dei troni fin da quando convinse l'ingenua Lysa ad avvelenare il marito Jon Arryn, innescando così gli intrecci che abbiamo vissuto nella prima stagione (la morte di Ned Stark su tutti) e, di conseguenza, quelli delle successive.
La ricerca del caos è l'elemento portante della filosofia machiavellica di Ditocorto. Ogni sua mossa ha il fine di confondere le acque, celarsi in un vortice da lui originato come semplice pedina sottovalutabile e trarne vantaggio per fare un nuovo passo verso il Trono. Lo dimostrano con la stessa forza le eliminazioni di Joffrey e Lysa, impeccabili nelle esecuzioni e con rarissimi testimoni, e il ruolo decisivo ricoperto nella costruzione dell'alleanza tra Lannister e Tyrell che sventò la minaccia di Stannis Baratheon.
Ditocorto, un po' più vicino al raggiungimento dell'obiettivo dopo ogni mossa ardita (da Maestro del Conio a Lord protettore della Valle di Arryn e del Tridente), ha fatto della discrezione una caratteristica fondamentale ("Una borsa di conio compra il silenzio di un uomo per un po'. Un dardo di balestra compra quel silenzio per sempre") e del calcolo ragionato di rischi e vantaggi un genio del male capace di tutto. Ma anche lui ha un punto debole, e l'amore per Catelyn, un tempo elemento portante di molte decisioni proficue (la morte di Ned Stark causò una guerra da lui risolta, permettendogli di conseguenza di mettere le mani su Harrenhal), si sta riflettendo negativamente nel legame ambiguo con Sansa.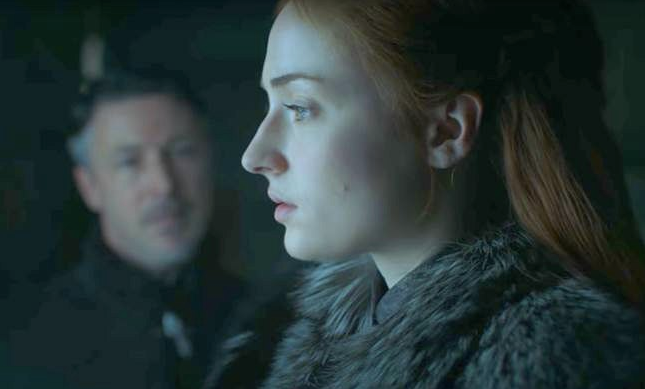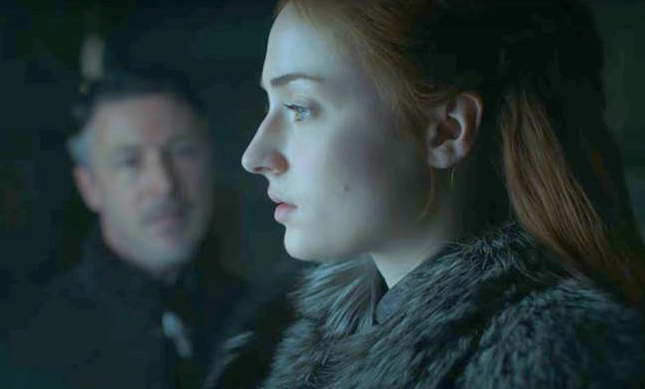 Spiegare il perché non è semplice, ma si può interpretare in questo senso: Petyr Baelish, dopo aver passato una vita ad elevare il proprio lignaggio anche per dimostrare qualcosa all'amore di una vita, seppure con la consapevolezza di non poterla conquistare, ha deciso di concentrarsi sulla figlia. Più per quello che rappresenta che per la persona che è (almeno per ora). Una donna maggiormente raggiungibile, almeno nella sua testa. Per certi versi, avere Sansa significherebbe possedere una parte di Catelyn, ma il prezzo da pagare potrebbe essere la vita.
La prova di narcisismo di Ditocorto, infatti, l'ha portato a commettere diversi passi falsi, inusuali per uno accorto come lui. Sta scoprendo le carte come mai aveva fatto nella sua vita, sconfessando il modus operandi abituale. Ha dato fiducia a Sansa sia in occasione dell'uccisione di Lysa che, soprattutto, nel momento in cui ha confessato il suo obiettivo: conquistare il Trono di Spade con lei al suo fianco come regina. Nel primo caso ha tratto vantaggio dall'enorme rischio corso, nel secondo no. Una dichiarazione del genere può avere una sola conseguenza: rendersi ricattabile e, quindi, vulnerabile.
Ditocorto, inoltre, ha scoperto un'altra carta, e l'ha fatto dopo esser stato spinto da Sansa. L'intervento decisivo nella Battaglia dei Bastardi (frutto anche di un errore di valutazione nel far sposare la Stark con Ramsay Bolton, dopo aver puntato sulla vittoria di Stannis Baratheon), infatti, ha esplicitato la sua posizione in contrapposizione ai Lannister che, seppure sempre più isolati, ricoprono ancora un ruolo chiave nel Gioco dei Troni. Avrebbe potuto agire nell'ombra come ha sempre fatto, ma stavolta si è comportato in modo diverso. La sua lama, un tempo celata dal vortice di un uragano, è venuta alla luce, avvicinandolo alla morte.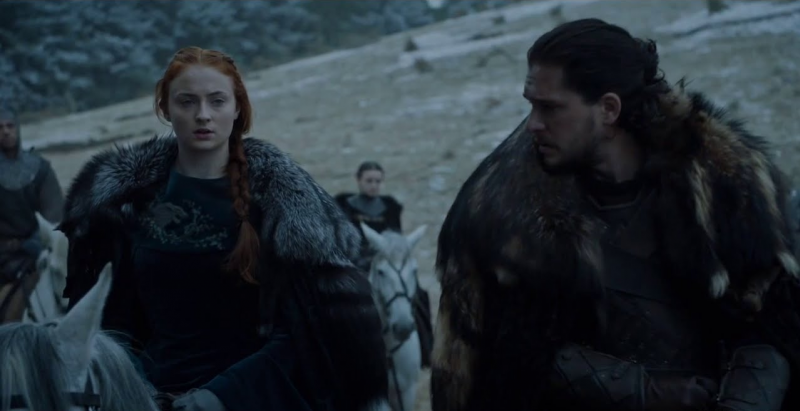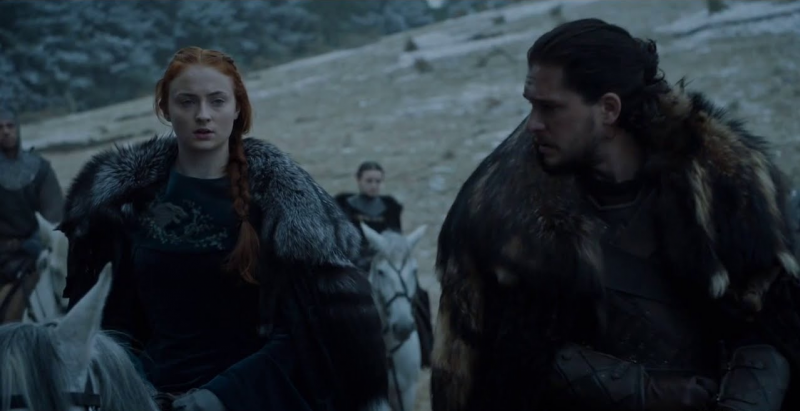 E ora cosa potrebbe succedere? Non abbiamo molti indizi a riguardo, ma il finale della sesta stagione ci ha dato più di un motivo per immaginare delle frizioni tra il nuovo Re del Nord (Jon Snow) e Sansa, aspirante regina. Ditocorto potrebbe inserirsi tra loro per amplificare il contrasto e approfittare della situazione per mettere le mani su Grande Inverno, rischiando tuttavia di essere smascherato dalla figlia di Catelyn, sempre meno ingenua e bisognosa dell'appoggio del "mentore" (pensate all'ascendente della Stark su Robin Arryn). Sappiamo inoltre che Bran tornerà a casa, e la sua posizione da unico erede legittimo (anche se probabilmente abdicherà) allontanerebbe ulteriormente Sansa dal suo sogno. Bisogna valutare infine la figura di Arya, anche lei destinata al ritorno a Grande Inverno. Ditocorto potrebbe tramare per mettere contro i fratelli, con conseguenze imprevedibili ed un unico, grande sospetto: il re degli intrighi rischia seriamente di rimetterci la testa.
La sua posizione è sempre più in bilico, e i suoi piani di conquista hanno molti più difetti di un tempo. La colpa è di un'ossessione, forte almeno quanto quella per il potere. E dei pericoli che comporta la sottovalutazione di una persona che ha deciso di partecipare al gioco con ottime credenziali, come hanno fatto con lui per una vita. Sarebbe il contrappasso ideale, magnifico nel suo cinismo. L'imprevedibilità del caos sta cedendo il passo alla linearità di una tattica più leggibile, e lui non potrà dire che Varys, il nemico di una vita, non l'avesse avvisato. Lo stesso che una volta disse di lui: "Solo gli dei sanno a quale gioco sta giocando". Quei tempi, però, potrebbero finire molto presto.
Antonio Casu