Il 24 aprile si avvicina a grandi passi e con esso cresce la tensione del fandom di Game of Thrones, pronti a vivere le nuove avventure del mondo creato da George R.R. Martin. Una domanda su tutte riempie le teste di mezzo mondo: che fine farà Jon Snow? E non solo: gli Estranei diventeranno nostro malgrado dei soggetti familiari? Quale sarà la sorte degli Stark rimasti in vita? Daenerys beneficerà dell'arrivo di Tyrion? Continuerà l'egemonia dell'Alto Passero su Approdo del Re?
Dare delle risposte certe è impossibile e probabilmente non sarà solo la season 6 a fugare ogni dubbio, ma l'analisi dei trailer rilasciati finora dalla HBO apre degli scenari affascinanti dagli sviluppi imprevedibili. Partendo dal presupposto che un trailer ben fatto (e quelli di Game of Thrones lo sono come pochi altri) ha la funzione di creare nuovi quesiti più che dare risposte, tutte le considerazioni che verranno fatte nel testo che segue dovranno essere prese con le pinze. Le teorie sono e restano tali, ma ci si potrebbe avvicinare alla verità che Martin e D&D hanno in mente.
Proviamoci. Non costa nulla e il 24 aprile è ancora lontano.
Prima, però, dovete vedere questo…
https://www.youtube.com/watch?v=CuH3tJPiP-U
… e questo.
Fatto? Partiamo.
Jon Snow è morto. Anzi no. Oppure sì, ma certe volte non si muore per sempre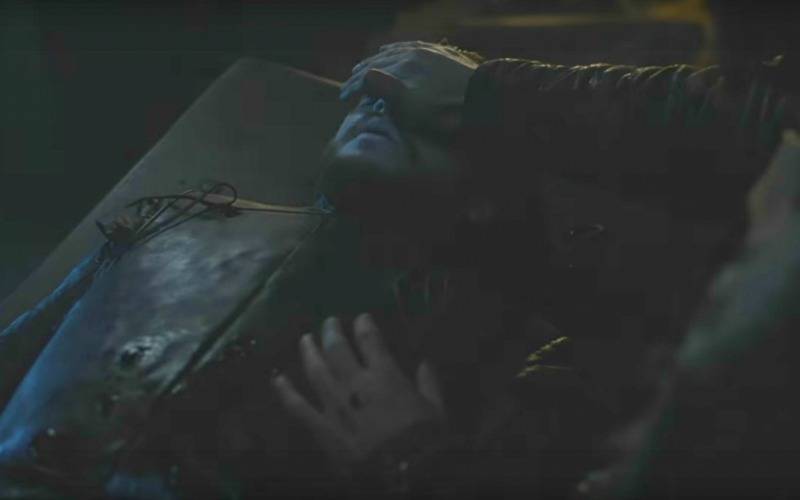 Iniziamo da Bran? Macché. Sappiamo bene che le ansie degli appassionati si rivolgono principalmente al destino di Jon Snow. Il figlio bastardo di Ned Stark (?) è caduto al termine della quinta stagione per mano dei fratelli coltelli della Confraternita, colpito a morte dall'ingrato Olly. Fin qui non ci sono dubbi, ma è solo l'inizio.
È realmente morto? Probabilmente sì, e il primo trailer rilasciato il 9 marzo chiarisce ampiamente il concetto. "He's gone", secondo Davos, e la considerazione può voler dire tutto o niente. Molto più netto è però questo frame, nel quale si vede il Cavaliere delle Cipolle prendere in mano una spada mentre ha di fronte il corpo senza vita del Lord Comandante.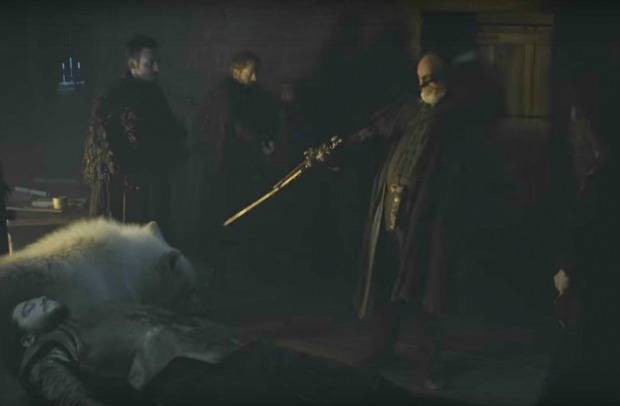 Davos intende impossessarsi del corpo di Snow? Difficile capire il perché, ma ci si può fare un'idea. Melisandre è rientrata a Castello Nero dopo esser stata protagonista della disfatta di Stannis e ha dimostrato a più riprese un particolare interesse nei confronti di Jon Snow. Aveva tentato di sedurlo, senza riuscirci.
Perché? L'amante di Stannis è una sacerdotessa del culto del Signore della Luce e potrebbe avere il potere di resuscitare i morti, esattamente come ha fatto il prete Thoros of Myr – ricollegato allo stesso culto – con Beric Dondarrion.
Il mistero si infittisce. Per quale motivo Melisandre dovrebbe avere tanto a cuore la vita di Jon Snow? Ne ha parlato ampiamente Diletta Dan in questo articolo. 
La stagione in partenza potrebbe far luce sull'origini del nostro eroe. Una delle teorie più accreditate su Snow è la discendenza Targaryen/Stark conseguente all'unione tra Rhaegar (figlio del Re Matto) e Lyanna (sorella di Ned).
Occhio a questo frame: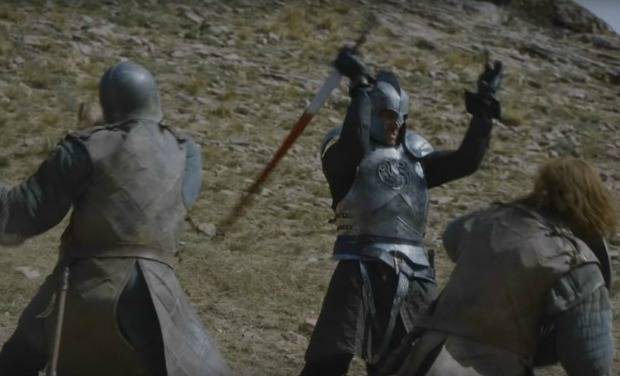 Questo potrebbe essere Jon Snow in battaglia contro i Bolton (la morte lo svincola dal giuramento con i Guardiani della Notte, d'altronde).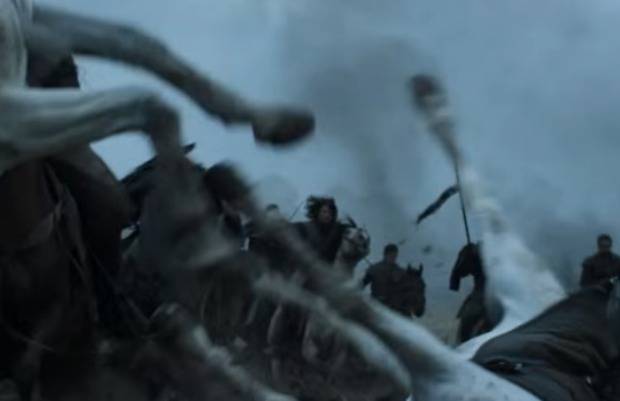 In questo caso, non sarebbe impossibile immaginare un esercito da lui guidato formato da quel che è rimasto dell'esercito Stark, rimpolpato dai Bruti (sennò che ci farebbe Tormund?) e… dall'ottima memoria del Nord.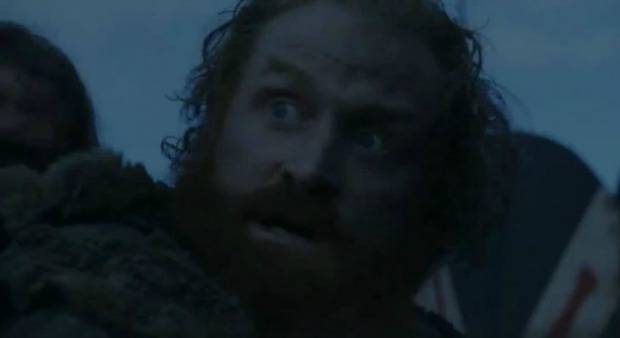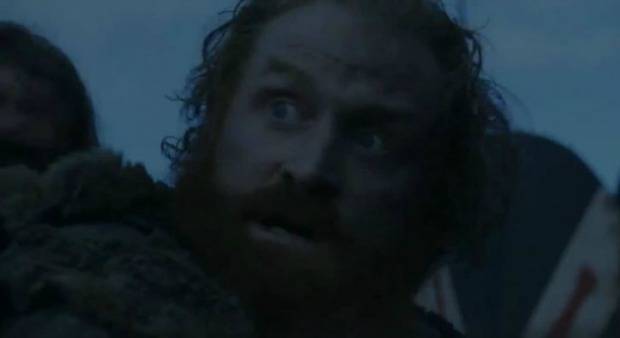 Questo è sicuramente Kit Harington che interpreta Jon Snow con indosso un'uniforme Stark.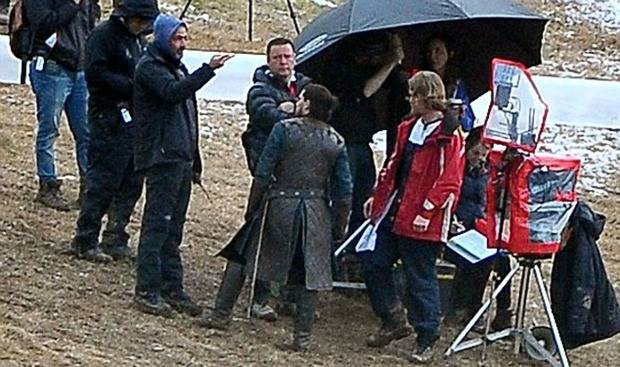 Due indizi non fanno una prova, ma concedono molti pensieri.
Questo, invece, dopo dovrebbe essere Stannis Baratheon, ucciso da Brienne nella 5×10 dopo la disfatta con i Bolton. Le parole di Melisandre legate alla sequenza confermerebbero l'ipotesi.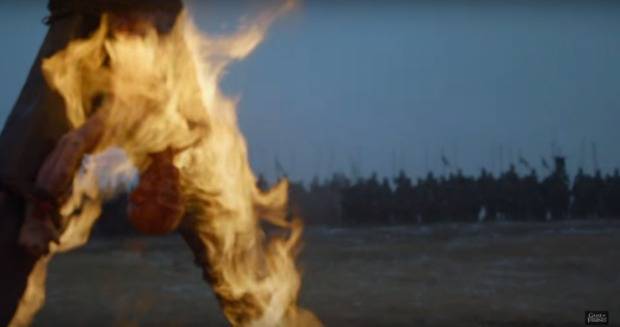 Cersei sceglie la violenza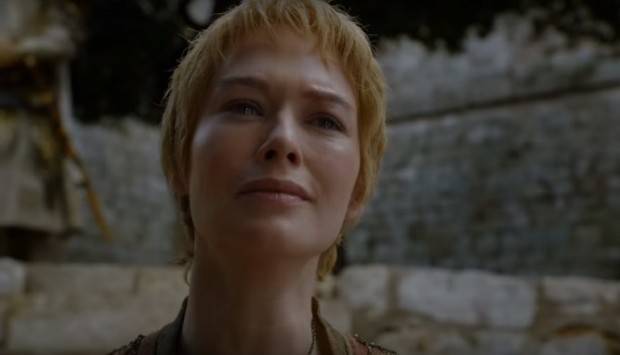 E fin qui ci sono poche novità sotto il sole di Approdo del Re. Cersei affronterà l'egemonia dell'Alto Passero e lo farà con la violenza. La figlia di Tywin, uscita a pezzi dalla quinta stagione, cercherà una rivincita, sopratutto personale (e anche in questo caso ci sono poche novità). La sensazione che si ha è che lo scontro arriverà ad un punto di non ritorno e segnerà indelebilmente il futuro dei Lannister, nel bene o nel male.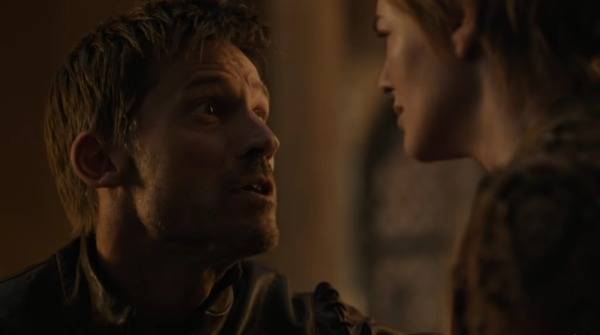 La Regina Madre affronterà inoltre la terribile scomparsa della figlia Myrcella (avvelenata da Ellaria Sand) e il rapporto sempre più complesso con il fratello/amante Jaime, di ritorno da Dorne.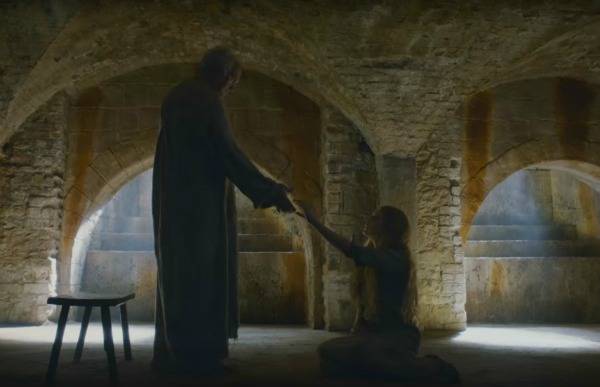 Sarà interessante capire che ruolo ricopriranno i Martell e sopratutto i Tyrell. Questi ultimi cercheranno a loro volta un riscatto. Margaery verrà liberata (dopo essersi inginocchiata al cospetto dell'Alto Passero) e tornerà al fianco di re Tommen. Nei trailer non compare Olenna, ma siamo sicuri che la sua presenza si farà sentire.
Gli Stark lottano per sopravvivere, i Greyjoy ricompaiono in scena
Poi ci sono gli Stark, e mai come in questo caso il futuro appare nebuloso. Arya, accecata dalla sete di vendetta, ha perso l'uso della vista e continuerà il suo percorso di formazione a Braavos al cospetto del signor Nessuno. L'obiettivo? Diventare a sua volta Nessuno e indossare volti diversi, ma la giovane Stark è troppo ancorata al suo passato per riuscire nell'impresa. Ce la farà?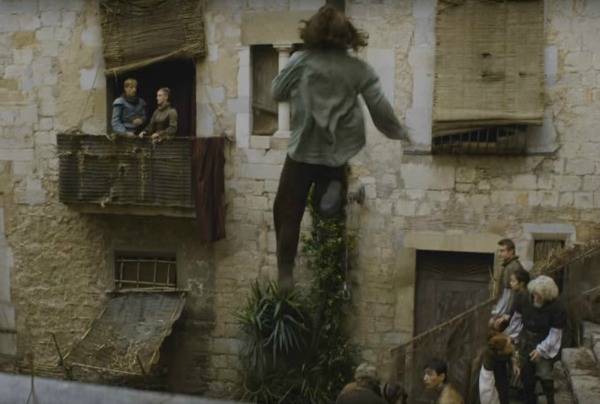 In uno dei trailer riceve uno schiaffo da un altro membro nell'ordine, e la si vede poi saltare da un palazzo: si può pensare che la scena possa essere l'origine di una fuga (da Braavos?). Il Dio dai Mille Volti fa inoltre riferimento ad un nuovo viso che dovrà entrare a far parte della… collezione. Chi sarà?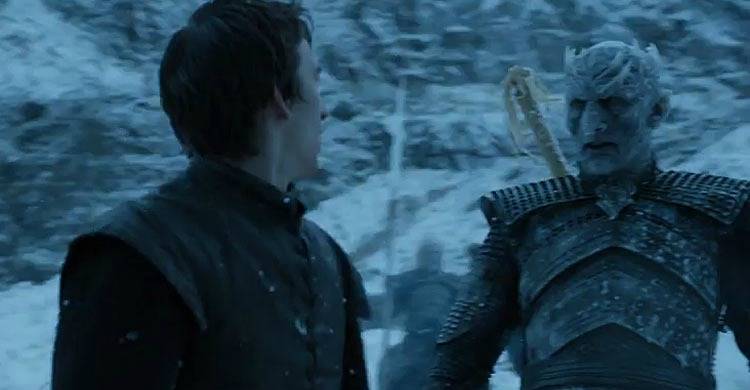 Ricomparirà anche Bran, totalmente assente nella quinta stagione. Anche lui affronterà il proprio destino. In una sequenza lo si vede al cospetto del Re della Notte (comparso anche in un altro frame con del fuoco alle spalle), ma probabilmente è l'ennesima visione. Bran è in piedi sulle sue gambe, e viene difficile pensare che possa farlo nella vita reale.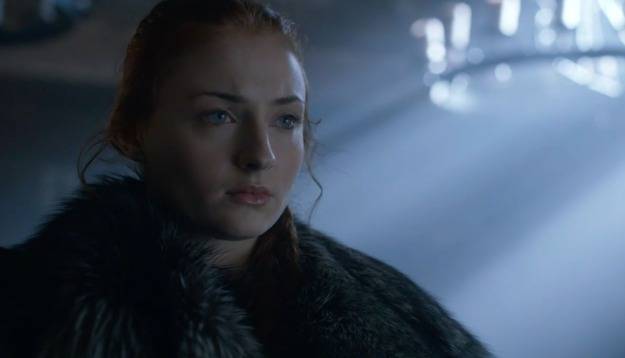 La fuga di Sansa da Grande Inverno sembra essere andata a buon fine. L'avevamo lasciata al termine della quinta stagione in compagnia di Theon, dopo aver fatto un lungo volo sulla neve. I due hanno sfidato le leggi della fisica e sono usciti sani e salvi. Sansa sta bene, è vestita in modo elegante e non si capisce quale possa essere la sua prossima destinazione e chi l'aiuterà: Brienne? Ditocorto? Il montaggio del trailer potrebbe lasciar intendere persino un suo approdo a Meereen dall'ex marito Tyrion, ma l'ipotesi è piuttosto debole. Si sa, nei trailer si può raccontare tutto e il contrario di tutto.
E a proposito di Theon, la season 6 vedrà il ritorno in scena della sua famiglia. I Greyjoy saranno protagonisti assoluti e regaleranno non poche sorprese. Chi conosce i libri ha accolto questo frame con grande curiosità: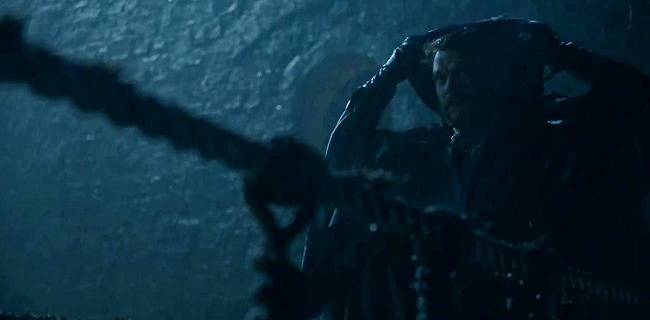 Questo è Euron Greyjoy. Questo è Euron Greyjoy su un ponte. Questo è Euron Greyjoy su un ponte in una notte caratterizzata da una tempesta violenta. I lettori non devono far altro che unire i puntini per avere più di una risposta, mentre per i neofiti… è notte fonda. La tempesta la offriranno in dote i Greyjoy, statene certi. Qualcuno è morto da tempo, ma D&D hanno fatto finta di niente. Finora.
Daenerys in catene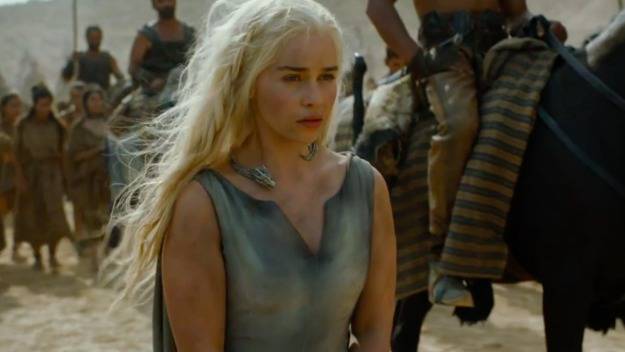 L'ultimo passaggio è dedicato alla Khaleesi, alle prese con il suo passato. Il volo di solo andata con Drogon l'ha portata in balia dei Dothraki, e non sembrano aver preso bene l'insolita rimpatriata. La si vede in catene, probabilmente in direzione di Vaes Dotrak, città sacra del popolo che la tiene in ostaggio.
Daario e Jorah sono sulle sue tracce…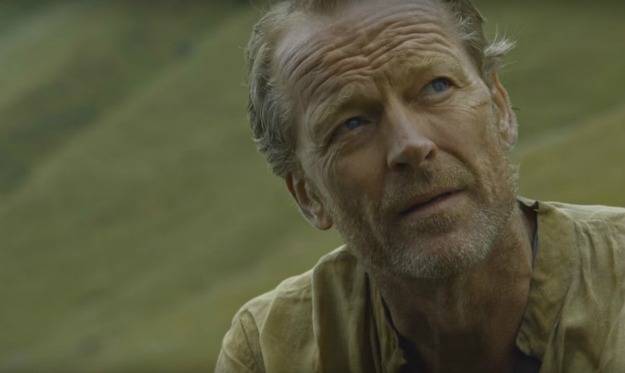 … ma il salvatore potrebbe essere ancora lui.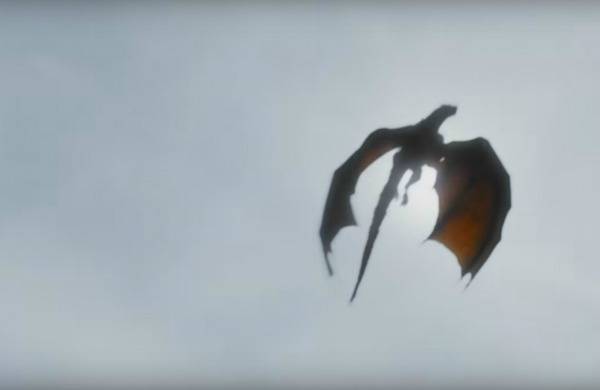 Dubbi, perplessità, colpi di scena e storyline in sospeso. La nuova stagione di Game of Thrones è piena di quesiti dagli sviluppi imprevedibili, però una cosa è certa: Valar Morghulis, qualcuno lo farà presto e tutti sono in ballo.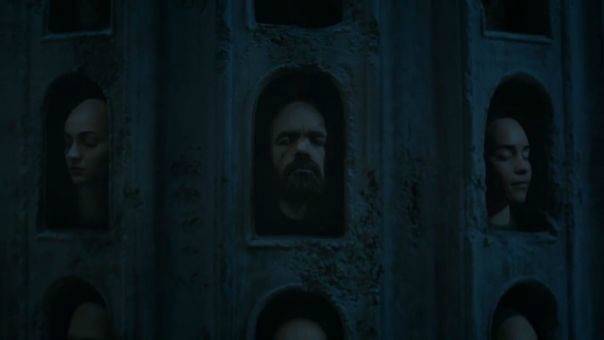 Persino loro.
Ringraziamo i nostri partner di Game Of Thrones fans page -ITA- , Game of Thrones ITALIA , L'immane disgusto di Varys nei confronti dell'umanità.
Antonio Casu 
@antoniocasu_