Una puntata che segnerà la storia di Game of Thrones: nascita di ship impossibili e una gioia per ben DUE Stark.Praticamente alla Barriera si dispensano miracoli come fosse Pasqua ogni giorno.
Alla Barriera:
Jon prepara i bagagli, la sua Guardia si è ufficialmente conclusa ed è ora di organizzare un bel viaggetto a Città della Talpa. Naturalmente nel farlo si comporta come i liceali alla fine della maturità: finalmente libero da ogni responsabilità illustra il tour agli amici, con tanto di dettagli sulle serate e i drink gratis. Eat Sleep Rave Repeat insomma.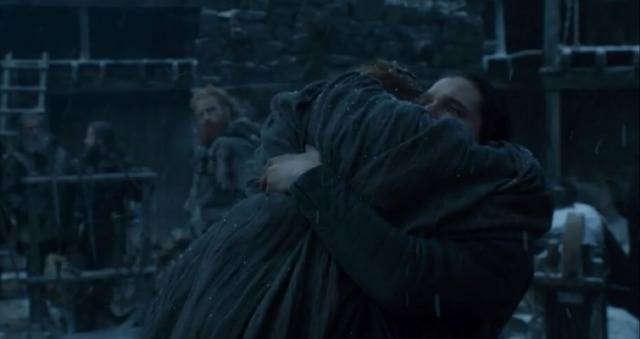 Edd, universitario in piena sessione estiva, lo guarda con odio e desidera con tutto il cuore di schiaffeggiarlo.
Ma la pacchia dura poco: si aprono i cancelli della Barriera ed entrano Sansa, Brienne e Pod.
L'incontro tra Jon e Sansa, l'abbraccio e il fatto che lei fosse più alta di lui è stato sicuramente commovente, ma è stato sovrastato dal momento più comico della storia di Game of Thrones. Sì, più comico dello Zelig Dothraki della prima puntata.
Uno scambio di sguardi, la nascita della ship più assurda e delirante dei Sette Regni: i Brimund / Torienne.
Tormund e Brienne sono ufficialmente la cosa più bella che è successa nella mia settimana (che vita insulsa). E anche il fatto che probabilmente tutti i Bruti si siano chiesti da dove nasca questa passione per le rosse da parte di Jon non è un dettaglio trascurabile
Sansa manda all'aria tutti i piani di Jon: niente giretti a Mikonos e Barcellona, bisogna andare a fare il culo a strisce a Ramsay. Aspettavo questo momento dalla prima stagione, quando Sansa era il personaggio più odiato in assoluto dopo Jof: la sua rivincita, la dimostrazione che in casa Stark sono le donne a portare i pantaloni.
Se in un primo momento Jon spera ancora di poter sfuggire alle sue responsabilità la Pink Letter gli fa cambiare velocemente idea: Ramsay gli comunica che tiene Rickon in ostaggio e che non vede l'ora di giocare a "ti tolgo i bulbi oculari con un cucchiaio" insieme a lui. Che la Bastardbowl abbia inzio insomma.
Alla menzione di far stuprare Sansa da tutto l'esercito Viserys sorride contento dalla tomba, lui e Ramsay avrebbero coronato una meravigliosa bromance.
Sansa dopo l'esperienza Jean Grey è agguerrita più che mai, così ci piaci: 9
Jon ormai consapevole della propria ignoranza piange sul pavimento in posizione fetale: 4, ripigliati
I Torienne: 10 +, ragazze, trovate un uomo che vi guardi come Tormund guarda Brienne
Davos ha letto le mie vecchie pagelle e finalmente inizia a chiedersi che fine abbia fatto Shireen: 6, meglio tardi che mai
Brienne si vanta davanti a Melisandre di aver ucciso Stannis: 8 #RenlyLives
Al Nord:
Troppo poco screenplay di Ramsay per i miei gusti, giusto in tempo per ammazzare Osha e farci vedere che non è capace a sbucciare le mele. Io ancora credo nel complotto del nord, la bruta era, purtroppo, sacrificabile.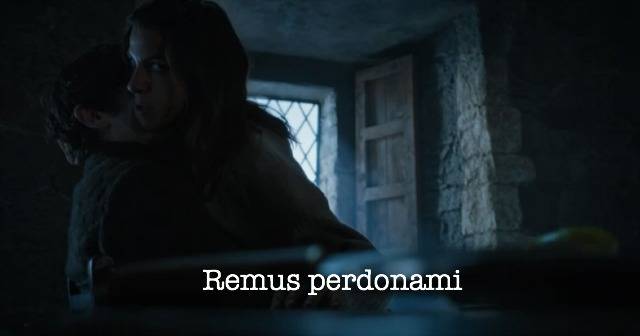 Non avrei mai sopportato un'altra scena di nudo di Ninfadora: 8 alla morte prima che i miei occhi e la mia infanzia iniziassero a bruciare
Alla Valle:
Dopo tanto tempo finalmente l'atteso ritorno di Ditocorto, che in cinque minuti ci ricorda che comunque il più infame e furbo di Westeros è solo lui. Il "piccolo" Robin è completamente nelle mani di Zio Petyr, l'unico adolescente al mondo al quale basta fare dei regali per controllarlo. Inoltre porta indegnamente il nome del più grande arciere della storia, ma fa più schifo nel tiro con l'arco di Bran nella 1×01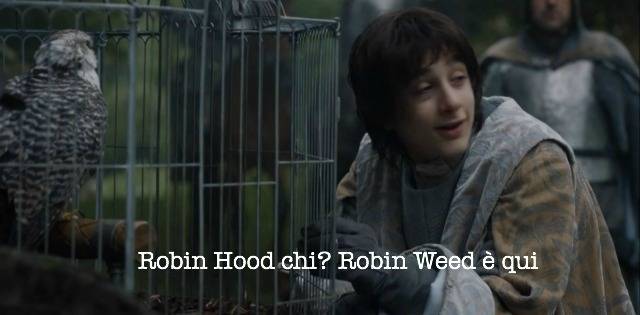 Robin è cresciuto di un metro in un anno, forse l'allattamento al seno fino a tarda età è da rivalutare: 6
Petyr è ancora il boss indiscusso della mafia del nord: 8
A Pyke:
Theon torna a casa felice e contento, viene naturalmente accolto a sberle e testate dalla sorella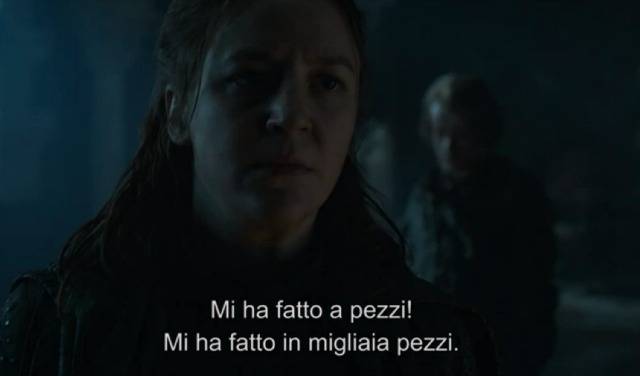 Vita agra di Theon che nessuno vuole avere vicino: 2 #foreveralone
Ad Approdo del Re:
Qui praticamente succedono sempre le stesse cose ragazzi: la povera Margaery, fighissima anche dopo mille giorni di prigionia passati a rotolare nelle sue stesse feci, si becca la solita lezione di catechismo dall'Alto Passero che, dopo essersi vantato dei mega festini che dava da giovane, le concede di far visita a Loras.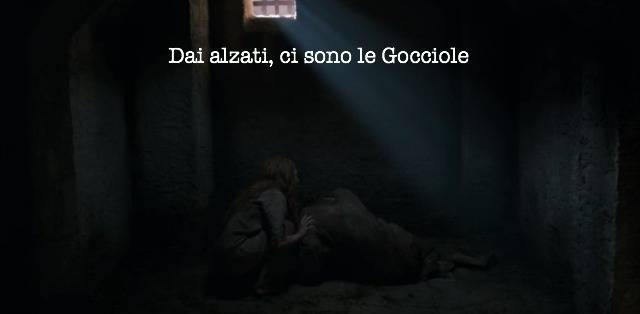 Cersei e Jaime intanto si alleano definitivamente con il Concilio Ristretto, organizzando un piano che puzza così tanto di fallimento che tutti iniziano a dimenticare quel puzzettaro del corpo di Tywin.
Vedo la testa di Kevan rotolare già da qua.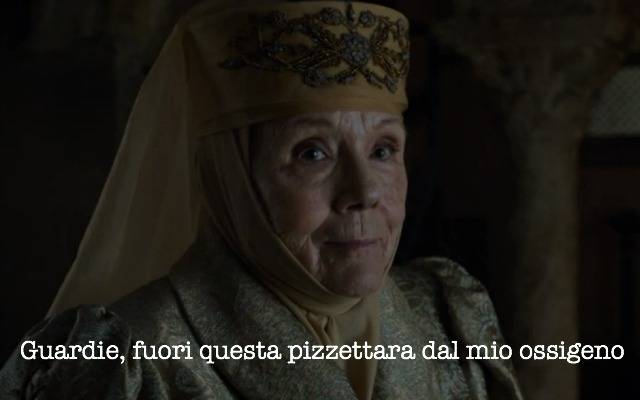 Loras si prepara segretamente a combattere la Septa Trinicabue nelle vesti di Iron Fist: 6
Olenna pur di non far fare a Margaery la walk of shame potrebbe vendere perfino suo figlio: 9
Cersei e Jaime inventano piani a caso: 5
Ad Essos:
Tyrion inizia ad applicare, finalmente, un po' di politica dell'ovest con gli schiavisti: non si può ottenere la pace utilizzando la violenza come faceva Dany, è meglio fornire delle prostitute ai propri nemici.
Stipula un accordo vantaggioso agli occhi di chi viene dal Westeros, ma assolutamente folle per gli abitanti di Meeren: i Padroni avranno sette anni per abolire la schiavitù, non dovranno farlo necessariamente ora. Missandei e Verme Grigio si schierano dalla parte di Tyrion, ma solo per parargli il fondoschiena davanti ai pezzi grossi di Meeren, poi in segreto lo appenderanno per le mutande all' Arpia di Meeren come i bulletti delle scuole americane.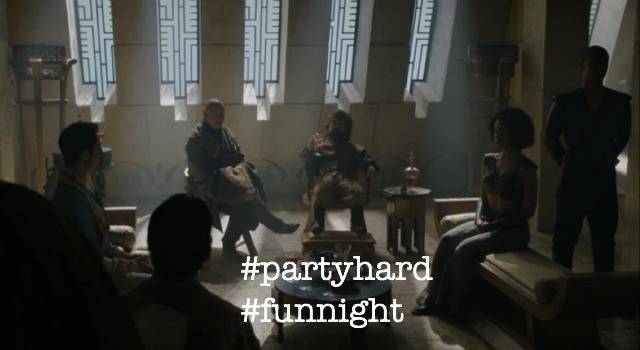 Intanto Dany medita vendetta, e per farlo si cerca una nuova Missandei infatti, come Hermione Granger ci ha insegnato, non bisogna mai andare in bagno da sole, potreste incappare in un troll di montagna.
L'intervento di Jorah e Daario risulta essere il salvataggio più inutile della storia, Dany aveva già un piano ben preciso. Un piano assolutamente originale e mai visto prima in Game of Thrones: dare fuoco al tendone dello Zelig Dothraki rinchiudendoci tutti i Khal, uscire indenne dalle fiamme come mamma l'ha fatta per imporre meglio il suo dominio, guardare tutti con disprezzo mentre il popolo si inchina davanti a lei.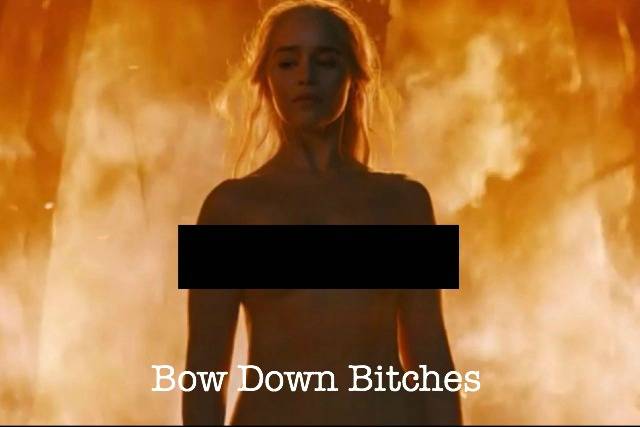 Un'originalità pazzesca oh. 
Una sola domanda: ma il fatto che Dany sia la "Non bruciata" non doveva essere un evento unico e irripetibile? Siamo finiti sul cast di X Man con Sophie?
Rido fino a svenire ogni volta che Verme Grigio viene chiamato Torco Nudo: 9
Jorah le prende come non ci fosse un domani e si dimentica di avere il super potere del morbo grigio: 3
Daario se non la smette di tirarsela così tanto muore nel giro di due puntate: 5
Dany ha sempre bisogno di una minion come Chanel: 7
Nudo assolutamente inaspettato di Emilia che ci ha lasciato così confusi da colpirci da soli: 8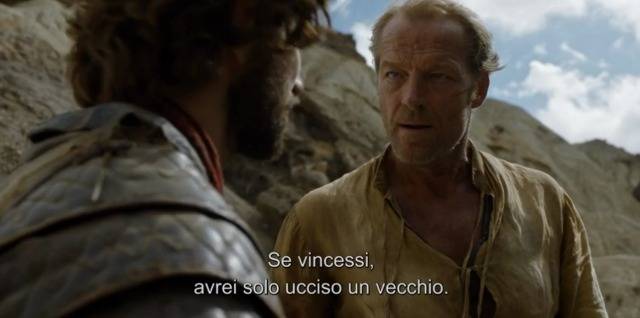 Gli OSCAR DEL TRONO
Premio scemo del villaggio: Jorah
Premio muori male: per ben due puntate di seguito, ancora l'Alto Passero
Premio spaccaculi: Sansa
Premio non ce la faccio a farcela: Robin
Miglior citazione: Sansa "Appartiene alla nostra famiglia e combatteremo per riaverla. Io vorrei che mi aiutassi, ma lo farò da sola se sarà necessario"
In mancanza del "Miglior nuovo personaggio" abbiamo un segretissimo e irreperibile reperto in esclusiva dallo Spotted di Westeros per voi:
"Bionda valchiria alta quanto la Barriera stessa, i nostri sguardi si sono fugacemente incontrati per un attimo mentre cavalcavi fiera attraverso le porte del mio cuore. Io ho amato un'orsa, tu ne hai combattuto un altro, se anche tu sei stata rapita dalla mia barba baciata dal fuoco scrivi a @tormundvelenodeigigantifuckbear"
Ringraziamo i nostri partner di  Game of Thrones – Italy, Game Of Thrones fans page -ITA- , Game of Thrones ITALIA , L'immane disgusto di Varys nei confronti dell'umanità. Team Sansa, Il trono di spade