Ripartiamo con Fear The Walking Dead. Ripartiamo con l'episodio "Non disturbare", con il viaggio di Nick e le sue convinzioni, con la recensione dell'episodio precedente. Ripartiamo con Travis e le sue convinzioni su Chris.
"Chris non può tornare, non ora"
Tutto comincia con il grande rituale di Fear The Walking Dead: riassunto delle puntate anteriori e inizio nella 'normalità' precedente all'apocalisse. Questa volta tocca ad un Matrimonio, le nozze di Oscar e Jessica.
Come al solito lo spettatore si ritrova spaesato e si chiede dove siano finiti gli zombie, sotto quale bel vestito siano nascosti gli insanguinati protagonisti e il motivo di tale introduzione. La risposta c'è ed è anche molto forte. Il ritmo del ballo di Fear The Walking Dead trasporta, il momento è magico, ma è solo grazie a qualche dettaglio che riusciamo a capire come tutte le tesserine del puzzle riescano ad andare al loro posto.
La parola 'malattia', la lenta paura che si insinua nella voce di chi ne sente parlare, il pianoforte, i tesserini delle porte magnetiche, l'hotel stesso. E' come un deja-vu. Letteralmente. Quando il padre della sposa si sente male e si trasforma riusciamo ad avere la certezza a tutti i nostri sospetti: quello non è un hotel qualsiasi. Quello è l'hotel dove Alicia, Strand, Madidon e (forse) Ofelia hanno deciso di ripararsi. Quello è l'hotel invaso dagli zombie. Quello è l'hotel in cui c'erano almeno trecento persone, l'hotel che tutti consideravano vuoto. 
Da qui in poi la storia si snoda in due strade parallele. Da una parte abbiamo Alicia che, sempre più guerriera, si prepara ad affrontare gli zombie con astuzia e pazienza. Dall'altra parte abbiamo invece Travis e Chris, impegnati nella dura riconquista di un rapporto sempre in bilico tra il recuperabile e il non comprensibile.
Travis adotta la tecnica dell'empatia con Chris. Gli porge la mano, si dimostra forte, gli fa bei discorsi sul loro possibile futuro insieme, gli dona fiducia. La stessa fiducia che gli altri del gruppo non erano più in grado di dargli. Travis gli dona il coraggio di parlare nuovamente di sua madre e di casa sua, di non vergognarsi troppo per quello che è diventato nel nuovo mondo. Travis gli dona, per un po', la libertà di esprimersi, di essere se stesso e di sperare. 
"Tornerà tutto come prima. Qualcuno ci starà lavorando. Qualcuno da qualche parte. Questa non può essere la fine. Non posso crederci. Non voglio crederci. E neanche tu dovresti pensarlo. Possiamo riavere tutto ciò che abbiamo perso"
"Non tutto", lo corregge Chris puntualmente. La forza di quella risposta è molto grande. E' come se Chris riuscisse ad intuire la speranza del padre ma non la condividesse nella sua totalità. Egli ne condivide l'entusiasmo e la volontà, ma non riesce a non staccarsi dall'orrore che quel nuovo mondo ha portato con sè (la scomparsa di sua madre e il suo esser diventato Killer Chris).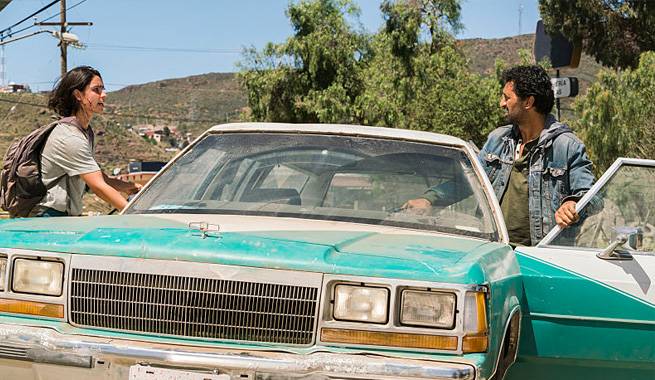 Quando vengono circondati da Brandon e soci, Travis sceglie la via della diplomazia, considerando tutti i fattori. Loro sono più deboli di tre ragazzi giovani e forti. Lui è ferito e Chris, per quanto 'cazzuto' possa essere, non è ancora totalmente addestrato a combattere. Sono più deboli anche perchè non mangiano e non bevono da un po', perchè sono mezzi feriti e arrancanti, perchè hanno paura e perchè hanno qualcosa da perdere.
Questa volta in Fear The Walking Dead, la via della diplomazia sembra davvero la strada giusta. Lo dimostra anche Brandon, che sembra più che ragionevole. Con la frase "vuoi davvero star qui a discutere o vuoi qualcosa da mangiare?" ci riporta immediatamente alla realtà e alla durezza dei fatti. Poche chiacchiere, bisogna pensare alla sopravvivenza. 
E Brandon, di sopravvivenza, sembra saperne parecchio. Il classico filo con lattine come allarme, il saper individuare un ragazzo che riesce freddamente ad uccidere zombie, il saper seguire delle tracce. "Siamo amanti dell'aria aperta" afferma. Lo spettatore fa presto a fidarsi di lui, è incline al dargli ascolto e ad offrirgli un riparo per la sicurezza che emana con la voce, per quello sguardo basso quando capisce che la speranza di tornare alla sua città non sono reali, per il fare amichevole con il ladro del suo cibo. Subito Brandon colpisce. Colpisce anche perchè riesce a fare sue le parole di Travis.
"Beh comunque, ci riprenderemo. Lo facciamo sempre"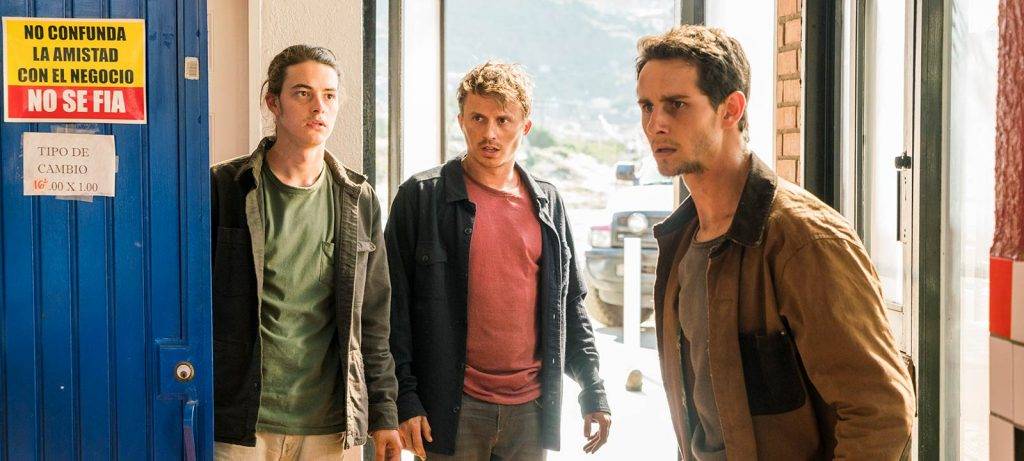 Quando in lontananza compaiono galline, acqua, strade secondarie, campi da coltivare, Travis ha ragione di nuovo. Non sbaglia ad intuire che sarebbe stato un buon posto dove cominciare una nuova vita in attesa di una svolta. Non sbaglia a capire che quella casa è ancora abitata. Non sbaglia con il pensiero che viaggia a Madison, Nick e Alicia, i tre membri della famiglia che gli ricordano le tre tombe nel giardino. Non sbaglia a intervenire cercando nuovamente la via della diplomazia.
Ma forse, anche Travis ha sbagliato qualcosa. Forse ha sbagliato a pensare che Chris potesse redimersi completamente, che potesse pentirsi delle scelte fatte e della persona che è diventata. Forse ha sbagliato a tendergli la mano. O forse ha sbagliato a pensare che lui e suo figlio potessero iniziare una nuova vita, in quel mondo, senza ricorrere a quel tipo di violenza, a pensare che l'umanità potesse rimanere intatta.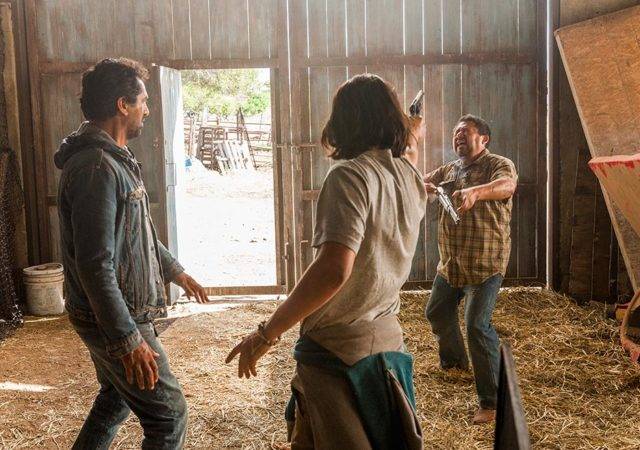 In un'ambientazione diversa, ma sempre con l'unico scopo di sopravvivere, troviamo Alicia. Alicia che conosce Elena, la donna che vediamo nei primi minuti della puntata agire per la sua salvaguardia, per la salvaguardia di suo nipote Hector e per la salvaguardia di ciò che rappresentava la sua vita: l'Hotel.
Alicia è sempre più impostata, sempre più riflessiva e ponderata nelle sue scelte. Non si lascia ingannare, pensa prima di agire, fa le sue valutazioni, trae le conclusioni e getta sempre un occhio a una possibile via di fuga qualora le cose cambiassero.
In poche parole Alicia sembra aver capito il succo della questione, sembra aver capito come sopravvivere o come provarci. Non si lasciano indietro le persone, si dubita sempre di chi non si conosce, ma non si rifiuta mai un aiuto sincero. La forza del gruppo è il singolo, la forza del singolo è il gruppo. Per questo Alicia riesce a stringere una buona alleanza con Elena. Si conoscono da pochissimo tempo, eppure non esitano ad aiutarsi a vicenda.
Non c'è tempo da perdere in racconti nel mondo di Fear The Walking Dead, c'è solo una grande verità: insieme possono provare a uscire dall'Hotel, insieme possono sconfiggere zombie e altri gruppi di esseri umani, da sole no.
Tua madre vorrebbe che tu rischiassi la tua vita per la sua?
No. Ma lei lo farebbe per me. Mia madre morirebbe per me.
Così Fear The Walking Dead mantiene le promesse. Così, insieme, Alicia e Elena, trovano il coraggio. Il coraggio di guardare in faccia alla realtà: non possono rimanere nell'Hotel ancora a lungo. Il coraggio di guardare attraverso i vetri per vedere se le persone che amano sono morte. Il coraggio di fidarsi l'una dell'altra. Il coraggio di lasciare persone in pasto agli zombie. Il coraggio di confessare, entrambe, di aver visto e fatto cose orribili.
Il coraggio di ammettere di essere delle sopravvissute.