# #
La seconda puntata di Fear The Walking Dead ci mostra una realtà isolata, quella di Catrina Island, che all'inizio potrebbe sembrare la giusta soluzione all'apocalisse zombie, ma in un secondo momento svela tutti i suoi retroscena dai quali è meglio allontanarsi.
L'inizio della puntata è abbastanza illusorio. Vediamo candide spiagge battezzate da un caldissimo sole e bagnate da un mare che sembrava quasi cullarle. L'atmosfera è tranquilla, lontana anni luce dal mondo devastato di Fear The Walking Dead. A condire tutto il panorama ci sono anche due bambini con due normali secchielli per la sabbia: uno verde per il maschietto e un rosa per la ragazzina.
# #
Dov'è l'inganno?
E' esattamente lì, su quella stessa spiaggia dove stanno per mettersi a giocare i bambini. Quello zombie-naufrago non è messo lì a caso, ma è pronto a significare tante cose. La prima è ovviamente la contrapposizione con quanto di bello, buono e puro ci viene mostrato nei primi secondi della puntata; la seconda è l'inizio di una possibile spiegazione su come l'epidemia si sia allargata a tutto il mondo. Passano pochi attimi ed ecco il secondo zombie pronto ad entrare in scena, uno per ogni bimbo.
# #
Con il gioco di immagini delle telecamere fino all'ultimo non riusciamo a capire che in realtà quei bambini sono perfettamente al sicuro (almeno per ora) dietro ad una solida recinzione. Insieme preparano un omaggio di fiori e conchiglie per i morti viventi, dai quali non sembrano affatto turbati, poi corrono chissà dove perchè "non vogliono cacciarsi nei guai".
Con un rapido sguardo alla barca invece abbiamo modo di approcciarci ad altri grandi interrogativi del mondo di Fear The Walking Dead. Nick chiede: "cerchiamo ancora di aiutare la gente, no?", la risposta della madre è diplomatica "sì, le persone che possiamo vedere". Ecco, questo è uno dei punti cruciali. In un'affermazione del ragazzo che ricorda tanto quella di Glenn in fuga da Terminus veniamo catapultati dentro alle nuove regole di sopravvivenza. Bisogna aiutarsi, ma non farsi ingannare, bisogna avere fiducia senza cadere nelle trappole, bisogna ricordarsi che il bene più grande sono le persone e che si resta in vita grazie a chi ti guarda le spalle.
Un altro punto importante è la perdita degli obbiettivi, detti anche "luoghi sicuri". Grazie al ritrovamento di Nick, i nostri protagonisti scoprono che San Diego è morta. Il porto dove pensavano di attraccare è in fiamme, come quello da cui sono partiti. Le certezze se ne vanno, vengono divorate da zombie e uomini in preda al panico o approfittatori. Se c'è una cosa che però abbiamo imparato con l'avvenire dell'apocalisse è che davanti ad un'utopia che crolla bisogna far crescere una soluzione. Altrimenti si muore.
La soluzione si chiama Catrina Island. Strand rimane a guardia dell'imbarcazione con l'aiuto di Daniel e Ofelia, che, non fidandosi di lui, decidono di tenere sotto controllo la situazione. Travis prende in mano il secondo gruppetto per raggiungere la casa luminosa, un faro di speranza nel buio del pericolo del mare. Ritroviamo così i bambini, una donna sorridente, un padre apprensivo ma disponibile e un figlio primogenito parecchio diffidente. Travis chiede aiuto e questa volta a rispondere trova George, una persona che sembra ricoprire il suo stesso ruolo.
Gli autori ci danno subito modo di mettere a confronto i due capi di famiglia e le due mamme. Queste ultime trovano modo di parlare del lavoro chiedendosi (sembra) un aiuto per i rispettivi figli. Davanti ad un oggetto così scontato del vecchio mondo come un libro, invece, Travis e George hanno un breve dialogo che rispecchia la loro attuale ideologia. Il primo afferma di non avere più tempo per leggere, anche se gli piacerebbe davvero molto, mentre il secondo dice, invece, che con la fine del mondo ha tutto il tempo che gli serve per occuparsi di ciò che ama fare. Sarebbe ovviamente possibile se ci fosse un luogo sicuro in cui non doversi preoccupare di tenere vivi tutti i membri del tuo gruppo.
Questi piccoli dialoghi tra persone ancora umane, come quelli degli adulti o come quello di Alicia con la bambina o quello speciale di Nick con Chris e con il ragazzino hanno lo scopo di farci capire quanto di buono ci sia ancora in ognuno di loro. Altre certezze crollano a causa delle informazioni della famiglia, altri nomi di città, confini sempre più lontani e chiusi, sempre meno speranze. "E quindi cosa rimane?" "Non molto". Qualcosa però sì! L'umanità è ancora parte di queste persone e, al momento, è probabilmente la loro miglior arma.
A questi dialoghi "umani" si oppongono invece quelli più spinti tra Daniel e Strand, diffidenti l'uno verso l'altro, ma consapevoli di avere entrambi una possibilità di salvezza. Oltre a loro, Travis e Madison si confrontano sulla famiglia appena incontrata e sulle dinamiche particolari che la contraddistinguono. E via dicendo..tutto sembra sul filo del rasoio. Non bastano una recinzione e una barca ormeggiata per stare tranquilli, non bastano delle belle parole con il fratello o il prendere sicurezza contro i morti, perchè il pericolo è sempre dietro l'angolo. Ogni bel momento ha un prezzo da pagare.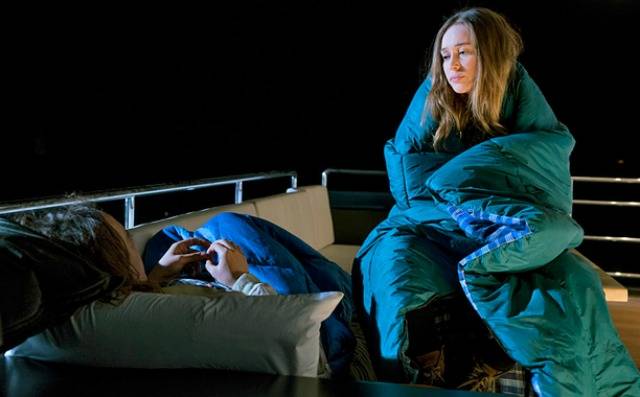 Melissa in realtà vuole che Madison e Travis prendano i suoi bambini, Harry e Willa, perchè non si sente al sicuro. Chris non riesce ad avere un buon rapporto con il padre. Daniel riesce a scoprire che Strand nasconde effettivamente qualcosa e ne abbiamo la certezza quando lo sentiamo parlare al telefono per accordi personali. Nick, che sembrava essersi ripreso, cerca qualche pillola. Il gesto però, per quanto assurdo e inutile al momento, si dimostra vitale. Egli sospetta infatti che con le cose ritrovate dentro il piccolo mappamondo George voglia uccidere la sua famiglia al momento opportuno per risparmiargli le inutili sofferenze date dagli zombie.
E così è un attimo. Quando sembra che i bambini possano stare al sicuro, la morte chiede il suo pagamento. "C'è sempre un prezzo da pagare". L'orrore arriva anche a Catrina Island che per un momento poteva sembrare un buon luogo dove rifugiarsi. Poi arriva sulla barca quando Seth decide di riportare suo fratello a terra. Il turno seguente è quello del pontile, dove il ragazzo si vede costretto a porre fine alla "vita" di sua madre.
Il mondo di Fear The Walking Dead sta incominciando ad entrare prepotentemente nella vita di ognuno dei singoli protagonisti che, per l'ennesima volta, devono fare i conti con uno sparo penetrante che gli ricorda quelli già vissuti.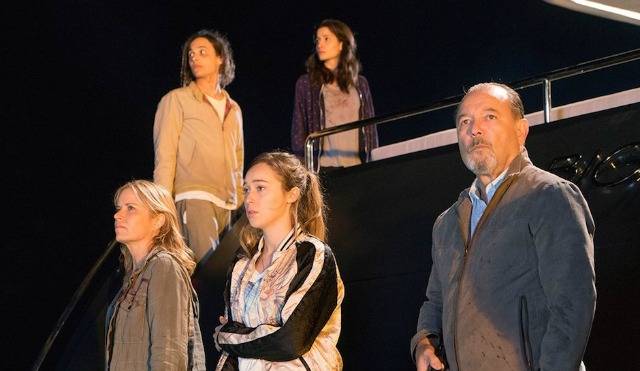 Un saluto ai nostri amici di Fear The Walking Dead Italia !