La settima puntata di Fargo indossa i panni di traghettatrice verso il gran finale delle ultime tre puntate. The Law of Inevitability, infatti, ci permette di respirare facendoci riflettere su quelle che sono le conseguenze scaturite dalle azioni della puntata precedente. In questo articolo, concentreremo l'attenzione su una scena breve ma ricca di significato: quella fra Varga ed Emmit nella sala d'ingresso della casa di quest'ultimo, arredata con un orso imbalsamato e un albero di Natale.
Perché la scena è stata costruita in questo modo?
Cosa vorrà significare?
Attenzione agli spoiler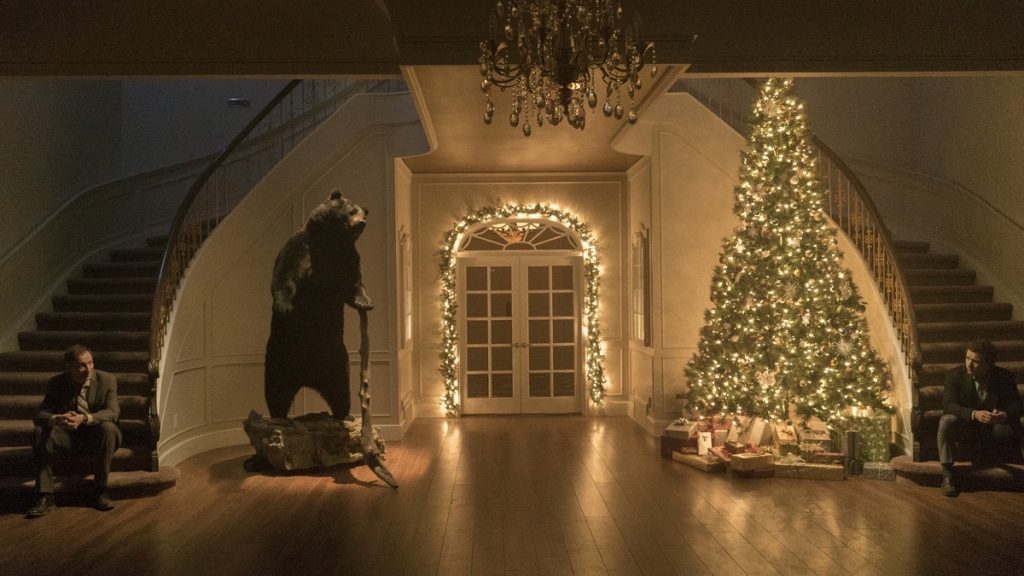 Come abbiamo visto nella sesta puntata, Emmit Stussy ha abbracciato il male, commettendo (seppure in circostanze più casuali che intenzionali) l'omicidio del fratello Ray. Un'azione simile, nella vita di una persona che si è sempre comportata correttamente nella società e che si è spesso definita "brava", non può che avere conseguenze devastanti.
La prima, prevedibile reazione di Emmit è la totale incapacità di gestire la realtà delle cose: si pensi, infatti, a come sia palesemente sospettoso il modo attraverso cui risponde alle domande dell'agente Lopez. Non riesce, in pratica, a rendere credibile la sua versione riguardo l'omicidio di Ray. La seconda reazione è invece rappresentata dalla conversazione che ha a metà puntata con Varga, nella sala d'ingresso del suo appartamento.
Cerchiamo di descrivere la scena e di capire perché è un piccolo capolavoro in questa stagione di Fargo.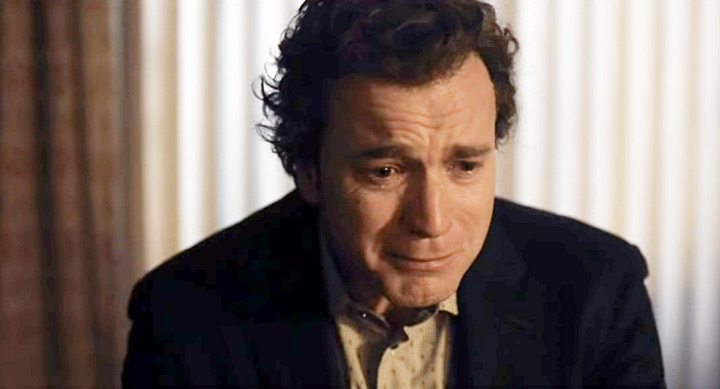 Quello che ci si presenta davanti è un capolavoro visivo. La disposizione degli oggetti inanimati e dei personaggi nella scena crea una simmetria perfetta e un tripudio di luci ed ombre. Notiamo di fronte il portone di ingresso; sulla destra, seduto sull'estremità delle scale, Emmit, affiancato dall'albero di Natale e dai regali; mentre sulla sinistra, seduto sull'altra estremità della scalinata, Varga, affiancato da un orso imbalsamato.
Se dividessimo il frame in quattro quadranti con baricentro corrispondente alle maniglie del portone, potremmo leggere due diverse situazioni: considerando solo i quadranti superiori, ignoreremmo la presenza dei due uomini, prospettandoci dunque uno scenario meramente osservativo di uno spazio in cui emergono parte dell'orso, il lampadario, e parte dell'albero.
La coppia di quadranti decisiva è dunque quella inferiore, in cui emergono i due soggetti intenti ad avere una conversazione a distanza e che ci comunica il senso della scena. Prima di procedere per interpretare il significato di questa disposizione, vediamo quali sono tradizionalmente i significati di orso e di abete, i veri protagonisti del frame.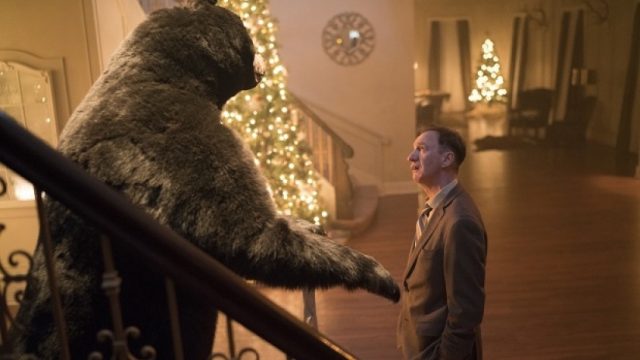 Simbolicamente, l'orso potrebbe significare per alcune culture la cattiveria, la brutalità e l'avidità: si pensi che addirittura gli sciamani usano maschere di orso per favorire il contatto con spiriti maligni. L'abete, invece, in quanto albero sempreverde, è sinonimo di immortalità, ma anche di speranza; in particolare, l'albero di Natale simboleggia l'inizio del ciclo annuale e, più generalmente, la vita.
Rapportando questi significati alla nostra scena, ci accorgiamo che Fargo non lascia nulla al caso. L'abbinamento Varga-orso (rappresentante dunque, il male) ed Emmit-abete (simbolo invece positivo di vita e speranza) ci conduce su una strada che può sembrare scontata, ma così non è.
Infatti, qui la genialità del montaggio e della scrittura della scena comunicano il vero messaggio.
Mentre Varga chiede ad Emmit come si senta, e quest'ultimo gli risponde "Libero", con il primo che inizia a riferirgli una breve storiella che sua madre era solita raccontargli. Durante il racconto, l'inquadratura cambia e si posiziona sull'ascoltatore, Emmit, ma accanto a lui viene in dissolvenza riprodotto l'orso poco distante, affiancandoli e mettendoli dunque allo stesso livello. Emmit sta a tutti gli effetti abbracciando il male, abbandonando la sicurezza del valore della vita e inglobandosi, attraverso la macchia dell'omicidio, con la brutalità rappresentata dall'animale.
Queste scelte, che possono sembrare casuali o comunque meno importanti, ci danno invece la possibilità di comprendere con più certezza verso quale destino Emmit sarà condotto nelle ultime tre puntate. E soprattutto, quale ruolo avrà il diabolico Varga, una guida diametralmente opposta alla morale che Virgilio rappresenta per Dante nella Divina Commedia.
Fargo ha mosso le sue pedine, la scacchiera è ormai in subbuglio: manca solo lo scacco matto.