Ogni Serie Tv ha i suoi protagonisti, e non devo certo essere io a dirvi quanto questo conti all'interno della storia.
Funziona sempre allo stesso modo: nel momento in cui nasce una nuova Serie Tv si cercano i volti perfetti per i protagonisti, e si spera sempre di poter portare avanti la storia di questi personaggi dall'inizio alla fine. Abbiamo constatato, però, che questa cosa non sempre funziona.
Sono diverse, infatti, le Serie Tv che si sono trovate ad affrontare delle perdite, per motivi più o meno vari (trovate un articolo in merito proprio qui). In alcuni casi si trattava di situazioni disastrose, in altri semplicemente di dissapori tra un attore o attrice e il resto del cast. La cosa da sottolineare, in ogni caso, è che non sempre la Serie Tv da cui il protagonista è sparito ha avuto fortuna.
Il protagonista, in una Serie Tv, svolge fondamentalmente l'80% del lavoro, e più piace al pubblico più ci sono possibilità che la storia abbia successo. Se per determinate ragioni il personaggio principale decide di abbandonare il lavoro, è piuttosto probabile che l'intero telefilm chiuda i battenti nel giro di poco tempo.
Ci sono però delle eccezioni. Ci siamo anche trovati di fronte a Serie Tv che hanno avuto successo nonostante tutto. Alcune di loro hanno addirittura fatto della morte dei personaggi principali un mantra, per avere comunque una storia nuova e sempre diversa.
Ed è proprio di queste Serie Tv che voglio parlarvi oggi. Ho fatto la mia bella ricerca, e ho trovato ben 14 Serie Tv sopravvissute all'uscita di scena del protagonista o comunque di membri importanti del cast. Siete curiosi di sapere cosa abbiamo trovato?
Allora COMINCIAMO! 
1. The Walking Dead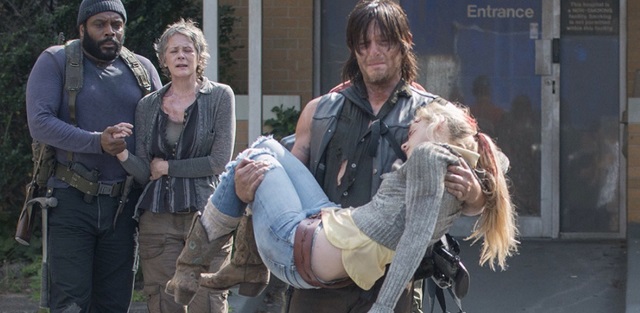 The Walking Dead è una di quelle Serie Tv che pullula di morti, per cui ci risulta piuttosto difficile poterci affezionare a un personaggio in particolare, perché già sappiamo che non farà una bella fine. Se consideriamo, poi, che questa Serie Tv è stata tratta da un fumetto, possiamo in realtà già concludere il nostro quadro. Le morti diventano qui necessarie ai fini della trama, anche perché le nuove storie che si sviluppano spesso prendono avvio proprio dalle scomparse precedenti. Nel corso delle stagioni abbiamo visto sparire diversi personaggi importanti: Shane, Lori, Merle, Hershel, e soprattutto Glenn, e tutte morti estremamente strazianti. Nonostante questo, però, lo show è andato avanti, ed è possibile che lo faccia ancora per un po'.