Moffat si autocita più di D'Annunzio. Qualcosa di molto simile un giorno – lontano secoli, sia chiaro, @2016, fai il bravo, grazie! – verrà scritto sulla sua lapide.
Perché sì, Steven Moffat adora autocitarsi e non fa nulla per nasconderlo. Dopo la morte-non morte con tanto di caduta dai tetti (@Moffat, esattamente che trauma hai??) sia in Sherlock con The Reichenbach Fall sia in Doctor who con The Angels Take Manhattan, dopo la canzoncina cantata da Jim Moriarty nel Mind Palace di Sherlock in His Last Vow letteralmente copiata da Jekyll (serie di Moffat del 2007), dopo la famosa frase "it's called marriage, honey" pronunciata da River, sempre rubata da Jekyll, e tante, troppe altre cose, Moffat in questo nuovo speciale di Natale di Doctor Who si è addirittura superato.
Perché The Return of Doctor Mysterio è una lunga e continua citazione a Sherlock e sembra anche anticipare molti di quelli che saranno i temi portanti della nuova attesissima quarta stagione. Ma procediamo con ordine, ovvero con l'elefante, il peluche che vediamo nelle mani di Nardole. Precisiamo che non solo l'elefante viene fatto vedere, ma viene anche annunciato dallo stesso Nardole. Ora, come molti di voi sapranno, l'elefante è spesso presente negli arredi di Sherlock e, dopo la 3×02, The Sign of Three, è considerato un po' il simbolo della ship Johnlock.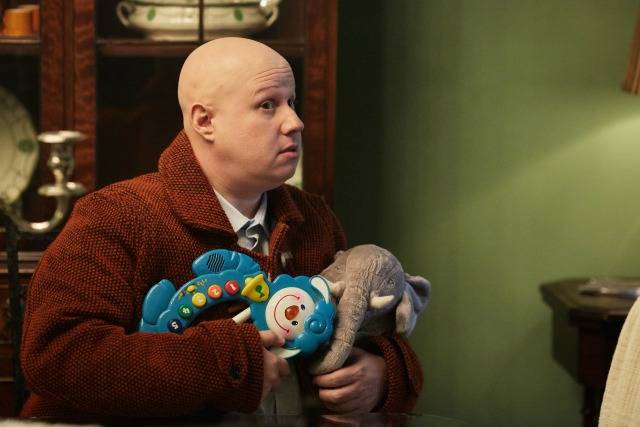 Certo, Gatiss ha fatto il vago quando un fan gli ha chiesto delucidazioni durante un Q&A su Tumblr qualche settimana fa, ma ci pensa il producer design Arwel Wyn Jones a twittare e/o retwittare foto e dichiarazioni sugli elefanti, scatenando il delirio dei fan.
Tuttavia, l'elefante in The return of Doctor Mysterio è solo la punta dell'iceberg delle citazioni/anticipazioni a Sherlock. E lo spoiler (?) principale è proprio la trama stessa: un uomo o, meglio, un supereroe fa da babysitter a una bambina non sua, figlia della sua migliore amica. Il marito della donna? L'ha abbandonata poco dopo la nascita della suddetta bambina. Questo quello che è effettivamente andato in onda e dopo le dichiarazioni ambigue di Mark Gatiss su un possibile divorzio dei Watson (sempre durante il Q&A sopra citato) e di Amanda Abbington sulla relazione tra Mary e John così simile a quella tra lei e Martin Freeman (che si erano lasciati proprio poco prima l'inizio delle riprese), direi che dà sicuramente da pensare.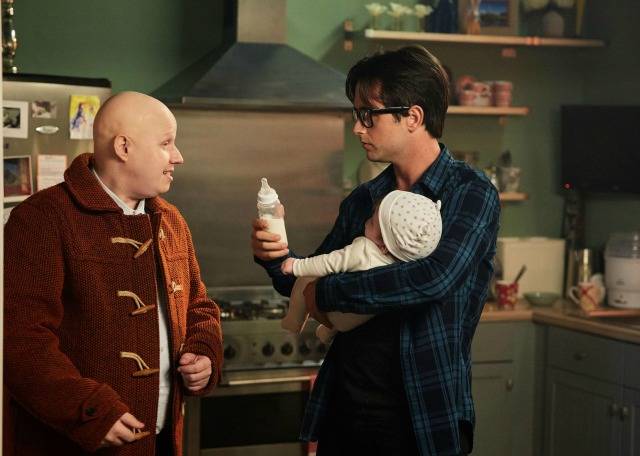 Come dà da pensare il fatto che il suddetto supereroe sia bisessuale, come si evince dalla scena in cui racconta al Dottore di avere i raggi x. Certo, non è una novità: Moffat inserisce personaggi con varia sessualità nei suoi show prima che diventasse una "moda" farlo, ma più volte si è parlato di John Watson come personaggio bisessuale, specie dopo che compare il maggiore Sholto nella 2×02 e che Gatiss, rispondendo a una domanda di una fan sui personaggi LGBT durante il San Diego Comic Con di quest'anno, ha affermato di aver scritto un personaggio grumpy bisexual.
Insomma, gli indizi non mancano. Tuttavia, la vera domanda adesso è: sono veri indizi o Moffat si è solo divertito a trollarci per l'ennesima volta, ben sapendo che questo speciale sarebbe andato in onda esattamente una settimana prima della 4×01. In fondo, la regola base è sempre quella: Moffat mente.
LEGGI ANCHE: