I fan di Doctor Who sanno bene quanto sia raro riuscire a vedere due Dottori nello stesso posto. E nello stesso momento.
La serie tv ci ha certamente abituato a momenti simili, nei grandi speciali che coinvolgevano più rigenerazioni di Dottori insieme. Il caso più eclatante fu, probabilmente, l'episodio The Day of the Doctor, nato per celebrare i cinquant'anni della serie tv.
Stavolta però due dei Dottori più amati di Doctor Who si incontreranno nella realtà, durante il Wales Comic Con: stiamo parlando di David Tennant, il Decimo Dottore, e di Matt Smith, l'Undicesimo Dottore.
Un'occasione più unica che rara, che permetterà a tutti i partecipanti alla convention di passare una serata con due grandi star non solo della televisione, ma anche del cinema e del teatro.
Ma che cos'è, esattamente, il Wales Comic Con? Sembrerebbe essere una delle più grandi convention del Regno Unito, che mira a riunire insieme tutto ciò che riguarda la cultura pop, nei suoi lati più iconici e grandiosi. Per un intero week end si può stare a contatto con attori famosi, partecipare ai meet and great, visitare stand e tutto il resto.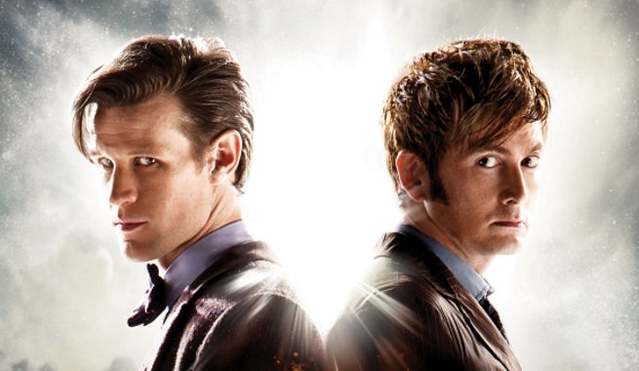 Matt Smith e David Tennant sembrerebbero essere le due attrazioni principali di quest'anno, ma chiaramente non saranno le sole. Guardando sul sito si può vedere l'intero parterre di attori invitati, e quale sarà la loro permanenza all'evento.
Il Wales Comic Con dura un week end, e quest'anno cade il 7 e l'8 dicembre. I due attori di Doctor Who saranno presenti sabato 7 dicembre, a partire dalle 19.00 (ora inglese) al Telford International Center, a Telford, Shropshire.
Matt e David non saranno però i soli del franchise di Doctor Who. Nell'arco del week end saranno infatti presenti anche Alex Kingston (River Song), Catherine Tate (Donna Noble), Arthur Darvill (Rory Williams) e persino Gareth David-Lloyd, il famosissimo Ianto Jones direttamente da Torchwood.