Come un cerchio che si chiude, Steven Moffat sceglie nemici antichi provenienti da Mondas per l'ultima battaglia del Dottore.
Solo pochi anni fa Peter Capaldi, incarnazione del Dodicesimo dottore di Doctor Who, svelava ai fan durante un'intervista:
Mi piacerebbe assistere al ritorno degli Axon. Sono entrati in scena come queste creature dalle fattezze umane, molto affascinanti, ma in realtà sono dei terribili orchi. Mi piacerebbe inoltre vedere il ritorno dei Mondasian Cybermen. Provenivano dal pianeta Mondas e sono apparsi per la prima volta nel 1966, nell'episodio The Tenth Planet. Erano assolutamente terrificanti, con quei volti coperti. Era davvero spaventoso.
E forse lo showrunner Steven Moffat ha colto la palla al balzo. La pagina ufficiale Instagram della serie Doctor Who ha rilasciato un'immagine dal set di Cardiff delle due ultime puntate della decima stagione.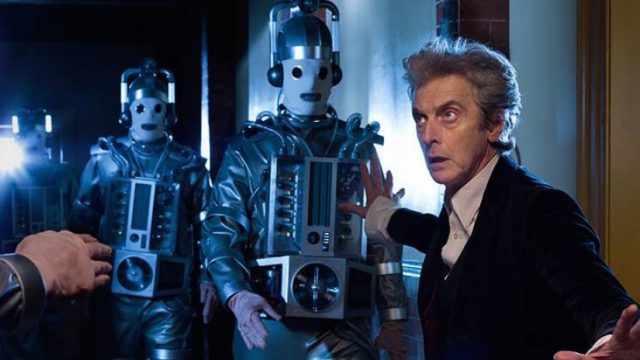 I fan di vecchia data potranno facilmente riconoscere in questa foto i Cybermen Mondasiani, vecchi nemici del Dottore apparsi per la prima volta nel 1966.
La loro comparsa avvenne in The Tenth Planet, in un arco narrativo composto da quattro episodi di cui l'ultimo è andato perduto. Fu la prima incarnazione del Dottore, interpretato da William Hartnell, ad affrontarli per la prima volta in uno scontro che gli fu quasi fatale. I Cybermen provenienti da Mondas – chiamato il Decimo Pianeta – tentarono di invadere la Terra per convertire tutti gli esseri umani in Cyberniani. Il Dottore riuscì a fermarli ma pagandone un caro prezzo, tanto che, ormai vecchio e indebolito, dovette innescare la rigenerazione che lo avrebbe portato a diventare il secondo Dottore, interpretato da Patrick Troughton.
Sono questi i temibili nemici che il Dottore dovrà affrontare in questa due puntate conclusive della stagione, che per molti sarà anche l'ultima.
È infatti con la decima stagione di Doctor Who che daremo l'addio a Steven Moffat, produttore e showrunner dal 2010, che passerà il testimone ha Chris Chibnall, già autore di alcuni episodi di Doctor Who (per i dettagli, leggete qui).
Ma non solo. I fan si stanno preparando ormai da tempo all'abbandono della serie da parte di Peter Capaldi che ha vestito i panni del Dottore per tre stagioni. Lo vedremo impegnato in questa decima stagione insieme alla nuova companion Bill, interpretata da Pearl Mackie e Nardol (Matt Lucas), già incontrato negli ultimi due speciali natalizi.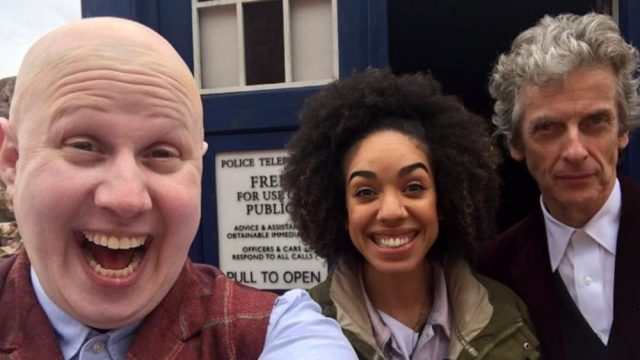 Matt Lucas, Pearl Mackie e Peter Capaldi
Non ci resta quindi che ingannare l'attesa fino al 15 Aprile, quando finalmente potremo rivedere il nostro amato Dottore in quella che si prospetta una stagione sensazionale!