ATTENZIONE: Quest'articolo su sui Cybermen contiene spoiler sulla 10×11 di "Doctor Who". Se non avete visto la puntata, non proseguite con la lettura!
Trauma. È così che avrebbe dovuto intitolarsi la penultima puntata di Doctor Who, la 10×11, perché questo che è stato per tutti noi Whovians: un trauma. Ma di quelli da cui non ci si riprende più, specie con tutti gli indizi che ci fanno intuire come potrebbe finire la prossima puntata.
Perché sembra proprio che Bill sia il primo Cyberman (anzi, sarebbe più corretto dire la prima Cyberwoman) della storia.
E chissà, magari l'odio dei Cybermen nei confronti del Dottore deriverebbe proprio da lei, che l'ha aspettato invano, perché il Dottore è arrivato, sì, ma troppo tardi e non l'ha salvata.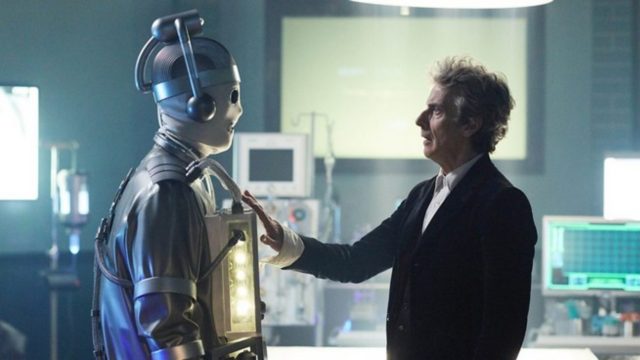 Ovviamente questa è solo una congettura, anche se ha senso. Talmente senso che spero vivamente che non sarà questo che vedremo sabato. Ho bisogno che non sia questo. Ho bisogno che il Dottore la salvi, esattamente come ha salvato Clara Oswald nella scorso finale di stagione. E dato che Moffat sembra fisicamente incapace di uccidere i proprio personaggi, direi che abbiamo qualche speranza. Giusto?
Comunque, a parte la morte e resurrezione di Bill, la sua trasformazione in Cyberman (che forse ci riporta alla Clara-Dalek?) e al principio di rigenerazione del Dottore (no, ragazzi, non scherziamo, IO NON SONO PRONTA!), la cosa degna di nota di questa puntata è che, appunto, sono tornati i Cybermen dopo quasi due stagioni. Li avevamo visti l'ultima volta in un altro finale di stagione, con un'altra companion. E guarda caso, quella è stata la puntata in cui abbiamo scoperto che Missy era il Maestro, e anche qui c'è Missy con il Maestro. Due rigenerazioni insieme. Ancora una volta, Moffat non è riuscito a resistere e ha fatto un altro dei suoi parallelismi.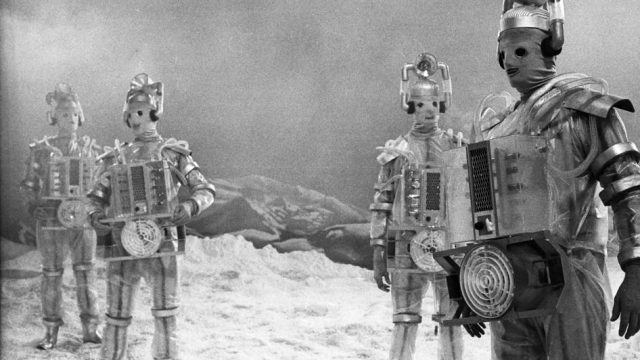 Ma sono i Cybermen che mi interessano in questa sede. Perché i Cybermen sono forse i cattivi più interessanti ed inquietanti perché… siamo noi. Nel senso che sono umani, sono nati su un pianeta gemello della Terra – Mondas – e sono nati perché la gente voleva preservarsi, voleva sopravvivere, voleva continuare a vivere. E per farlo ha modificato così tanto se stessa, cambiando e sostituendo "pezzi" da diventare inumana, per trasformarsi in cyborg. È qualcosa che ricorda inquietantemente l'Uomo Bicentenario, no? Gli uomini cambiavano i loro "pezzi", mentre Andrew Martin voleva solo essere un uomo.
Ma Doctor Who non ha copiato da Asimov, perché mentre questo racconto è del 1976, i Cybermen sono entrati nell'universo di Doctor Who nel 1966, ovvero nell'ultima stagione con William Hartnell, il Primo Dottore (per saperne di più sull'origine di Doctor Who, leggete qui).
E proprio i Cyberman hanno indotto la rigenerazione di First, così come – da quanto si è capito – causeranno anche quella di Twelve. Un bellissimo modo per Moffat di dire addio alla Serie Tv, visto che Twelve è "First", in un certo senso: la sua è, infatti, la prima rigenerazione del nuovo ciclo donatogli dai Signori del Tempo in The Time of the Doctor.
Creati dallo story editor Gerry Davis con la consulenza del dottor Kit Pedler, nel serial di quattro episodi The Tenth Planet, i Cybermen tentano, nel 1986, di riportare Mondas nel sistema solare. Ed è proprio qui che si raccontano le loro origini.
I Cybermen ritornano nella Serie l'anno successivo, nella puntata The Moonbase, ambientata nel 1970. In pratica, qui il secondo Dottore (interpretato da Patrick Troughton), durante una visita alla Luna, scopre una cripta contenente i Cybermen, che cercano di distruggere la Terra.
I Cybermen, il cui nome deriva da "cyborg" – crasi per "cybernetic organism" – sono poi apparsi molte volte nel corso della Serie Tv, e hanno interagito con tutti i Dottori (ad esclusione dell'Ottavo e del War Doctor, almeno per quanto ci è dato sapere!). La loro caratteristica fondamentale, che li rende ancora più pericolosi, è l'assoluta mancanza di emozioni.
Questa mancanza è dovuta al fatto che, per sopportare la mutazione da essere umano a cyborg, i Mondasiani devono essere "anestetizzati" dalle emozioni. Come si è visto proprio in World enough and time, i Mondasiani in fase di transizione soffrono moltissimo, dicono di provare un dolore insopportabile, tanto da implorare di morire.
L'ultima apparizione dei Cybermen nella serie classica avviene nel 1988 nella puntata Silver Nemesis. Qui vediamo un'astronave guidata dai Cybermen che vorrebbe convertire la Terra in una nuova Mondas.
Prima che Russell T. Davies li riportasse in vita in un universo parallelo (lo stesso dove poi Rose rimarrà bloccata in Doomsday), erano apparsi ancora in un episodio speciale di Children in Need, Dimensions in Time, usati dalla Rani (una malvagia TimeLady della Serie classica) nel suo tentativo di distruggere il Dottore.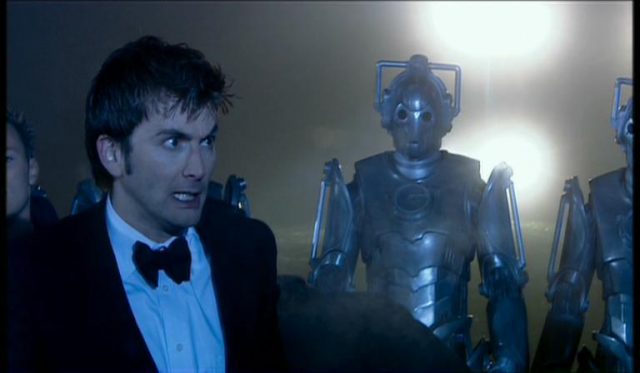 I Cybermen di Davies non sono, quindi, gli stessi della Serie classica, non tanto per il nuovo design che li caratterizza, quanto perché non sono Mondasiani. Infatti qui i Cybermen sono stati creati dallo scienziato pazzo John Lumic, che ha paura della morte e cerca un modo per sfuggirle. I due episodi in cui viene raccontata questa storia, Rise of the Cybermen e The Age of Steel, mettono in moto la catena di eventi che porterà a Doomsday.
Anche Moffat ha recuperato i Cybermen, partendo sempre da quelli di Davies. Dopo alcune apparizioni sporadiche in The Pandorica's Open, A Good Man Goes to War, sono stati Closing Time e Nightmare in Silver ad avere i Cybermen come principali antagonisti. Nel primo, Eleven con Craig, il suo ex coinquilino, si ritrova a fermare un'invasione di Cybermen. Questa puntata è anche importante perché vengono reintrodotti i cybermats.
In Nightmare in Silver, invece, abbiamo a che fare con una versione aggiornata dei Cybermen. Il Dottore viene contagiato e si ritrova a combattere con un Cyber-Planner per il controllo del suo corpo e, soprattutto, della sua mente. Questa è forse una delle puntate migliori dell'era Moffat, in quanto spicca sia la geniale scrittura di Neil Gaiman (che ha sceneggiato la puntata), sia la grande prova d'attore di Matt Smith.
In The Day of the Doctor e in The Time of the Doctor, Eleven utilizza come "mascotte" la testa di un Cyberman, l'adorabile Maniglia (perché, ammettiamolo, ci eravamo tutti affezionati).
Ma è nel finale dell'ottava stagione di Doctor Who che i Cybermen cambiano di nuovo. Questa volta nascono dai cadaveri, per volere di Missy. Ma hanno vita breve, perché l'amore di Danny Pink per Clara riesce a salvarlo, a mantenerlo in qualche modo cosciente, e questo fa sì che lui salvi il pianeta, uccidendo tutti gli altri Cybermen.
E, adesso, finalmente, eccoci tornati alle origini dei Cybermen. Resta solo da capire se la prossima puntata segnerà l'inizio di questa razza o la sua fine.