…the more, the better I feel.
In Dark 2×02 il passato continua a riecheggiare nel futuro, e il futuro riverbera nel passato. Come in un gioco degli specchi, in Dark le linee temporali si intersecano, e l'io assiste stupito allo sdoppiamento di se stesso.
Quello che nella prima stagione ci aveva fatto strabuzzare gli occhi, ovvero lo sdoppiamento di Jonas, coesistente nella stessa linea temporale in due diverse versioni, in Dark 2×02 inizia a diventare la regola. Le leggi del viaggio nel tempo, per come le conosciamo, vengono sovvertite. Non accade niente se incontri te stesso. L'apocalisse è già avvenuta. La vera tragedia è che nemmeno la persona di cui più potresti fidarti, te stesso, sarà in grado di impedirti di diventare chi hai di fronte.
E chi hai di fronte sei sempre tu, in un loop eterno e indistricabile.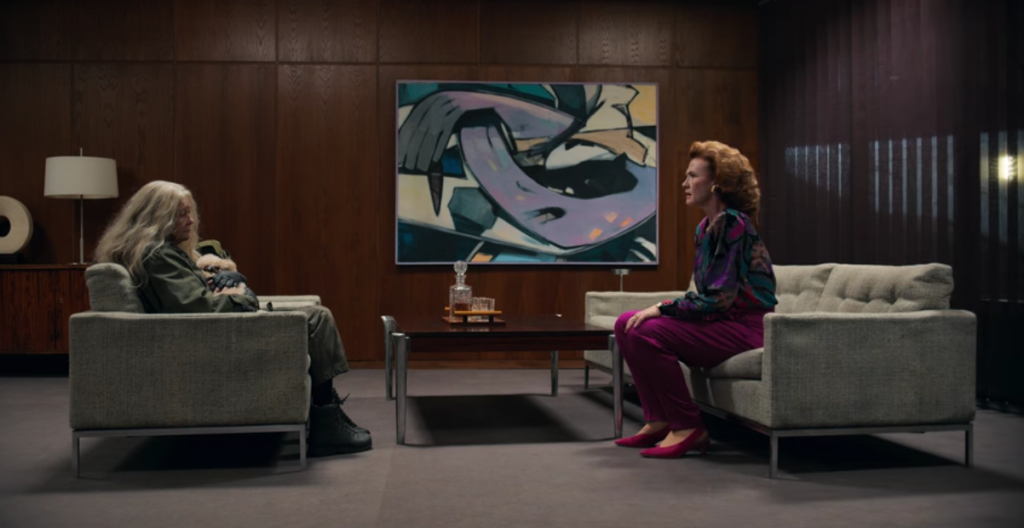 Non conosciamo neanche la metà dei misteri dell'Universo. Eppure, per cominciare a conoscerli, la cosa migliore è vedere coi nostri occhi. E così The Stranger porta sua madre nel passato, perché metta mano alla ferita che lei stessa ha contribuito inconsapevolmente ad aprire. Così, le due Claudia si confrontano in un surreale dialogo, affinché quello che deve avvenire avvenga, e ciò che deve essere fermato finisca.
La domanda che cominciamo a porci, alla fine di Dark 2×02, è semplice e insieme indistricabile come la matassa temporale in cui sono avviluppati i protagonisti. Chi agisce per il bene? Chi è il male? I viaggiatori vogliono cambiare il corso degli eventi, o vogliono distruggere il mondo in un delirio fanatico? Claudia è lì, davanti a se stessa, per cambiare gli eventi o per far sì che tutto vada come deve andare? Per far sì che un'altra Claudia ripeta a se stessa come devono andare le cose?
Nella matassa temporale, sono più le cose che lasciamo dietro di noi che quelle che ci portiamo via. Ma la memoria, quella nemmeno il tempo può cancellarla. Anche se la memoria che custodiamo riguarda avvenimenti che non si sono ancora verificati. E così può succedere che, dalle nebbie del tempo, riemerga la strofa di una canzone. Che dal 1953 aleggia nell'aria, aspettando di venire ascoltata. E così succede che un viaggiatore per errore si trovi al centro di un intrigo di dolore, errori, inganni e ingiustizie che forse, dopo 33 anni, potranno trovare una risposta.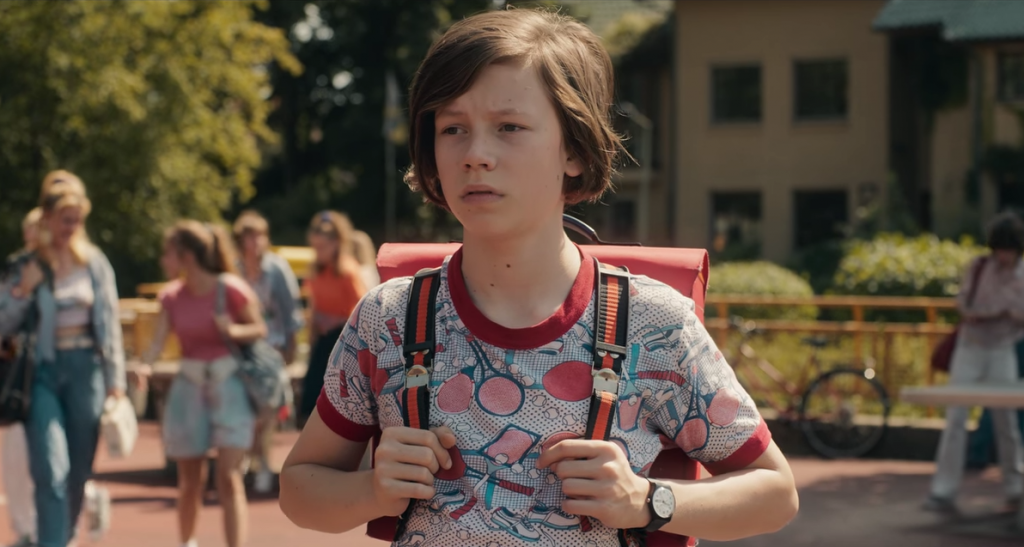 La tragedia di Mikkel, bambino senza identità, immerso in un tempo sconosciuto a lui stesso, riverbera nella tragedia di Ulrich, imprigionato da più di tre decenni in attesa di un segno. Di un cenno di assenso, da parte di chi è allo stesso tempo responsabile e vittima di quel tragico errore. Egon Tiedemann, nemesi di Ulrich in due linee temporali diverse, e allo stesso tempo pedina inconsapevole degli eventi.
Ognuno persegue il suo misterioso scopo in Dark 2×02.
Salvare il mondo, salvare chi ama, o semplicemente salvare se stesso. Anche dalla sua stessa proiezione. Perché l'ombra che emaniamo può spaventarci, ma il riflesso di noi stessi può terrorizzarci molto di più.
Quello che iniziamo a percepire, e che si concretizza sempre di più, è che nessuno è come appare. Claudia potrebbe essere allo stesso tempo la salvezza e la condanna di se stessa. Ines, nella sua cieca determinazione nel proteggere quello strano bambino, non presta attenzione ai segnali che emana: eppure questa cecità fa sì che Mikkel continui a restare dove, in fondo, deve appartenere. Al passato. E così Egon, frastornato e provato da una sfida più grande di lui, non presta attenzione alle strane parole di quell'uomo canuto, e continua a tenere in trappola una terribile verità.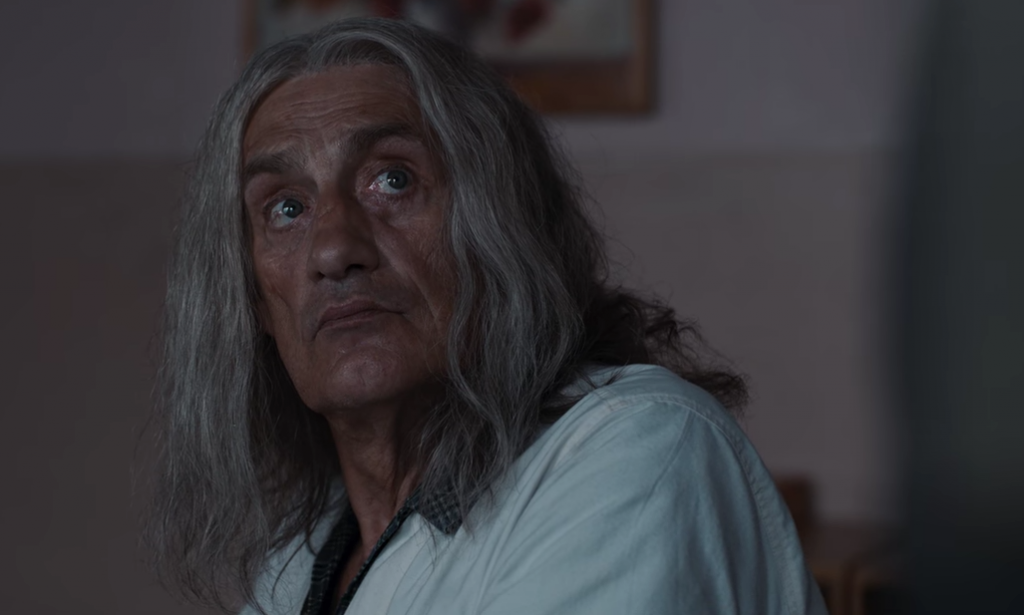 Un giorno tu sarai dove sono ora, e accetterai il tuo ruolo in questa danza senza fine, e il sacrificio che comporterà…
Le misteriose parole di Claudia alla sua versione più giovane gettano una luce diversa sulle intenzioni di tutti i personaggi di Dark, a prescindere dalle fazioni a cui dicono di appartenere. Forse lo scopo di tutti non è quello di distruggere la vita, ma quello di salvare quante più persone possibile. E in questa logica, anche la scelta delle parole profetiche di Ulrich alla sua nemesi appaiono meno inquietanti:
My only aim is to take many lives, the more, the better I feel…
Potrebbe significare solo e semplicemente la volontà di sterminare il mondo conosciuto. Quel "piacere di uccidere" non fine a se stesso, ma dovuto al sentimento di divinità che contraddistingue l'uomo e che lo porta a sentirsi superiore a tutto. Ma potrebbe anche significare la volontà di portare quante più persone con sé.
Proprio come fa Noah, costruttore dell'arca che salva gli uomini dall'andare alla deriva.
Alla deriva negli oceani del tempo, in cui i protagonisti di Dark stanno imparando a navigare. Ignari del fatto che ogni pedina spostata è un passo inesorabile verso quell'apocalisse di cui sono ancora ignari.