# #
Esiste un limite di sopportazione in ciascuno di noi; dobbiamo aggrapparci ad esso lottando con le unghie e con i denti per non oltrepassarlo. Tale proibitivo confine è tutto ciò che ci separa dal diventare quella bestia assuefatta dal sangue che la natura ci impone di essere. La primordiale attitudine dell'uomo alla distruzione e alla violenza è placata dalla distorsione della realtà che l'amore evoca. Quest'ultimo sentimento coadiuvato alla frenesia della routine e alla massiva presenza di altre distrazioni calma la nostra indole. Farsi una famiglia e vivere il sogno della stabilità è il miglior deterrente per mentire a se stessi e alla maschera che siamo costretti a portare. Ma la recita non può andare avanti in eterno e l'impietosa azione del tempo può determinare la sua fine.
In una società dove la brama di potere prevale sull'amore è decisamente probabile che tale equilibrio possa essere violato,  tradendo questo necessario accordo. Di fronte al dolore possiamo trascendere tutte le nostre regole etiche potendo quindi cedere al primordiale istinto della vendetta e della violenza. E qualcuno salvi le povere anime di coloro che vanno a stimolare l'indole maledetta di alcuni individui. Che Dio abbia pietà dei malcapitati attentatori alla tranquillità  di Frank Castle, alias The Punisher, perché lui non ne avrà.
# #
Il suo ingresso violento e sanguinoso a Hell's Kitchen è l'inizio di un turbine di atrocità e vendetta. Frank Castle è l'altra faccia della medaglia per Daredevil. La reincarnazione di un machiavellistico principio secondo il quale il fine giustifica i mezzi.
E se prima di puntare il dito verso di lui, classificandolo come una bestia, analizzassimo l'iniqua indole della società potremmo arrivare ad affermare che The Punisher è un male necessario. Una violenta chemioterapia per un tumore che attanaglia la corrotta e povera Hell's Kitchen: quello della corruzione e della criminalità. La giustizia è costretta ad inginocchiarsi sotto una pioggia di soldi e terrore, un ingiusta conseguenza generata dal potere degli imperi della paura governati da ricchissimi magnati del crimine. Un malessere insinuato fino nelle più oscure spire della società, ed è proprio in quei reconditi angoli che la violenza si consuma. Frank Castle è incappato in un losco gioco di potere in cui anche un anima innocente non ha valore. Un purulento complotto mirato ad insabbiare orribili segreti e meschine macchinazioni politiche.
Ma l'attentato a lui e alla sua famiglia segna solo l'inizio di quella che sarà la sua seconda vita.
Odio, morte, sangue, disperazione, rabbia e vendetta trasformeranno Frank Castle in un altra cosa: egli morirà e rinascerà come The Punisher. E questa nuova trasformazione gli permetterà di arrivare dove i tribunali non osano avvicinarsi. Se una giuria non può aiutarlo lo farà senz'altro il suo fucile. Ciò che lo aveva reso un superbo soldato, e un pluripremiato patriota, ora gli permette di essere una macchina da guerra. Il suo talento sfruttato dal suo Paese è il mezzo per concretizzare la sua vendetta e per trovare una pace interiore che sembra essere una chimera.
# #
Il motivetto perennemente ripetuto tra sè e sè sta a evidenziare il dolore ciclico e permanente che offusca la sua anima ed è l'unico nesso con la sua umanità e il vecchio mondo. Il suo unico scopo ora è quello di zittire le voci nella sua testa, e scacciare le rimembranze di quel tremendo massacro, attraverso l'unico mezzo che conosce e che gli hanno insegnato a venerare: la violenza.
L'epopea solitaria che ne deriva spacca l'opinione pubblica e attira l'attenzione di colui che condivide la sua sete ma non i suoi metodi: Daredevil.
Quest'ultimo non può che accondiscendere lo scopo di Frank Castle ma è spaventato dal suo modus operandi che prevede un regime in cui il sangue si paga con il sangue. Lo scontro tra i 2 vigilanti è inevitabile e Daredevil si accorgerà di combattere contro una minaccia che non è in fuga dal mondo ma che vuole affrontarlo.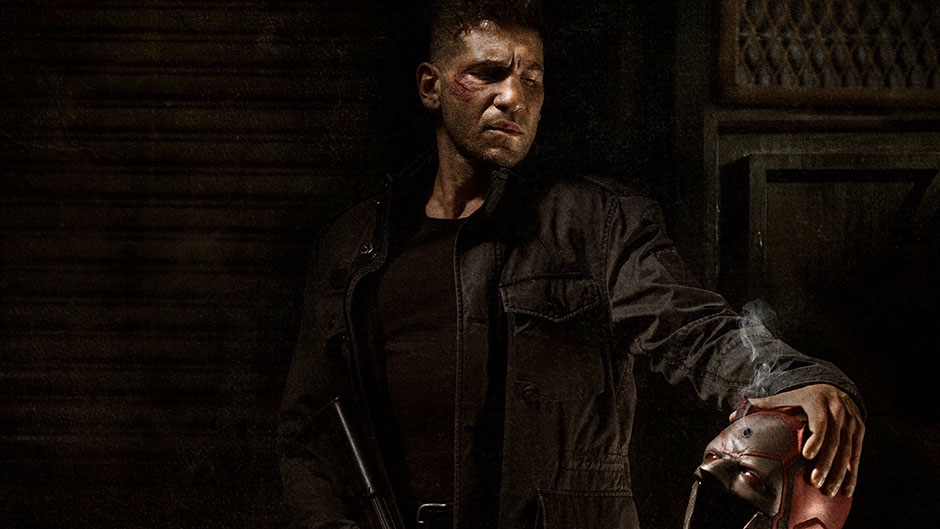 La missione di The Punisher è una corsa forsennata verso il nulla. Non vi è liberazione o redenzione ma solo morte. Lui è già morto e non teme la mietitrice, anzi va cercando conforto in essa. Nessun compromesso e nessuna amnistia per i suoi attentatori. La pace non è dietro l'angolo e non lo sarà mai: bisogna solo portare a termine la missione e perire con essa. La sua cattura sa quasi di resa perché la vendetta l'ha consumato del tutto ed è inevitabile pagarne le conseguenze.
La fine di Frank Castle sembra palesarsi dietro le fredde sbarre della prigione. Ed è in quell'inferno che dovrà fare i conti con qualcuno che vuole sfruttare il suo talento. Wilson Fisk cerca di sedurre il sanguinario reduce. Lo assolda per i suoi scopi mentendogli spudoratamente e strumentalizzando i suoi servigi. L'inganno di Fisk è un meschino doppio-gioco che non porta da nessuna parte. Quest'ultimo capirà la pericolosità di prendersi gioco di un vero e proprio flagello della natura.
Neanche Wilson Fisk può tenere testa alla furia di Frank Castle!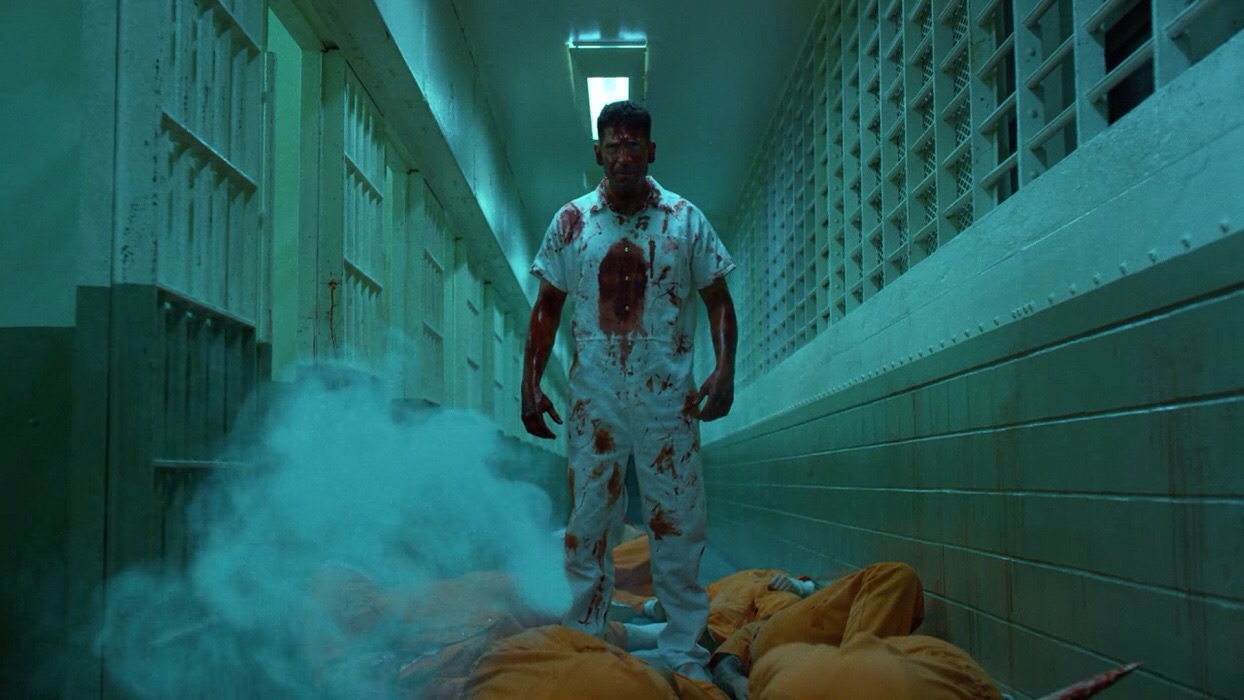 La fuga dalla prigione è l'ennesimo nuovo inizio della vita del vigilante. La parentesi in carcere fa aprire gli occhi di Castle su quella che è la sua vera essenza. La sua crociata solitaria non avrà mai fine perchè il male che gli ha causato quel dolore lancinante non verrà mai del tutto estirpato. Daredevil sbaglia il metodo ma non la strada. Il giusto percorso è quello della lotta e per farlo Frank non ha bisogno di nessuna maschera. Il dolore l'ha plagiato e l'essere ancorato sul ricordo della sua vecchia vita l'ha reso prevedibile e vulnerabile. Se Matt Murdock ha bisogno di una maschera per proteggere ciò che più ama, Frank Castle ha bisogno solo di un teschio, simbolo di morte e dolore profondo insinuato nei meandri della sua anima.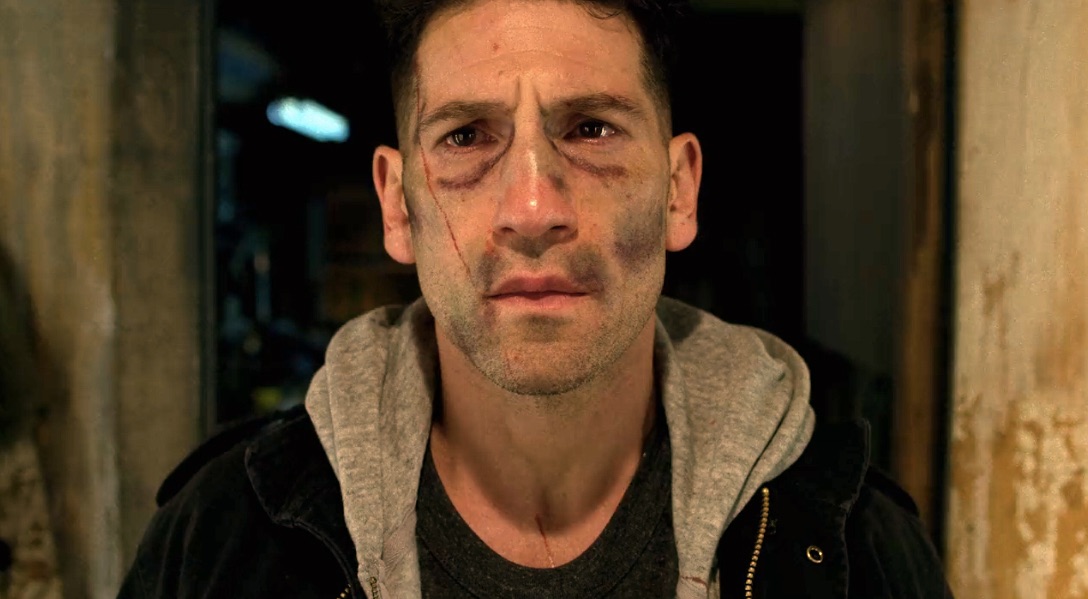 La morte è entrata nella sua vita e l'ha trasformato nel suo emissario. Ora essa gli scorre nelle vene e lui è il suo condottiero. Un uomo che non ha niente da perdere e che ha dato fuoco al suo passato, e alle ultime rimembranze di esso, ora è in missione.  E nessuno è in grado di fermarlo.
L'ultimo incontro con Daredevil durante la sua resa dei conti assume un valore simbolico per entrambi. Da una parte Frank Castle ha finalmente capito che la sua rabbia può diventare il suo potere, dall'altra il guerriero cieco è pronto a mettere in discussione i propri metodi accettando la brutalità dei violenti mezzi di "The Punisher".
Il cenno d'intesa tra i 2 furiosi combattenti spiana la strada verso nuove convinzioni a entrambi.
"Ci vediamo Rosso".
Frank Castle è una svolta epocale nella vita di Daredevil e nella psiche di Matt Murdock. Un terremoto ad alto potere distruttivo che ha stravolto l'esistenza di una città intera. Un violento vigilante al servizio delle vittime di una società iniqua e corrotta. Il violento e sanguinario braccio della legge! Colui che PUNIRÀ i colpevoli!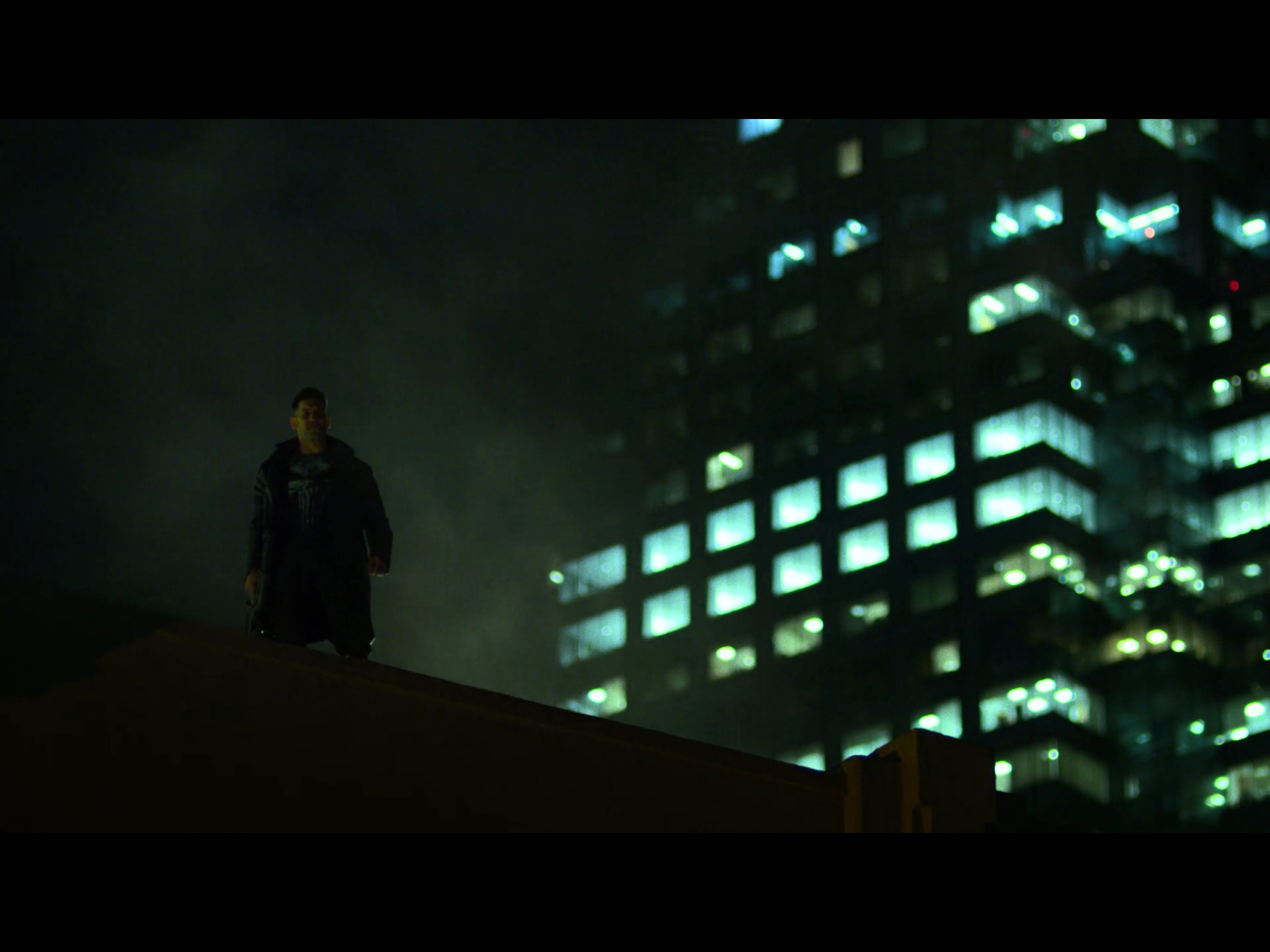 Leggi anche – The Punisher: tutte le ultime novità