Lo scopo ultimo dei genitori sulla terra, lo sappiamo tutti, è quello di mettere in imbarazzo i propri figli. È così per tutti, indistintamente, che tuo padre sia un impiegato o che tu sia Son of Zorn.
Chi è Zorn? Zorn è il difensore di Zephyria, isola/Nazione sperduta nell'Oceano Pacifico. Questa simpatica isoletta è popolata da mostri selvaggi in continua e tremenda lotta con il nostro eroe e la sua personale squadra di Avengers. In risposta alle vostre domande:
No, su Ryanair non ci sono voli Low Cost per Zephyria. Inoltre per Flixbus la logistica è complicata a causa della natura idrocircondata della meta in oggetto.
Sì, fare il distruttore (di mostri apocalittici) è un lavoro a tempo pieno. Per questo le ore da dedicare alla famiglia sono molto ridotte.
Zorn, e qui ci ricolleghiamo all'apertura della recensione, è infatti anche un padre. Separato, che si ricorda del compleanno del figlio con qualche settimana di ritardo e totalmente impreparato al ruolo nonostante un affetto sincero per il proprio erede.
Una storia che tutto sommato hanno vissuto in tanti, senza andare fino a Zephyria.
Bon, mi pare di aver detto tutto, non credo di aver lasciato nulla di importante. Possiamo cominciare con la recensione vera e propria.
Ah, già, che Zorn sia un cartone animato in mezzo a persone reali ve l'ho detto, vero?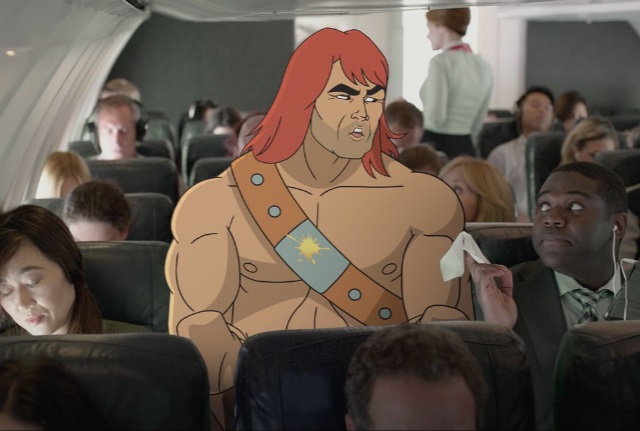 L'ETERNA LOTTA TRA BENE E MALE (O TRA PADRE E FIGLIO) IN SON OF ZORN
Esatto, Son of Zorn riprende la tecnica tanto cara agli anni '90, ossia quella di mischiare tra loro realtà e animazione, una strategia capace di partorire capolavori stile Chi ha incastrato Roger Rabbit o Space Jam, ma che era andata a dormire più o meno da una ventina d'anni (sì, dagli anni '90 sono passati una ventina d'anni).
Scelta anacronistica? Poteva esserlo, ma la chiave ironico/demenziale/griffinesca è totalmente diversa rispetto al passato, ed è questo il fulcro principale.
E poi, per citare Seth MacFarlane, anche se cinematograficamente parlando, pure Ted tutto sommato appartiene a questo filone. E a me è piaciuto (quasi) tanto.
Zorn e suo figlio, dicevamo. Sangue del suo sangue animato che dal padre ha preso il nome esotico Alangulon (ma per tutti i personaggi in carne e ossa è semplicemente Alan) e – solo all'apparenza-  poco altro, ma Zorn vuole riallacciare i rapporti col figlio in occasione del suo diciassettesimo compleanno.
Zorn si aspetta che il figlio sia la sua reincarnazione, alto, forte, muscoloso e coraggioso oltre ogni limite. Uno che possa apprezzare uno spacca cervelli come regalo, insomma.
Il problema, con le aspettative, è che vengono spesso disattese.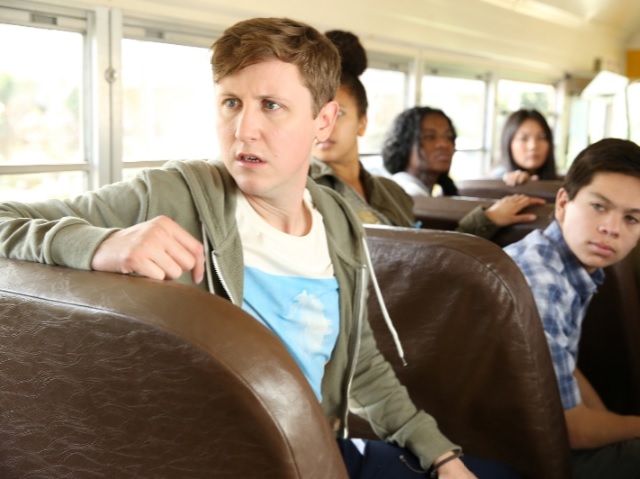 Anche Alangulon, dal canto suo, spera che suo padre non lo metta in imbarazzo davanti agli amici o alle cameriere carine dei locali esibendo il suo look minimal (mutandoni in pelo, fodero a tracolla e spadone d'ordinanza) e le eccentricità tipiche di chi porta la pagnotta a casa tagliando teste o sbudellando mostri.
Come si diceva? Chi vive sperando muore…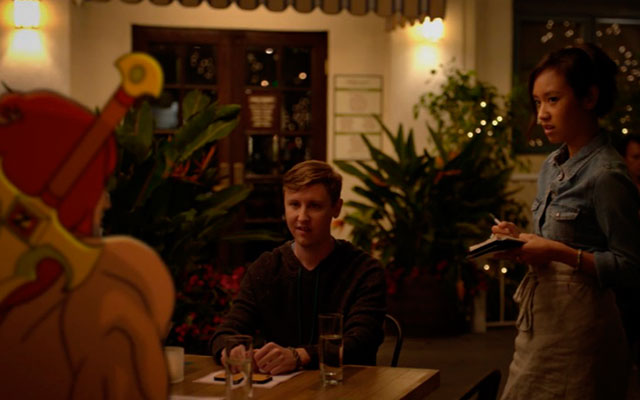 Per amore della propria creatura, Zorn è disposto a cambiare vita, trasferirsi in pianta stabile ad Orange County per stare vicino ad Alangulon e alla propria ex Dedie, con le incursioni del di lei fidanzato Craig,  "professore" di psicologia presso un'Università telematica.
Esatto, una di quelle con le lezioni via Skype.
Sì, lo so, patetico. E lo sa anche lui perfettamente!
UN CONSIGLIO A SON OF ZORD
La comicità di Son of Zorn sembra condensarsi essenzialmente in questo, ossia sull'assurdità estrema delle relazioni interpersonali del cugino di He-Man con persone "normali" (non solo perché tridimensionali), oltre che sulla becera crudeltà gratuita che ormai lascia quasi indifferente una generazione cresciuta a pane, GTA e GoT.
Almeno per le prime puntate la cosa però sembra funzionare. Non saremo davanti alla genialità fatta comedy in tutto il suo splendore, ma i produttori (Phil Lord e Chris Miller, The LEGO Movie per dirne uno, "È Meraviglioso" in Loop nel cervello da quando l'ho letto) sono comunque riusciti a far fare alla propria Serie Tv uno step successivo all'interno del genere.
Il rischio, in questo caso, è quello di esaurire le idee in fretta, specie se come detto tutto dovesse giocare solo sullo straniamento.
La sensazione, invece, è che nelle prime uscite Son of Zorn sia andata paradossalmente con il freno a mano tirato, visti i limiti pressoché inesistenti che può (e deve) esplorare nel magico mondo del nonsense che ci piace tanto.
Occhio, non è una critica, ma solo un consiglio a osare di più.
Non pensiate che io sia un malvagio mostro Zhepyria Style che cerca il pelo nell'uovo di ogni Serie (ok, ho fatto anche quello). Non sono cattivo, è che mi disegnano così!