Vi avverto che "Guerra e Pace", la Serie Tv che sto per consigliarvi è un vero e proprio gioiellino della BBC.
Unite uno dei romanzi più famosi e conosciuti di Lev Tolstoj, un cast di grandi nomi e sullo sfondo i luoghi più belli della Russia ed avrete questa mini Serie imperdibile, "Guerra e Pace".
In Inghilterra è stata trasmessa sulla BBC, una garanzia per le Serie Tv in costume ed in Italia su Laeffe, canale molto apprezzato da coloro che amano la letteratura.
La Serie Tv, composta da 8 episodi da un'ora ciascuno e diretta da Tom Harper (che aveva già lavorato a Misfits), è stata girata nell'elegante ed incantevole Russia.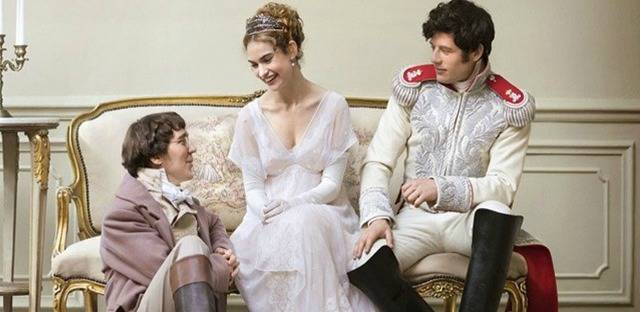 La trama sarà molto nota agli assidui lettori di Tolstoj e agli amanti della letteratura russa, ma la esporremo comunque per coloro che non hanno avuto ancora il piacere di leggere tale romanzo.
Ambientato nella seconda metà dell'Ottocento, durante la campagna napoleonica nelle selvagge e fredde terre russe, di cui la Serie Tv ci offre fin dall'inizio dei quadri molto vividi.
Del resto la Guerra ha un grande peso nella storia di tutti i personaggi: strappa dalle loro famiglie i giovani, riempie d'orgoglio i nobili annoiati che si arruolano volontari e lo spettro di Napoleone è presente anche nei salotti esclusivi di San Pietroburgo.
Ed è proprio in uno di questi che conosciamo il giovane Pierre Bezukhov, così goffo, timido ed estraneo a quella società di titoli altisonanti che conquista dal primo momento la nostra simpatia.
Il giovane ragazzo si ritrova all'improvviso depositario di una grande fortuna, di cui non sa che farsene.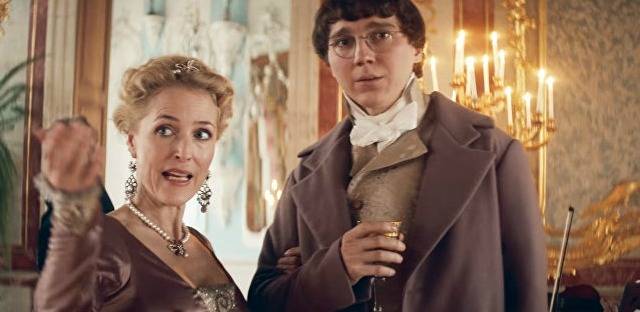 Il secondo personaggio ad entrare in scena è Andrej, un nobile principe deciso ad abbandonare la moglie gravida e l'affezionata sorella per andare in guerra e sottrarsi alla quotidianità.
La guerra entra nella sua vita e lo eleva, ma al suo ritorno scopre di aver perso sua moglie, la donna che aveva dato tanto per scontato.
In ultimo conosciamo la giovane Natasa, piena di amore per la vita e impaziente di innamorarsi e vivere un'avventura romantica come quelle che ha letto nei libri. 
La giovane finisce per innamorarsi dell'affascinante vedovo Andrej in seguito ad un dolce ed elegante ballo.
Anche Pierre però, sposato con l'avvenente quanto infedele Helene, ha da sempre avuto una simpatia per Natasa. Anche un altro uomo, Anatole Kuragin, certamente meno nobile, si interessa alla ragazza.
Sono queste le premesse di Guerra e Pace, Serie Tv che vi sorprenderà ad ogni episodio
La cosa più degna di nota sta nel fatto che nella galleria di personaggi che ci si presenta innanzi nessuno possa essere definito completamente buono o malvagio, caratteristica principale della penna di Tolstoj.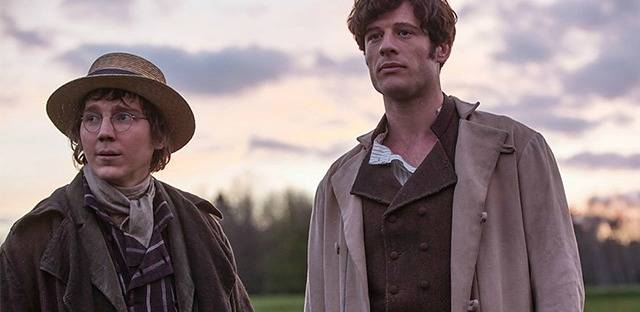 E' sull'antitesi tra Pierre ed Andrej che si basa la storia: Pierre, un giovane scapestrato e disilluso  ed il principe Andrej valoroso e coraggioso.
Entrambi però sono alla ricerca di qualcosa che elevi la la loro vita, entrambi tentano di trovare il loro posto in una società che sta cambiando velocemente.
Due facce della stessa medaglia insomma, seppur con le loro differenze, Pierre e Andrej che finiscono entrambi per farsi affascinare dalla grande guerra napoleonica.
La Guerra è un tema importante nella Serie che accompagna lo spettatore dai primi attimi fino alla fine, quando a trionfare sono finalmente la Pace e l'amore.
Tuttavia la guerra è come la passione che travolge tutto e quando torna la quiete, ogni cosa è cambiata.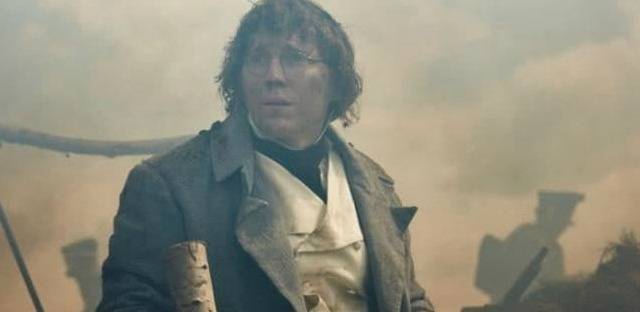 Interessante è anche il percorso spirituale di Pierre che passa da ricco e giovane gaudente a mormone e che alla fine sceglie di adottare uno stile di vita più modesto e tranquillo.
Particolarmente notevole è anche il confronto tra due capi di famiglia, il principe Nikolai Bolkonsky interpretato dal grande attore Jim Broadbent, nonché padre di Andrej, ed il conte Rostov, padre di Natasa.
Il primo troppo austero, severo ed orgoglioso, l'altro invece molto accondiscendente e generoso. I loro sono due modi diversi di comportarsi in società, ma che alla fine porteranno al medesimo risultato.
Insomma quella che potrete vedere nella serie tv Guerra e Pace è una società fatta di titoli, orgogli, vendette, tradimenti, ma anche di amori ed amicizie sincere e durature.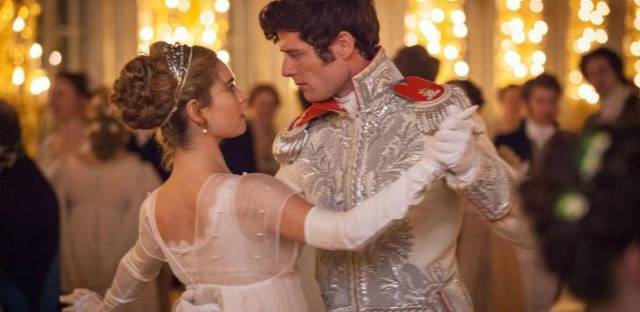 Guerra e Pace è perfetta per chi ama
le Serie Tv in costume!
Di questa Serie Tv potrete apprezzare non solo la narrazione, ma anche l'interpretazione di attori come Paul Dano, e Lily James.
Notevole è anche la fotografia che sa valorizzare perfettamente le splendide ambientazioni russe.
Quello che la Serie lascia è anche un messaggio di speranza. La vita è imprevedibile e gioca con noi, come se fossimo delle marionette, ma alla fine anche se inaspettatamente riusciamo ad ottenere la felicità.
"We must live. We must love. And we must believe that there's more to it all than our lives on this scrap of earth".
In Inghilterra questo adattamento ha avuto molto successo ed ha spinto molti a rispolverare questo classico della letteratura tanto che l'opera di Lev Tolstoj è salito in classifica tra i 50 libri più letti.
Per la regia, le interpretazioni del cast, le ambientazioni ed i meravigliosi costumi la miniserie ha anche ricevuto critiche lusinghiere dal Times e da The Guardian.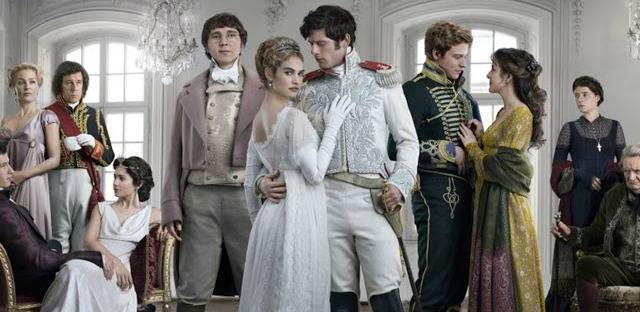 È consigliata agli amanti della letteratura e della Russia, ma anche semplicemente a coloro che adorano e le storie d'amore