Behind The Series è la rubrica di Hall of Series in cui vi raccontiamo tutto quel che c'è dietro le nostre serie tv preferite, sul piano tecnico, registico, intimistico, talvolta filosofico. Oggi è il turno di Breaking Bad.
NB. Behind The Series, assieme ad altre rubriche e tanti altri nuovi contenuti esclusivi che usciranno giornalmente, verrà presto trasferito su Hall of Series Plus: un nuovo sito gemello di Hall of Series dove con un piccolo contributo mensile o annuale potrete usufruire di tanti contenuti premium a tema serie tv.
"Chemistry is, well technically, chemistry is the study of matter. But I prefer to see it as the study of change"

Walter White
Breaking Bad è unanimemente nella storia delle serie tv: che sia la migliore o la più amata poco importa, la storia l'ha già scritta. Vince Gilligan ha creato un gioiello che ha alzato vertiginosamente l'asticella qualitativa dei prodotti televisivi seriali, raccontando un dramma di degenerazioni, conseguenze e di discese nell'abisso della moralità umana. 
Come in tutti i grandissimi prodotti seriali e cinematografici, anche in Breaking Bad le tematiche sono filtrate e veicolate dall'utilizzo della telecamera e dalle tecniche di scrittura. Il cambiamento, la rivalsa, le conseguenze e, più in generale, il peso che si attribuisce alla vita sono tutti elementi che variano in base a come una certa scena è scritta e diretta e a come gli attori scelgono di interpretarla.  
Si potrebbe dire in questo senso che il grande tema del dilemma morale abbracci tutti i microcosmi della serie AMC, amalgamando le relazioni tra i personaggi e soprattutto le conseguenze delle azioni che essi compiono, a partire da Walt ovviamente, ma senza escludere nessuno in questo cerchio degenerativo senza fine. 
È proprio su Walt che si deve per primo riflettere, mettendo subito in chiaro che il professore di chimica opera senza dubbio alcuno in quella che è definibile una "area grigia". Una grey area richiamata nominalmente dal più grande rimpianto della vita di Walt, la "Gray Matter Technology", la compagnia da lui fondata che rappresenta ciò che poteva essere, il successo che poteva ottenere legittimamente, il vero e proprio contraltare alla sua ascesa criminale.
Ma il modo con cui si sedimenta il dilemma morale, oltre che con la rappresentazione delle scelte da un punto di vista narrativo, lo vediamo soprattutto attraverso i movimenti di camera e la fotografia. Il direttore della fotografia di Better Call Saul, Arthur Albert Marshall Adams, parla di "nervous energy" in riferimento alle scene apice di Breaking Bad, che potremmo tradurre con "energia ansiosa", e questo è un elemento che si pone in netta contrapposizione con l'atmosfera della serie spin-off, in cui le situazioni mostrate vivono un crescendo visivo-narrativo più lento e meno di rottura. 
Questo punto di partenza è fondamentale proprio per la questione del dilemma morale.
Infatti, la maggiore dinamica ansiogena mostrata in Breaking Bad implica e simboleggia un ristretto tempo per i protagonisti per decidere, al contrario della maggiormente pausata e riflessiva distribuzione dei frames in Better Call Saul, che comporta un maggior peso attribuito alla cosa giusta o sbagliata da fare.
Si pensi, ad esempio, alla parte finale della terza stagione, in cui Walt deve decidere se salvare o meno Jesse e lo fa in pochi secondi davanti alla televisione. Infatti, negli ultimi minuti dell'episodio Half Measures (3×12), la tensione è alle stelle. L'inaspettata morte di Tomàs, il fratello di Andrea (la ragazza di Jesse), scatena nel ragazzo l'esigenza di regolare i conti con gli spacciatori di Gus colpevoli.
Walt, fino a quel momento sottomesso alle decisioni di Gus, guarda il telegiornale a casa sua e apprende la notizia della morte di Tomàs: c'è poco tempo per intuire le intenzioni di Jesse e prendere una decisione.
Il tempo è scandito dai cuts sempre più rapidi che fanno zoom alternativamente sulla tv e sul volto di Walt, fin quando con un ultimo cut vediamo l'uomo sulla soglia della porta di casa che comunica a moglie e figlio che deve andare. Poi sappiamo tutti cosa succede.
Un altro esempio può illuminarci su queste scelte registiche: la morte di Jane (Phoenix, 2×12). I propositi di Walt sono tra i migliori, vuole discutere con Jesse riguardo il fatto che non deve usare tutti i soldi che gli ha dato per comprare l'eroina, non vuole mollare con lui (dopo l'illuminante dialogo al bar con uno sconosciuto, che è in realtà il padre di Jane). Tuttavia, giunto all'appartamento trova i ragazzi sdraiati sul letto, strafatti e svenuti per la dose di eroina.
A un certo punto, Jane si gira a pancia in sù: poco dopo il rigurgito che il corpo spesso emette dopo essere entrato in contatto con l'eroina le va di traverso e la ragazza inizia a soffocare nel suo vomito. La telecamera si sposta subito su Walt che istintivamente sta per intervenire, ma si ferma: la telecamera indugia su di lui. Cosa sta pensando?
Lasciarla morire è la scelta più conveniente, fine dei ricatti e forse salverà la vita a Jesse. Ma è solo una ragazza, potrà fare una cosa simile? Walt è immobile: la telecamera è ancora su di lui mentre sentiamo i singhiozzi di Jane e sappiamo che ha deciso.
Pochi secondi ancora, quelli necessari per vedere la ragazza morire, e ancora un ritorno su Walt: l'uomo inizia a piangere, si ricompone e va via.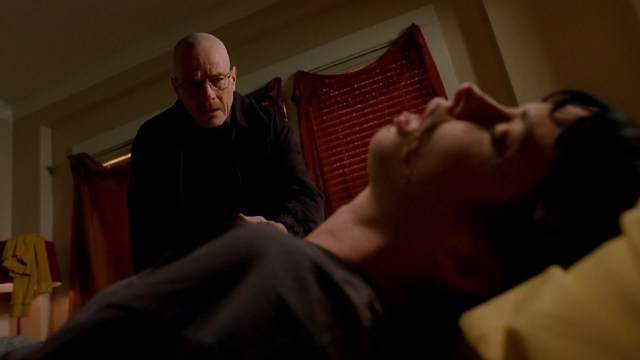 In questo caso la "nervous energy" non è data dall'alto numero di cuts, ridotto rispetto all'esempio precedente, ma dall'immediatezza della decisione di Walt e dal contesto tragico che sappiamo si sta sviluppando. Le conseguenze di quell'azione avranno la loro punta dell'iceberg nella frase che Walt dice a Jesse molto tempo dopo, in Ozymandias (5×14):
"I watched Jane died. I was there. I watched her overdose and choke to death. I could have saved her. But I didn't".
Il punto di Breaking Bad sta, tra gli altri, proprio nel concetto di escalation: cosa porta Walt a pronunciare queste terribili e sadiche parole? Qual è il punto di non ritorno? Senza dubbio in Ozymandias esso è stato superato da un pezzo. Forse non esiste un momento definito, ma non può negarsi che la vicenda dell'avvelenamento di Brock rappresenti uno dei punti più bassi della moralità del protagonista. Sorge un quesito a tal proposito: perché non mostrarlo?
La ragione principale è narrativa: il non mostrare che Walt sia il colpevole e far credere agli spettatori come a tutti gli altri personaggi che il responsabile sia Gus è funzionale al cliffhanger con cui la quarta stagione si chiude, cioè la visione della pianta di mughetto presente a casa di Walt, cosa che lo inchioda come colui che ha compiuto l'empio gesto.
Estraniare il pubblico dalle scelte del protagonista è una tecnica che va senza dubbio verso la direzione della trasformazione di Walt in una sorta di villain nella quinta stagione: le sue ragioni sono sempre più difficilmente comprensibili, chiunque lo teme e se all'inizio ogni azione moralmente discutibile era giustificata o dal doversi salvare la vita o dal salvare quella di Jesse, verso la fine si è sempre più davanti a un vero e proprio delirio di onnipotenza.
In questo senso si pensi all'omicidio di Mike Ehrmantraut. Nella prima metà dell'ultima stagione assistiamo probabilmente al Walt più assorbito da se stesso, più bugiardo e sfacciato dell'intera serie. Al suo continuo affermare di non volere che venga sparso altro sangue corrisponde un ininterrotto fiume rosso che scorre ai suoi piedi e di cui, a dire il vero, a lui poco importa.
L'omicidio di Mike è, in un certo senso, l'esempio lampante dell'ormai affermato processo decisionale di Walt: o fai come dico io o ti faccio fuori. Anche se può "essere evitato": Walt non è più lucido come crede, al punto che trova più conveniente premere un grilletto piuttosto che fermarsi a pensare e accorgersi che i nomi che disperatamente vuole da Mike può benissimo averli da Lydia.
Walt: "I just…I just realized that Lydia has the names. I can get 'em from her. I'm sorry, Mike. This…this whole thing could have been avoided"

Mike: "Shut the fuck up and let me die in peace".
È evidente, pertanto, che quello del dilemma morale diventa sempre meno un dilemma, restringendo il campo delle scelte alle uniche che possano alimentare l'ego del protagonista. Ma l'incisività del dilemma non investe solo Walter White, ma tutti i comprimari ne sono in qualche modo toccati.
Skyler, Hank, Marie senza dubbio vivono anch'essi l'ambiguità derivante da alcune scelte, ne soffrono le conseguenze e, come tutti, alla fine non possono fare altro che "break bad", cioè vedere tutto andare alla rovina per quello che hanno deciso di fare e di non fare. 
Gus Fring, invece, essendo il principale villain della serie, è meno toccato dal dilemma. Ha delle ragioni personali di vendetta contro il Cartello, ma la sua figura è fin dall'inizio presentata come l'uomo d'affari criminale che ha già fatto le sue scelte.
Per questo è invece interessante osservare brevemente le posizioni di Jesse, Mike e Saul. Jesse Pinkman è l'altra faccia della medaglia rispetto a Walter White. Entrambi vivono un periodo impregnato di scelte decisive e a volte definitive, ma il ragazzo a un certo punto inizia a comprendere la malvagità delle sue azioni e non ha più il coraggio di giustificarle.
Esce dal circolo vizioso del trovare una scusa per ogni propria decisione e, a differenza di Walt, smette di accettare il suo recente passato e cerca di liberarsene. Non è un caso, infatti, che spesso nei momenti emotivamente apicali delle decisioni di Jesse la telecamera indugia su di lui molto a lungo, senza interruzioni che mostrino l'ambiente circostante, come invece con Walt.
Un discorso differente vale invece per Mike e Saul. Entrambi hanno già compiuto le loro scelte (Better Call Saul docet), eppure c'è qualcosa che sembra permettere loro di darsi dei limiti. Mike, in particolare, non è affatto indifferente ai tormenti interiori di Jesse e condivide (o forse addirittura ammira) i dubbi morali che il ragazzo solleva ogniqualvolta accada qualcosa di discutibile. Walt gira lo sguardo dall'altra parte, Mike no, anche se quest'ultimo è sempre guidato da un basilare utilitarismo che gli permette da sempre di sacrificare il giusto per il conveniente.
Stesso discorso va fatto per Saul, completamente disinteressato alla cosa giusta ormai da tempo ma che, nonostante ciò, sente che persino il suo limite viene superato quando Walt lo convince con l'inganno a sottrarre la ricina a Jesse, senza dirgli che tutto il suo piano avrebbe messo a rischio la vita del piccolo Brock.
Si noti, infatti, che a partire da quel momento Saul vive nel terrore di Walt, accetta i soldi perchè è un criminale senza scrupoli, ma ha totalmente perso quel ruolo da commediante che lo aveva caratterizzato nelle prime stagioni.
Per un approfondimento su Saul Goodman e in attesa dell'ultima stagione di Better Call Saul, potete leggere questo articolo.
"I guess Breaking Bad is a post-modern Western", Vince Gilligan
È difficile inquadrare Breaking Bad in un unico genere. Volutamente infatti gli autori, in particolare il creatore Vince Gilligan e il direttore della fotografia Michael Slovis, hanno creato un reticolo di generi cinematografici a cui ispirarsi, anche se è innegabile che l'opera magna di Sergio Leone (ma soprattutto C'era una volta il West e Il buono, il brutto, il cattivo) sia la fonte primaria. È chiara la tendenza della serie a giocare con la distanza dagli oggetti, dall'incontro tra campo lungo e lunghissimo fino al dettaglio estremo, la contrapposizione continua tra vastità del quadro d'insieme e la piccolezza dell'infinitesimale (cfr. C. Checcaglini, Breaking Bad – La chimica del male, Mimesis 2014, p. 96). 
Anche il costante interesse della telecamera per gli sguardi dei protagonisti, persino a costo di tagliarne la fronte, è un forte richiamo al cinema western di Sergio Leone, ma come dice lo stesso Gilligan in riferimento al pilot (in un'intervista con L. Negri per Serial Writers):
"…mi sono ispirato a Kurosawa, a I sette samurai, a Kubrick e a Il braccio violento della legge, che rividi prima di girare l'episodio pilota e del quale ho adottato lo stile quasi da cinéma verité, così lontano da quello cinetico e iperconcitato di oggi".
Il virtuosismo tecnico di Breaking Bad è uno degli elementi grazie al quale la serie è maggiormente apprezzata, poichè riesce a citare inserendosi con la propria unicità. Nel cinema un esempio simile è dato da Quentin Tarantino, a sua volta spesso citato da Gilligan nella serie (si pensi ai numerosi POV shots dall'interno dei bauli delle autovetture, per fare un esempio). Lo abbiamo visto nelle descrizioni delle scene precedenti in questo articolo, e lo comprendiamo ancora meglio con le parole del direttore della fotografia Slovis a Forbes Online del 26.9.2013, intervista di A. St. John:
"These shots very quickly become boring. We had the kind of story that could support those shots and they could be very evocative. People started to wait for them".
È corretto dire, quindi, che il modo geniale con cui questi virtuosismi vengono inseriti su un racconto che spesso si avvale di attese, silenzi e dialoghi (questi ultimi spesso senza musica), sventa il pericolo di una ridondanza di effetti (cfr. ancora Checcaglini, op. cit., p. 98). 
Breaking Bad è un'opera che come tutti i grandi capolavori sia del cinema che della tv non ha timore di essere un vero e proprio mosaico di stili, poichè trionfa in un periodo in cui il post moderno pop è stato già esplorato e può pertanto darlo per scontato, usando la tecnica per raccontare i tragici dilemmi morali dei protagonisti. In Breaking Bad di Bandirali e Terrone (in Segnocinema, n. 179, p. 70) viene data una definizione perfetta per questo gioiello immortale:
"Lo stile di Breaking Bad finisce per ricalcare il destino del protagonista, in bilico fra la pacifica affermazione della normalità e la sua spaventosa negazione".