L'articolo contiene spoiler su Better Call Saul.
Può un karaoke distruggere l'animo degli spettatori? Better Call Saul dice di sì. E ovviamente una cosa così assurda poteva farla funzionare solo Vince Gilligan.
Decima puntata della quarta stagione, l'episodio si apre con un flashback post laurea di Jimmy. Festa in un bar, tanta musica e ancora più alcolici. Il festeggiato e Kim si stanno dando alla pazza gioia ma notano che Chuck sta uscendo dal locale.
Il fratello lo ferma, e cerca di convincerlo a rimanere ancora un po', tirare fuori il suo lato goliardico e cantare con lui. La riluttanza iniziale di Chuck per il brano The Winner Takes It All lascia pian piano spazio a un'esibizione al karaoke fenomenale.
La scena nel pub è estremamente divertente, con lo spettatore che per una volta vede Chuck divertirsi e spassarsela, addirittura prendendo il microfono a Jimmy per continuare da solista. Ed è strano provare empatia con Chuck, personaggio che nel finale della stagione precedente si era suicidato e prima di allora era stato odiato da quasi tutti i fan della serie.
Un uomo che agisce per un bene superiore, per mantenere pura la Legge, ma non ha alcun rimorso a denigrare il fratello per ogni cosa che ha fatto nella sua vita. Il rapporto tra Jimmy e Chuck era peggiorato puntata dopo puntata, fino a sfociare nella definitiva rottura poco prima del suicidio dell'uomo. E Vince Gilligan avrebbe potuto fermarsi alla scena nel pub, lasciando nel pubblico una sensazione strana guardando il personaggio in quelle vesti. Ma sceglie di spingersi oltre.
Dopo la serata, Jimmy accompagna il fratello in stanza, facendolo coricare e mettendosi a dormire di fianco a lui. Se non fosse che la canzone al karaoke è rimasta nella testa dei due fratelli, i quali si mettono a cantarla tra di loro.
Ed è lì che scatta qualcosa. È lì che, senza musica e senza risate intorno, lo spettatore si concentra meglio su ciò che sta accadendo.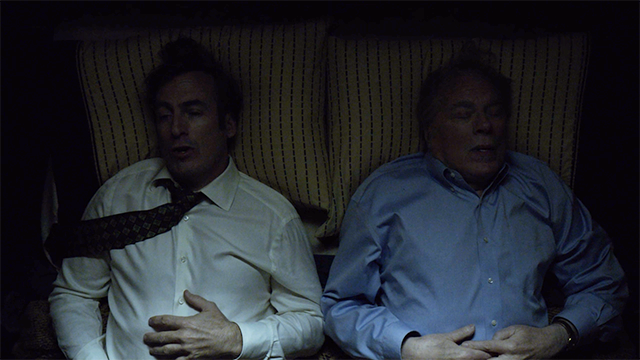 I was in your arms
Thinking I belonged there
I figured it made sense
Building me a fence
Building me a home
Thinking I'd be strong there
But I was a fool
Playing by the rules.
Il testo, neanche a dirlo, non è stato scelto a caso.
The Winner Takes It All è una metafora della vita dei due fratelli, un ultimo grido dei due che ormai sono separati dalla morte. E nel passato erano lì, fianco a fianco, a cantare insieme di essere nelle rispettive braccia e pensare di appartenervi. In questo flashback Vince Gilligan sceglie di giocare sporco con le emozioni degli spettatori.
Una volta consapevoli del fatto che Chuck e Jimmy non si potranno mai riappacificare, vederli uniti e legati è struggente. Un vero e proprio colpo basso al cuore dei fan, che tanto avevano odiato il fratello maggiore ma ai quali si è stretto il cuore a vederlo in quelle condizioni.
Perché in questa scena Better Call Saul è sadica, nella stessa puntata (che abbiamo analizzato qui) vediamo quanto il rapporto tra i due sia cambiato. Nel passato questo fortissimo legame fraterno, nel presente un Jimmy che prima usa la morte di Chuck per riottenere la licenza e poi rinnega il cognome McGill.
The winner takes it all
The loser standing small
Beside the victory
That's her destiny.
Jimmy ha vinto. Ha di nuovo la sua licenza, non è più un McGill e la morte di suo fratello non coinciderà con la morte della sua carriera. Chuck ha perso. Solo nel suo ultimo periodo, debole e fragile, ricaduto nella sua allergia all'elettricità.
Eppure rimane l'amaro in bocca, il rimpianto di cosa sarebbe potuto essere e non sarà mai più. L'ultimo assaggio del loro rapporto è solo l'ennesimo inganno prima di sbattere la porta. E nonostante la vittoria del protagonista, il destino che aspetta entrambi è la solitudine. A quella di Chuck abbiamo già assistito, a quella di Jimmy ci stiamo avvicinando rapidamente, con Kim che ormai pare al punto di svolta sotto molti punti vista (come abbiamo discusso qui).
Che sia proprio Kim una seconda lettura per la frase "that's her destiny"?
Perché nonostante la vittoria morale contro Chuck, sappiamo che l'avvenire di Jimmy non lo porterà a vincere in Breaking Bad. Probabilmente la separazione con Kim sarà l'ennesima pietra tombale sulla vita dell'uomo.
E alla fine la domanda che rimane è una sola: tra la vittoria di Jimmy e la sconfitta di Chuck c'è davvero differenza?