Ah-ah-ahhh-ah! Ah-ah-ahhh-ah!
We come from the land of the ice and snow,
From the midnight sun where the hot springs blow.
Hammer of the Gods will drive our ships
To new lands to fight the horde
Singing and crying: "Valhalla I am coming."
L'iconico e in tutti sensi leggendario inizio di Immigrant Song dei Led Zeppelin del 1970 è un grido di battaglia. Non l'urlo selvaggio delle cariche barbare, ma un canto di guerra che s'innalza sopra gli spruzzi del mare attraverso le nebbie del mattino. Chiudendo gli occhi possiamo immaginare un uomo emergere dalla nebbia, aggrappato alla prua del suo drakkar, l'ascia stretta nell'altra mano. Lo sguardo, folle e magnetico, rivolto verso la costa da conquistare e dentro quegli occhi profondi la consapevolezza di essere guidato dalla volontà degli dei. Quell'uomo è Floki. E il suo mondo è quello di Vikings.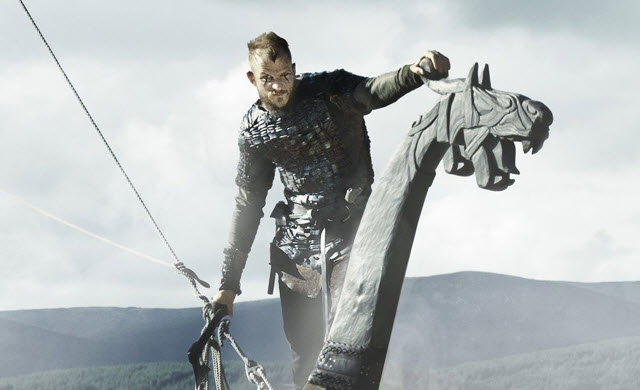 Ah-ah-ahhh-ah!. Ah-ah-ahhh-ah!
Veniamo dalla terra del ghiaccio e della neve,
Del sole di mezzanotte dove sgorgano le fonti di acqua calda
Il Martello degli dei guiderà le nostre navi
Verso nuove terre per combattere le orde
Cantando e piangendo: "Valhalla sto arrivando"
Il capolavoro di Jimmy Page e Robert Plant dipinge perfettamente l'atteggiamento e le motivazioni che muovono i primi passi di Floki soprattutto durante le stagioni d'apertura di Vikings. Scritta in una tappa in Islanda della tournée del 1970 descrive, dal punto di vista dei guerrieri erranti, la tensione esplorativa e di conquista verso Occidente. Ma perché proprio Floki? È lo stesso testo ad aiutarci a comprenderlo:
Il Martello degli dei guiderà le nostre navi
Il riferimento al Mjöllnir, il leggendario martello del dio Thor, sposta l'attenzione sul pantheon di divinità norrene che tanto sono care a Floki. La sua ragione di vivere, le sue azioni, i suoi sogni e le sue paure traggono origine dal desiderio di compiacimento agli dei. A loro egli dedica l'intera sua vita, la sua amicizia, il suo amore, sua figlia. Floki il costruttore di navi è letteralmente soggiogato e piegato alla loro volontà.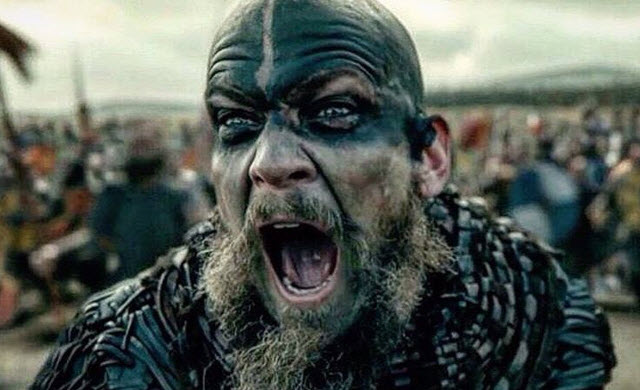 Cantando e piangendo: "Valhalla sto arrivando"
In Vikings più di una volta abbiamo percepito la necessità, quasi morbosa, di morire in modo glorioso. Non solo in battaglia, massima aspirazione, ma in ogni momento in cui la morte possa sopraggiungere. Floki non è da meno. L'ossessione della sua mente, il dramma interiore che lo sta logorando, sono votati al raggiungimento del Valhalla, in attesa della battaglia finale: il Ragnarǫk.
Ma il percorso che porta a quel momento può essere tortuoso e pieno d'insidie. Nelle prime stagioni di Vikings vediamo Floki precipitare sempre più in profondità nella sua follia lacerante. Una spirale discendente di conflitti interiori che squarciano il velo della sua comprensione. La sua dedizione e fedeltà a Ragnar, seconda solo a quella verso Odino, lo portano a essere il fautore e realizzatore dei suoi sogni. Floki crea il primo drakkar per permettere al futuro re di salpare, in modo inaudito, verso Occidente.
On we sweep with, with threshing oar.
Our only goal will be the western shore.

Avanziamo controvento
Il nostro obbiettivo è la costa occidentale
Ancora una volta la voce di Robert Plant ci disegna e descrive una delle immagini più rappresentative di Vikings. Il sogno di Ragnar. Il lavoro di Floki. Navigare verso Occidente e conquistare le nuove terre. Lo spirito di conquista e il desiderio d'avventura della visione di Ragnar sono messi alla prova dei fatti solo grazie alla sua geniale e lucida follia. Il carpentiere diviene demiurgo di sogni. Ma la parafrasi può essere più sottile ancora: "Avanziamo controvento" perché le nostre navi sono spinte dal volere degli dei. "Il Martello degli dei guiderà le nostre navi" riallacciandoci alla prima strofa e alle tante parole di Floki stesso.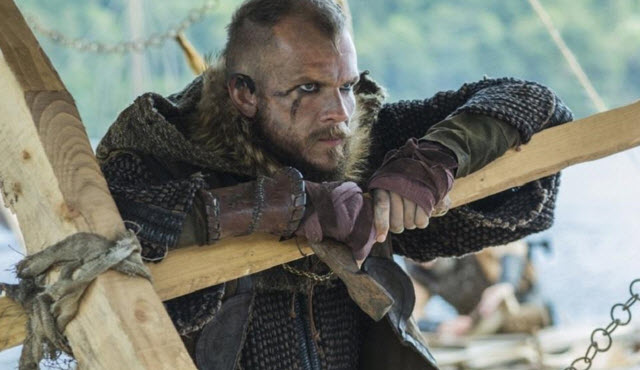 Ormai il riff incessante in Fa diesis minore di Jimmy Page ci sta accompagnando verso la conclusione. Incalzante come le onde del mare solcate dalle navi vichinghe. Di nuovo il canto di battaglia. La voce acuta e potente di Plant ci descrive ancora un ultimo aspetto che lega a Vikings. A Floki.
How soft your fields so green
Can whisper tales of gore of how we calmed
The tides of war. We are your over lords.

Quanto dolcemente i vostri campi tanto verdi
Possono sussurrare storie di sangue e in che modo noi abbiamo sedato
Le ondate di guerra. Noi siamo i vostri padroni.
Non è solo il desiderio di conquista. Non è solo la volontà di imporre il proprio dominio. A muovere Floki verso Occidente è la necessità di supremazia ideologica, religiosa. Il mio credo contro il tuo. Il mio dio contro il tuo. La differente reazione di comportamento che avviene nelle terre d'Inghilterra tra lui e Ragnar è incentrata su questo aspetto. È imperdonabile per Floki la curiosità che travalica in passione del suo amico di sangue verso i cristiani e soprattutto intollerabile l'amore (perché un'amicizia così è un sentimento ancor più nobile) verso Athelstan.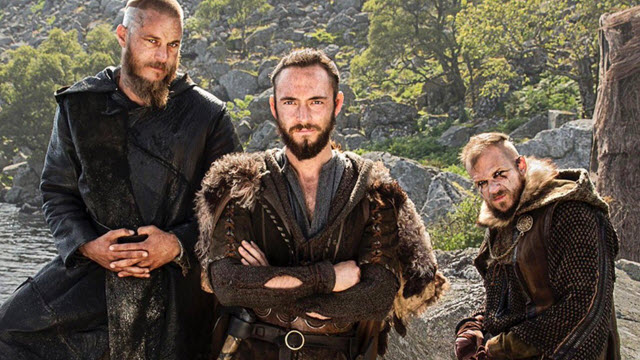 Ma stiamo andando oltre, quindi è doveroso un passo indietro. Accompagnati dalle ultime note del capolavoro dei Led Zeppelin ci soffermiamo sulla conclusione di questo canto perché il parallelo con Vikings non è ancora concluso.
So now you better stop and rebuild all your ruins.
For peace and trust can win the day despite of all
Your losing.

Così ora dovreste fermarvi e ricostruire le vostre rovine
Perché la pace e la verità possano vincere oltre il giorno
Della vostra sconfitta
In queste ultime parole troviamo il grido folle della mente di Floki prima della sua rinascita. Il suo bisogno di distruggere e la sua natura di costruire. Dualismo. Come l'amore per Ragnar e quello per gli dei. Come la fedeltà all'amico contrapposta all'odio per la sua gelosia. Floki è come questa canzone: capace di colpire alle prime note e in grado di conquistare con le sue evoluzioni. Semplice e profonda allo stesso tempo. Quiete e tempesta. Genialità e follia. In una sola parola: Floki.