"I'll see you again in twenty-five years." (Laura Palmer; 2×22)
David Lynch mantiene la sua promessa e ritorna, insieme a uno dei suoi più ambiziosi progetti, negli schermi del pubblico che lo aveva già conosciuto e amato ai tempi delle prime due stagioni della serie culto Twin Peaks. Molti personaggi che abbiamo lasciato tanti anni fa hanno continuato a vivere la loro vita nonostante Laura Palmer, Dale Cooper e la Loggia Nera, ma nessuno di loro ha mai dimenticato ciò che è successo.
Nemmeno noi abbiamo dimenticato. Mistico, enigmatico e simbolico, Twin Peaks non ha perso niente di quel fascino che lo ha caratterizzato sin dalla puntata d'esordio e i maestri Lynch e Frost non fanno che inserire riferimenti, citazioni e particolari per ricordarci che nulla è cambiato, ma si è solo evoluto in qualcosa di più grande.
La domanda non è più "Chi ha ucciso Laura Palmer?", ma "Chi è Laura Palmer?". L'abbiamo vista avvolta nella plastica, nelle mani del Gigante nella Loggia Bianca e ora il suo grido riecheggia ancora nella nostra mente dal finale della Part 18.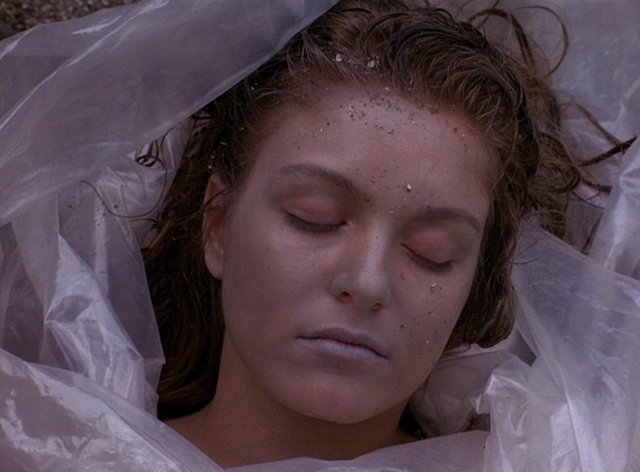 Dove sono tutti?
Tra vecchi e nuovi personaggi, non mancano momenti comici, momenti tragici e di suspense. Dalla cinica scelleratezza di Richard Horne ai curiosi battibecchi tra Andy e Lucy, alcuni dei nostri personaggi preferiti non ci sono più, altri sono invecchiati ma hanno conservato lo stesso spirito che li caratterizzava sin dalle prime due stagioni.
A Twin Peaks, Norma gestisce ancora il Diner più famoso della città ed è ancora innamorata di Big Ed (così come lo è lui di lei); Shelly lavora ancora come cameriera mantenendo sempre il suo solito fascino; Hawk è ancora il vicesceriffo su cui tutti possono contare; La Signora Ceppo continua ad avere con sé il suo piccolo tronco, nonostante una grave malattia la veda costretta in casa e a causa della quale morirà, lasciando Hawk e noi spettatori con uno straziante addio.
Uno dei pochi personaggi che ha subìto un cambiamento radicale è probabilmente Bobby che, da adolescente rissoso e malvivente quale era, è diventato uno degli agenti più amati di Twin Peaks; ci viene presentato un suo lato molto umano che abbiamo potuto vedere raramente nelle stagioni passate, un lato caratterizzato da una sensibilità tale da lasciarsi abbandonare a un pianto liberatorio non appena una foto di Laura Palmer "riporta alla sua mente tanti ricordi".
A Washington, invece, il nostro Gordon continua ad avere problemi all'udito, rimanendo però un abile capo (e un adorabile sciupa femmine); anche Albert è rimasto  il solito cinico e ironico agente che amiamo. Nuova arrivata e compagna di indagini  di Gordon e Albert sulla scomparsa del presunto Agente Cooper, Tammy Preston è una giovane e promettente agente dell'FBI che sarà molto d'aiuto al duo.
Un altro nuovo e inaspettato personaggio farà la sua comparsa, un personaggio che abbiamo sempre sentito nominare e che non abbiamo mai visto: Diane Evans, la famosa "Diane…" a cui erano destinati tutti i messaggi che Cooper registrava su nastro, interpretata da una magistrale Laura Dern.
Grazie alle indagini e alle scoperte degli agenti, nel corso della serie, lo spettatore verrà finalmente a conoscenza di molti dei misteri che giacevano irrisolti sin dalle prime due stagioni. Molte domande avranno finalmente una risposta tranne una: come sta Annie?
"Viviamo in un sogno"
Attraverso le storiche figure di BOB, Il Nano (in questa stagione rappresentato con un albero che ci riporta alla dimensione lynchana di Eraserhead) e i doppelgänger, Lynch ci vuole ricordare che il male sarà sempre annidato nella natura umana e che nessuno può essere salvato. Ed è qui che ritorna la figura di Laura Palmer, non più come tormentata adolescente che per puro caso ha avuto a che fare con BOB, bensì come un possibile spirito appartenente alla Loggia Bianca mandato appositamente sulla Terra dal Gigante e dalla Donna. Laura Palmer è l'incarnazione del Bene destinata all'eterno contrasto con BOB, colui che rappresenta il Male.
In Twin Peaks: The Return, però, il Male viene incarnato da 'Bad Cooper'. Dimenticatevi la figura del "buon Dale" e ricordatevi solo di colui che, nonostante la sanguinante ferita auto inflitta allo specchio, continua a ridere e a ridere insanamente farfugliando sempre la stessa inquietante frase. Nonostante il nostro amato Agente Cooper riesca ad avere la meglio sulla sua controparte malvagia, ciò che ci viene presentato non è certo un lieto fine. Il Male non cesserà mai di esistere e troverà sempre un modo per manifestarsi, che sia tramite un "semplice" Richard Horne o tramite figure più radicate come BOB, i doppelgänger della Loggia Nera o la Madre.
La domanda sorgerà spontanea: perché viene presentata una visione così pessimistica se alla fine "il buon Dale" riesce a salvare Laura dalla morte che ha dato inizio a tutto? Ogni azione non avvenuta ha una conseguenza nel futuro, ed è proprio quello che avviene nel season finale della Serie. Non c'è più nessun corpo da trovare sulla riva del mare, non c'è più Dale Cooper, non ci sono più Laura Palmer e la realtà che ricordiamo.
Siamo trasportati in una apparente dimensione alternativa dove troviamo la spiaggia occupata solo da Pete che va a pescare ogni mattina, dove 'Richard' e 'Carrie Page' sono come incapsulati in un istante scandito dall'urlo agghiacciante di Carrie/Laura. Le domande a cui siamo riusciti a dare una risposta durante la stagione sembrano non importare di più di fronte alla domanda che Richard/Dale si pone: "Siamo nel passato o nel futuro?"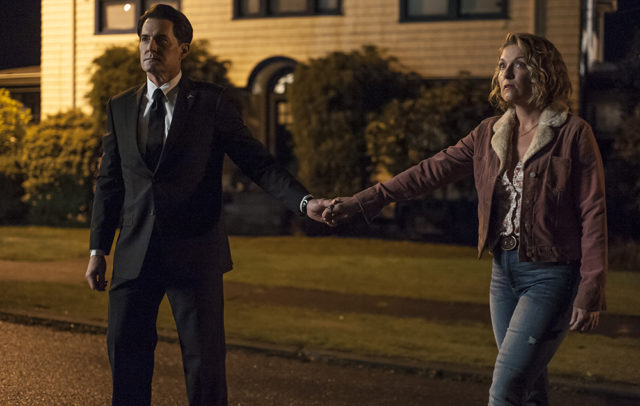 Twin Peaks: The Return è il viaggio di ritorno a casa che va vissuto minuto per minuto, un'esperienza inaspettata dalla quale Lynch si aspetta di generare ogni emozione possibile e possiamo dire che (sì, anche tu che l'hai odiata) è perfettamente riuscito nell'intento. Sono ricorrenti i momenti dove è impossibile staccare gli occhi dallo schermo, e soprattutto dove non si possono saltare i titoli di coda: la fine di quasi ogni puntata è, infatti, marcata da un'esibizione alla familiare 'Roadhouse' da parte di band e cantanti più e meno noti al pubblico, come Nine Inch Nails (dei quali Lynch è un grande fan), Eddie Vedder, Lissie, Chromatics, Au Revoir Simone e molti altri che portano lo spettatore a conoscere e ad apprezzare la musica presentata e il legame che la Serie stabilisce con essa.