Siete Stufi dei supereroi tormentati con super problemi? Stufi dei paladini moralisti, ineccepibili e sempre con il broncio? Stufi di quegli eroi che si lamentano della pesantezza del loro potere? Se avete risposto affermativamente anche solo a una delle suddette domande The Tick è l'eroe che vi meritate.
Il bene non ha mai avuto un paladino più maldestro e inopportuno. Il mondo non è mai stato in mani peggiori. I deboli non hanno mai avuto un rappresentante così dannatamente stupido! In due parole: The Tick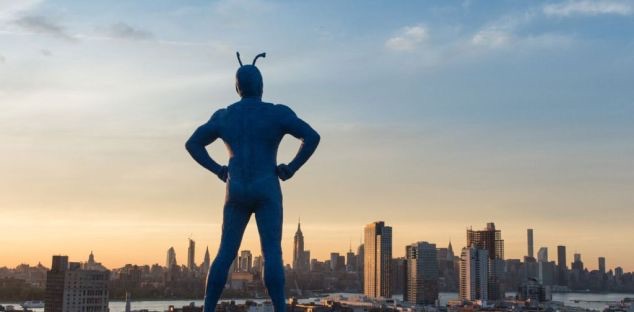 Tratta dall'omonimo Comic Book, da cui derivò anche un fortunato cartone animato, "The Tick" di Amazon è il reboot di una serie Tv andata in onda nel 2001. Negli anni '90 tale soggetto ha rappresentato il caposaldo nell'ambito delle parodie dei supereroi, praticamente un precursore. In Italia raggiunse la notorietà, con un po' di ritardo, proprio grazie al cartone animato trasmesso da Fox Kids (nostalgia Time). Esso era di un'irriverenza mai vista prima e rappresenta uno dei prodotti più esilaranti e no sense del panorama televisivo contemporaneo.
Se non la conoscete recuperatevi la serie animata assolutamente!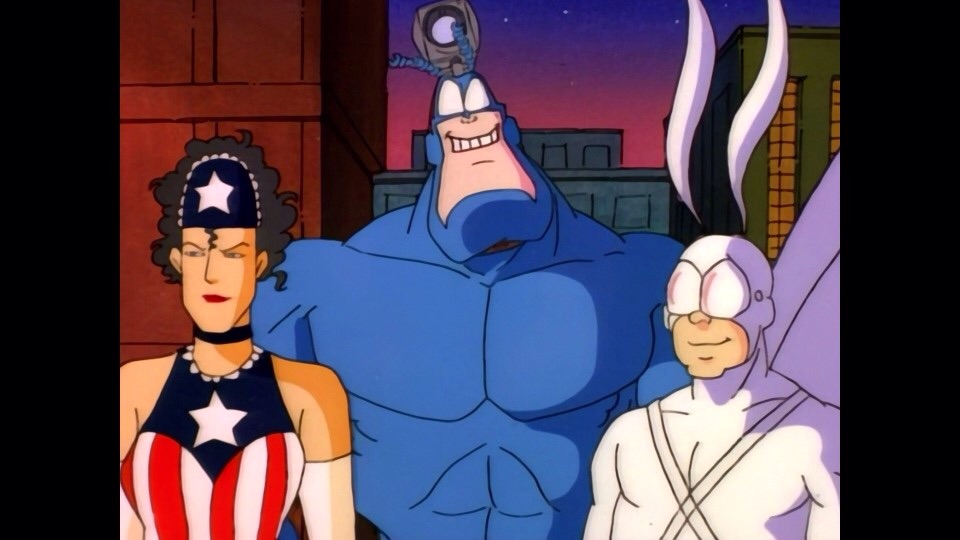 The Tick è un eroe fuori dal normale. Egli lotta contro il male senza apparente motivo, senza pretesa alcuna e spesso senza la minima utilità. Lo fa solo perché c'è qualcuno da combattere e per sconfiggere "la malvagità". I suoi parodistici modi di fare e le sue continue cretinate costituiscono da soli lo show. Oltretutto non c'è neanche una perché egli abbia tutti sti poteri, non viene spiegata ne la natura ne come li abbia ottenuti: The Tick non deve avere il minimo senso. Pure la scelta dell'animale simbolo è apparentemente inutile: la Zecca! Quale supereroe userebbe una zecca come emblema? La risposta ovviamente la sapete.
Insensato, impacciato, spocchioso, maldestro e con un umorismo discutibile! The Tick ha dei difetti?
Ovviamente in questa fiera del no sense non possono mancare anche spunti interessanti. Infatti dal punto di vista tecnico parliamo di una parodia che deve fare scuola perché non si limita a prendere in giro un filone blasonato come quello dei superhero movie, ma ne esalta gli stereotipi senza risultare banale o eccessivamente offensiva. L'umorismo di conseguenza non è per niente fastidioso perché va a collocarsi nel mosaico che costituisce l'armonica "presa in giro".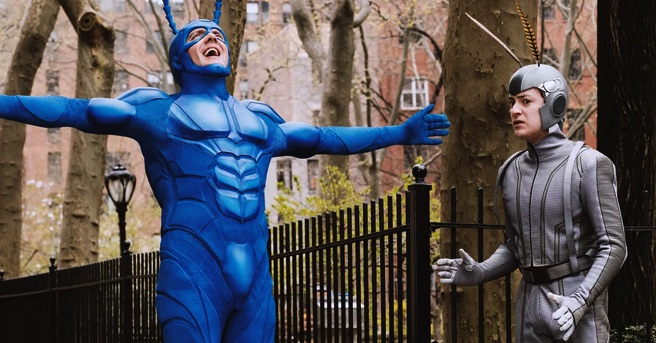 La trama è semplicissima: The Tick deve sconfiggere il malvagio "The Terror" insieme alla sua inseparabile spalla Arthur Everest!
Anche le vicende che legano il protagonista a quest'ultimo rappresentano l'esasperazione di un principio sfruttato malissimo nell'ambito dei film "seri". The Tick è alla continua ricerca di un partner per combattere il male pur non avendone il minimo bisogno. Quindi perché mettere in pericolo un'altra persona?
Facile! Un eroe deve avere sempre una spalla! È ovvio no?
In sintesi possiamo liberamente affermare che The Tick è una parodia intelligentissima che, senza sforare nello squallido o nel trash, riesce a coadiuvare comicità e azione. Un Must imperdibile per gli amanti dei supereroi.
The Tick prende si fa gioco di un genere senza mai offenderlo!