# #
Non poche volte abbiamo parlato di Sons of Anarchy, focalizzandoci spesso su alcuni punti fondamentali che rendono questa Serie una delle migliori dell'intero mondo seriale. Abbiamo parlato del lato poetico, dove Sons of Anarchy rappresenta una rivisitazione anarchica dell'Amleto di Shakespeare (leggete qui). Abbiamo parlato del finale (qui) e di come la visione di questa "semplice" Serie ci ha cambiato la vita (qui).
# #
Ma questa volta voglio concentrarmi su un dettaglio, una scena in particolare, che per quanto sia cruda e violenta, è forse un po' sottovalutata. Mentre, a mio avviso, è una delle scene più importanti della Serie. Non che ci siano poche scene violente nell'arco delle sette stagioni. E non che ci siano poche morti importanti, ma questa di cui parlerò rappresenta qualcosa di più di ciò che vediamo. Con questo non voglio assolutamente screditare altre morti decisamente più importanti e impossibili da dimenticare (indimenticabile la morte di Opie, da cui nessuno si è ancora ripreso). E anzi, senza dubbio quella di cui parlerò è una delle morti che ci ha toccato di meno. Infatti, come detto, non è tanto la morte in sé, ma ciò che questa ha provocato, ciò da cui è stata provocata e ciò che ha significato.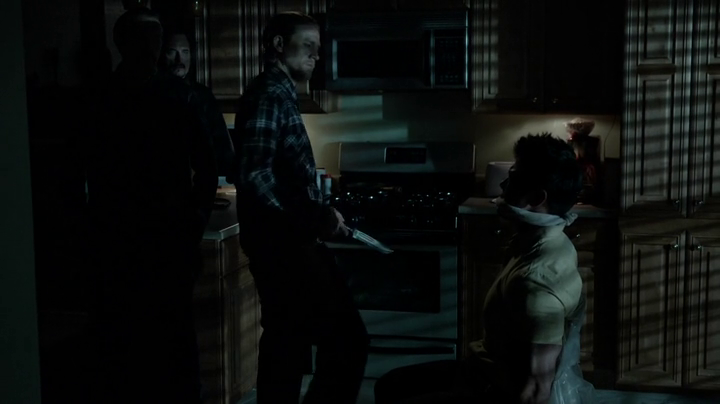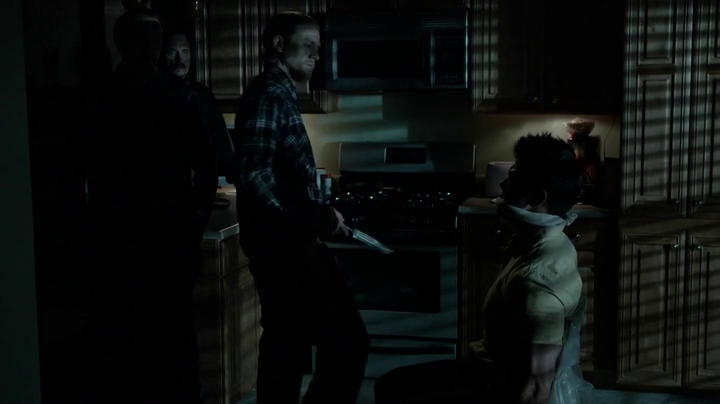 # #
Sto parlando della morte di uno degli uomini di Henry Lin, ingiustamente accusato per l'omicidio di Tara. Siamo all'episodio iniziale della settima stagione. Jax, pieno di rabbia e con un'insaziabile sete di vendetta, crede ciecamente alla storia raccontata da Gemma. Crede che quell'uomo sia colui che ha ucciso brutalmente la sua donna, colui che ha portato via la madre dei suoi figli e distrutto irrimediabilmente la sua vita.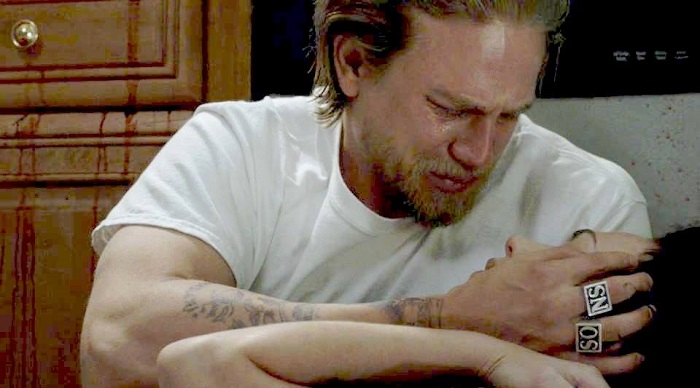 Noi sappiamo che quell'uomo è innocente. E sappiamo che colei che ha puntato il dito contro di lui è la vera carnefice di questo omicidio. Sappiamo tutto questo e sappiamo che quel cinese verrà ingiustamente sacrificato. Nonostante si provi a porre un certo distacco (di fatto non sappiamo nemmeno il nome di quest'uomo quando viene ucciso, si scoprirà poi) la scena è così dura, piena di rabbia, così violenta da non riuscire a rimanere impassibili.
L'atroce dolore di Jax è evidente anche solo dal suo sguardo, e cerca di trasmetterlo a Chris Dun (questo il nome della vittima) attraverso diverse armi, attraverso il dolore fisico. Ma il dolore del giovane Teller è ben più profondo. La rabbia di Jax è in perfetto contrasto con la paura di Dun nel momento in cui realizza che sta per morire per qualcosa che non ha fatto, senza aver avuto nemmeno la possibilità di spiegare, di parlare o anche solo negare.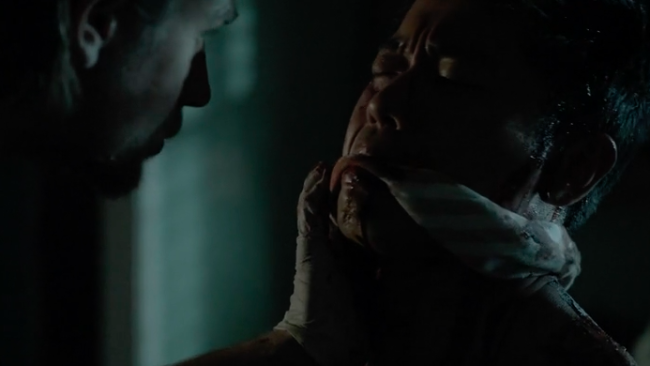 Poi, la violenza. Le torture. E l'atto finale. Un forcone infilzato nel cranio pone fine alla sofferenza di Dun. Ma non a quella di Jax.
Poche parole Jax dedica a Dun. Non vuole sentire spiegazioni, non vuole sapere, non gli interessa ascoltare l'ammissione dell'uomo. Tutto questo rallenterebbe la sua vendetta, e lui non desidera nient'altro che questo. Poche parole, ma importanti:
Farò in modo che tu soffra come lei
La musica in crescendo si impossessa gradualmente della scena. Secondo dopo secondo diventa tutto più cupo. La scena in penombra trasmette perfettamente la tensione, l'angoscia, il tormento. Lentamente, Jax si toglie il gilet, lentamente sceglie le armi con cui colpire l'innocente malcapitato che, lentamente, si avvicinerà alla morte.
Le ferite con le armi prima, il sale poi, ed infine il colpo decisivo. Appena prima di infilzare il forcone nel cranio, la canzone in sottofondo dice: «Nothing really matters to me». Niente importa davvero per Jax. Non più. L'unica cosa che vuole ora è vendetta.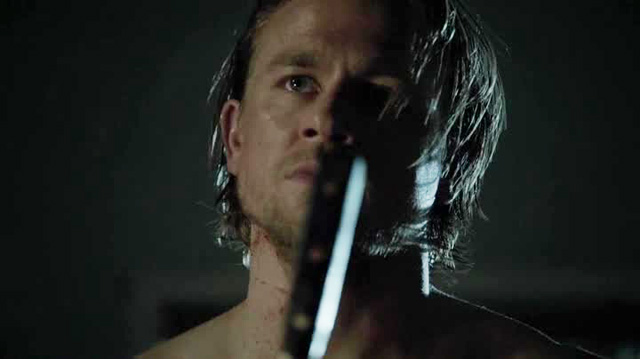 Questa scena rappresenta il punto di svolta, il momento in cui inizia la cieca vendetta senza fine di Jax, il momento in cui il caos diventa guerra. Rappresenta il dolore, l'innocenza, la vendetta più cruda e ingiusta. Rappresenta il raggiro. Ancora una volta Gemma conduce Jax verso la via sbagliata, quella senza uscita. Rappresenta l'ingenuità di Jax, che vedeva sua madre come un'alleata, e che invece è sempre stata la più spietata nemica, seppur a volte inconsciamente. Rappresenta la morte della parte pura di Jax. In questa scena sparisce completamente la sua umanità. È un uomo privo di emozioni, freddo, impassibile. Un uomo vuoto.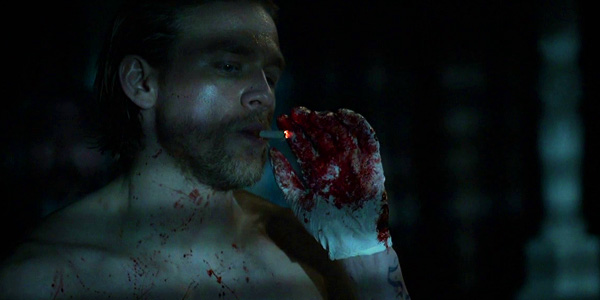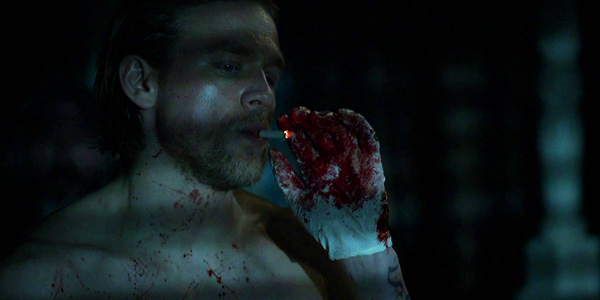 Questa scena – accompagnata musicalmente da una versione a dir poco stupenda di Bohemian Rhapsody – chiude il primo episodio della settima stagione in maniera sensazionale. Un finale amaro, che ci lascia sbigottiti, increduli, con la rabbia nel conoscere la verità, e la sofferenza per aver assistito non solo alla fine di Dun ma soprattutto a quella di Jax. Da quel momento iniziamo a pensare che la morte potrebbe essere l'unica soluzione per Jax, per liberarsi dal suo tormento e dal suo incessabile dolore. Questa scena rappresenta l'inizio della fine, in tutto e per tutto.