Manca poco più di un mese all'arrivo, sugli schermi americani, dello spin-off Raven's Home (se volete qualche dettaglio in più sulla nuova Serie Tv, cliccate qui). Per ingannare l'attesa, Disney Channel ha rilasciato il teaser trailer della Serie, la cui prima puntata andrà in onda, negli Stati Uniti, il 21 luglio 2017.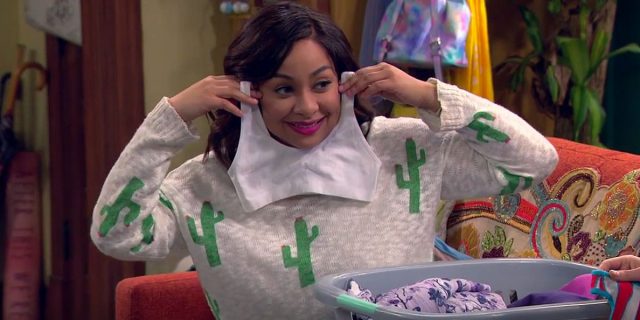 Raven's Home racconta della convivenza tra Raven e la sua migliore amica Chelsea, ormai adulte. Entrambe divorziate, devono prendersi cura dei propri figli: una coppia di gemelli di undici anni per Raven e un bambino di nove anni per Chelsea. Le cose si complicheranno quando uno dei gemelli inizierà a mostrare segni di avere ereditato dalla madre il dono di poter vedere nel futuro.
Il cast sarà composto, ovviamente, da Raven Symoné  e Anneliese Van Der Pol, ma anche da Isaac Ryan Brown (How to Get Away with Murder, Black-ish), il figlio di Raven dotato dell'abilità di riuscire a vedere nel futuro; Navia Robinson (Being Mary Jane), la sorella gemella; Jason Maybaum (Superstore), il figlio di Chelasea; Sky Katz (America's Got Talent), la migliore amica e vicina di casa dei gemelli. Inoltre, vedremo tornare un altro volto famigliare a tutti i fan della Serie originale: Jonathan McDaniel (Hit the Floor), conosciuto nello show come Devon Carter, lo storico fidanzato della protagonista.
La realizzazione dello spin-off era già stata annunciata l'anno scorso e proprio in questa occasione, Gary Marsh, il presidente e il capo creativo di Disney Channel nel mondo, ha dichiarato:
Esiste una sola Raven che per oltre 25 anni ha allietato il pubblico di tutto il mondo con il regalo più grande di tutti: la gioia pura e genuina delle fragorose risate divertite. Dopo aver preso parte a oltre venti nuovi progetti per la Disney, siamo entusiasti di riportare Raven su Disney Channel.
Raven's Home arriverà il 21 luglio su Disney Channel America, per poi venire trasmessa con regolarità a partire dal 28 luglio 2017. Nell'attesa di poterlo vedere anche in Italia, ecco il trailer!