Avete presente quando guardate un film di Bruce Willis e siete tranquilli perché tanto sapete che non potrà accadergli nulla? Bene, prima di leggere questo articolo, stampatevi quella sensazione nella testa.
Un plot armor è uno scudo, un'immunità speciale che si dà a un personaggio perché arrivi sano e salvo ai titoli di coda. Un po' quello che succede anche a Jaime e tanti altri in Game of Thrones.
Ma se avete visto Die Hard, sapete di cosa stiamo parlando. Bruce Willis può fare qualsiasi cosa: gettarsi da un ponte per atterrare su una nave in movimento, restare sospeso al trentesimo piano di un grattacielo, saltare giù da un elicottero in corsa, correre contro una raffica di proiettili senza alcun tipo di protezione.
Non importa quanto estrema sia la situazione, Bruce Willis si salva sempre.
I plot armor sono questa roba qui, un'armatura che permette ai personaggi di sopravvivere semplicemente perché, senza di loro, la storia praticamente non avrebbe senso.
Le serie tv ne sono piene, basti pensare a Game of Thrones e a tutti i sopravvissuti della battaglia di Winterfell, a Doctor Who, a Dexter e a tantissime altre ancora.
Di seguito, ecco la lista dei 10 plot armor più ridicoli della storia delle serie tv.
1) Arya Stark doveva arrivare alla fine di Game of Thrones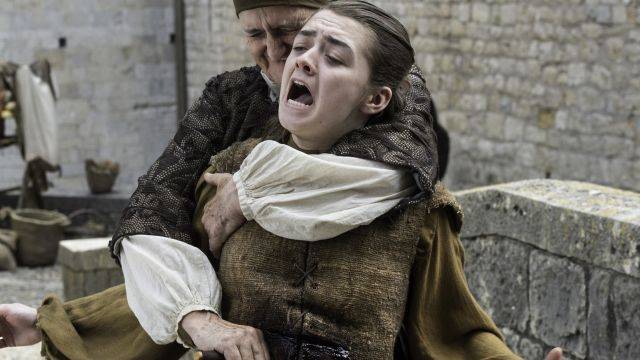 Qualunque personaggio con un ferita come quella riportata da Arya nel finale della sesta stagione non sarebbe sopravvissuto a lungo. Le coltellate nel basso ventre non lasciano presagire nulla di buono, figuriamoci se a questo ci si aggiunge un inseguimento al cardiopalma nelle affollatissime strade di Braavos, con una pazza assassina alle calcagna. Possibile sfuggire alla morte, per diverse ore, con una ferita che zampilla sangue da ogni parte?
Sì, se ti chiami Arya Stark di Grande Inverno e sei colei che, con una pugnalata, dovrà mettere fine alla minaccia millenaria del Re della Notte e degli Estranei.