# #
La serie tv The Big Bang Theory sta subendo dei cambiamenti a casa del suo primo spin-off Young Sheldon.
Proprio così, per raccontare la storia del giovane Sheldon Cooper, di cui abbiamo parlato qui, qualcuno dovrà sacrificare la serie madre The Big Bang Theory.
Per fortuna non si tratterà di stravolgimenti troppo rischiosi, semplicemente si cambieranno un po' i ruoli all'interno della grande famiglia di The Big Bang Theory.
# #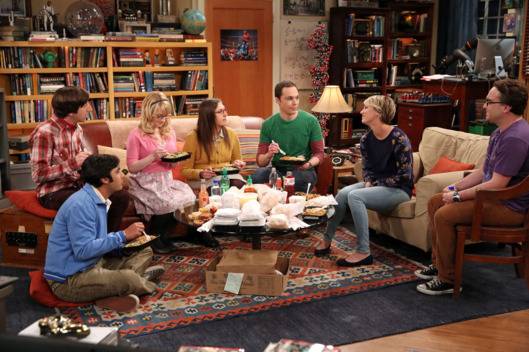 A causa dell'imminente uscita di Young Sheldon, la CBS insieme a Warner Bros ha dovuto prendere la difficile decisione nel dietro le quinte della serie.
# #
Steve Molaro, storico showrunner della serie, si concentrerà sullo spin-off Young Sheldon e verrà sostituito da Steve Holland per la stagione 11.
Lo stesso Steve Holland, però, non è uno sconosciuto in casa CBS – The Big Bang Theory, egli infatti si è unito allo staff di scrittura e produzione nella terza stagione e dalla stagione 2016-2017 è diventato produttore esecutivo. Come vi rassicuravo poche righe sopra, ci sarà un grande cambiamento, ma rimarrà tutto in famiglia.
Per fortuna non sarà un distacco netto, Steve Molaro non abbandonerà la serie in maniera netta e definitiva.
Molaro continuerà a seguire e gestire The Big Bang Theory insieme al produttore co-creatore e produttore esecutivo Chuck Lorre; Holland semplicemente prenderà le redini per le decisioni quotidiane e gestirà gli showrunner e la writing room.
Ci saranno dei momenti in cui il nuovo team si dovrà assestare. E' vero che Holland non è nuovo di The Bang Theory e che Molaro sarà sempre a disposizione, ma questa formazione è nuova e come ogni cosa nuova ha bisogno di tempo per mettersi a posto.
Oltre a questo, se Molaro e tutto il resto della produzione, faranno un lavoro fantastico su Young Sheldon come l'hanno fatto per ben 11 stagioni di The Big Bang Theory, queste saranno decisamente le 2 Sit-com con la S maiuscola.
La curiosità si spreca!