All'estero siamo conosciuti come "Ah, italiani? Pizza, pasta, mandolino!" e scendendo più nello specifico, siamo quelli che hanno portato la mafia negli Stati Uniti.
Considerata la numerosità di famiglie italo-americane e che il tema della mafia è un evergreen sia nel cinema che nella televisione americana, siamo ben abituati ad imbatterci in personaggi provenienti da famiglie italiane.
Meglio se del sud. E numerosissime, religiosissime e attaccatissime alle tradizioni. Nonostante questo, però, proviamo sempre una quasi masochistica curiosità nello scoprire se la rappresentazione sia verosimile, o solo un'americanata che ci fa cadere nello sdegno più totale in quanto italiani d.o.c.
Per ovvi motivi, non vogliatecene se in questa lista daremo per scontata la famiglia Soprano e gli altri personaggi della serie.
Vediamo allora 15 personaggi italiani nelle serie TV:
Per iniziare in linea con quanto detto finora, non si può non citare  tra gli italiani John Abruzzi.
Prima di finire nel penitenziario di Fox River era il capo della mafia di Chicago; lì dentro è temuto e rispettato dagli altri detenuti proprio per la sua fama di mafioso.
I suoi sforzi sono tutti rivolti a vendicarsi di colui che gli ha procurato una condanna di 120 anni, e per riuscirci si allea con il protagonista Michael Scofield, aiutandolo con il suo piano per fuggire.
Andrew De Luca (Grey's Anatomy)
Andrew è il nuovo specializzando del Grey Sloan Memorial ed ha fatto la sua prima apparizione alla fine dell'undicesima stagione. Proprio mentre si recava all'ospedale per il suo primo giorno, è stato coinvolto nell'incidente della galleria ed avendo soccorso una donna incinta, è stato scambiato per un dottore dai suoi nuovi ed ancora sconosciuti colleghi. È affascinante, sicuro di sé ed ha già vinto il cuore della cardiochirurga Maggie Pierce, sorellastra di Meredith.
Non solo ha origini italiane, ma è interpretato dal nostrano Giacomo Giannotti, originario di Roma.
Peter e Nathan Petrelli (Heroes)
Ricorderete sicuramente i fratelli Petrelli, figli di Angela e Arthur Petrelli, un avvocato coinvolto in attività criminali. Essi possiedono caratteri diametralmente opposti, che li portano ad assumere ruoli ben diversi all'interno della storia.
Peter possiede il potere della mimesi empatica, la capacità di assorbire i poteri degli altri heroes, che utilizza per "salvare il mondo"; Nathan è invece estremamente ambizioso e disapprova l'altruismo del fratello. Possiede l'abilità del volo.
Salvatore Romano (Mad Men)
Salvatore è art director alla Sterling Cooper; è nato a Baltimora ma ha origini italiane, infatti lo sentiamo anche parlare al telefono con sua madre in italiano.
Seppure sia sposato con una sua amica di infanzia, nel corso della serie fa i conti con la sua omosessualità, che reprime e nasconde da colleghi e familiari, essendo un tabù nell'America degli anni '60.
Nonostante ciò perde il lavoro proprio per aver rifiutato le avance di un direttore della Lucky Strike, cliente importantissimo dell'agenzia.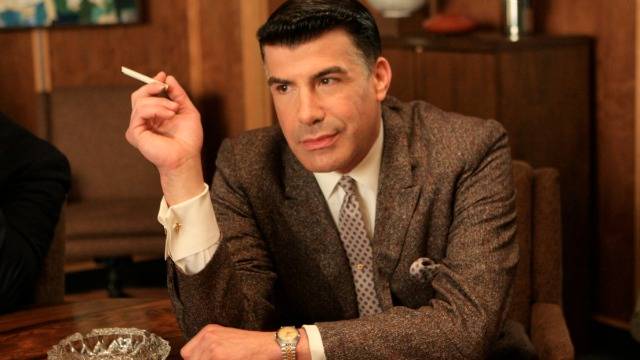 Il detective della squadra omicidi appare nelle stagioni 15 e 16 della storica serie procedurale.
Viene dal quartiere Little Italy di Chicago ed è molto legato alle sue origini, per questo tiene una bandiera italiana sulla sua scrivania. Inoltre parla molto bene l'Italiano.
Anche l'attore che lo interpreta, Dennis Farina, è di origini siciliane.
Damon e Stefan Salvatore (The Vampire Diaries)
Come non conoscere i fratelli Salvatore, i vampiri che fanno un baffo anche ai Cullen?
Ad onor del vero, nella serie TV Damon e Stefan sono stati resi americani di nascita, mentre secondo i romanzi i due sarebbero nati in Italia durante il Rinascimento.
Nel 1800 si innamorano entrambi di Katherine Pierce, doppelgänger di Elena, ma poi credendola morta vanno avanti con la loro vita, finché non si imbattono in Elena e la storia si ripete, come se per una qualche maledizione fossero costretti a contendersi il suo cuore nei secoli.
Per intero Giovanni Rossi, è un venditore ambulante di panini che lavora a MODE, dove fa amicizia con Betty. Inizialmente esce con la sorella Hilda, ma poi realizza di provare dei sentimenti romantici per Betty ed i due si mettono insieme, finché quest'ultima si ritrova a scegliere tra lui ed il suo ex Henry e decide infine di stare da sola.
Gio prende piuttosto male la rottura, e i due si rincontreranno solo casualmente a Londra.
Non ce lo siamo dimenticati! Come poteva mancare tra gli italiani?
Joey è interpretato dallo spassoso Matt LeBlanc ed ha avuto anche il suo spin off (Joey) ambientato dopo la fine di Friends.
Proviene da una famiglia italiana di otto figli, di cui lui è l'unico maschio, e ha una grande passione per la pizza. È un attore di scarso successo e di certo a caratterizzarlo non è il suo acume, ma è uno dei personaggi più divertenti della TV!
Ma che ve lo diciamo a fare?
Jane Rizzoli (Rizzoli & Isles)
Di famiglia italoamericana, Jane è una detective dell'unità omicidi di Boston che lavora insieme alla sua partner Maura Isles, coroner.
A differenza di Isles, Jane è un maschiaccio, è competitiva e si fida solamente della sua collega, nonché migliore amica.
Nella serie vediamo anche i suoi fratelli Frankie (Francesco), un poliziotto, e Tommy, il più piccolo, insieme alla madre Angela e il padre Frank Sr., i quali sono divorziati.
Mikey Politano (Unbreakable Kimmy Schmidt)
Michael Politano è un operaio edile di New York che si scopre omosessuale e si innamora di Titus Andromedon, lo stravagante coinquilino di Kimmy.
Decide di fare coming out alla sua famiglia durante un pranzo, in cui sono presenti tutti gli stereotipi della famiglia italiana: la preghiera prima del pranzo, la tavola imbastita di cibo, il fratello don Giovanni, la nonna bicentenaria (interpretata da una strana ed inquietante marionetta che farfuglia in pseudo italiano), la madre che si preoccupa solo che i figli mangino, eccetto: quando Mikey rivela di essere omosessuale, non c'è tradizionalismo che tenga. Un po' riluttanti e spaesati, rompono lo stereotipo ed abbracciano la rivelazione del figlio.
Una menzione d'onore spetta ai produttori di Hannibal, che hanno deciso di curare splendidamente la terza stagione, in parte ambientata proprio in Italia.
L'ispettore Rinaldo Pazzi è infatti interpretato da Fortunato Cerlino: la scelta di un attore italiano ha sicuramente contribuito alla credibilità e all'accuratezza del personaggio.
Pazzi era stato coinvolto nel caso del Mostro di Firenze, e le sue indagini lo avevano ricondotto ad un giovane Hannibal, in cui si imbatte nuovamente e tenta di venderlo a Mason Verger, che ha messo una taglia sulla sua testa.
Peccato però per la fine del commendatore: a cercare di fare fesso il cannibale, si finisce senza budella.
Frank Delfino (How To Get Away With Murder)
Frank non è un avvocato né aspira ad esserlo: è l'assistente di Annalise Keating, pronto ad aiutarla nel lavoro sporco. Si macchia dell'omicidio di Lila e questo porta Laurel, la studentessa con cui ha una relazione, a lasciarlo.
È chiaro agli studenti che Frank si tratti di un individuo misterioso e decisamente losco, pronto a superare a pie' pari i confini della legge quando le circostanze lo richiedono.
L'ultimo posto (non per importanza, ovviamente) dell'elenco degli italiani spetta ad Arthur Fonzarelli, in arte Fonzie, mitico personaggio di Happy Days.
Lo ricordiamo tutti per il suo look anni '50, con la sua giacca di pelle ed il suo pollice all'insù.
Fonzie è il classico ragazzo di strada, meccanico di professione; le ragazze gli cadono ai piedi, forse anche al suo fascino un po' esotico, diciamo italianeggiante?