E' tempo di parlare di ritorni celebri! Perché proprio qualche settimana fa, Netflix ha rilasciato un mini trailer (se non l'avete ancora visto, potete trovarlo qui) per annunciare la première della quinta stagione di Orange Is The New Black. Il 9 giugno 2017 potremo finalmente scoprire quale sarà il destino delle nostre galeotte preferite!
Spoiler alert: se non avete ancora guardato la quarta stagione, fermatevi qui!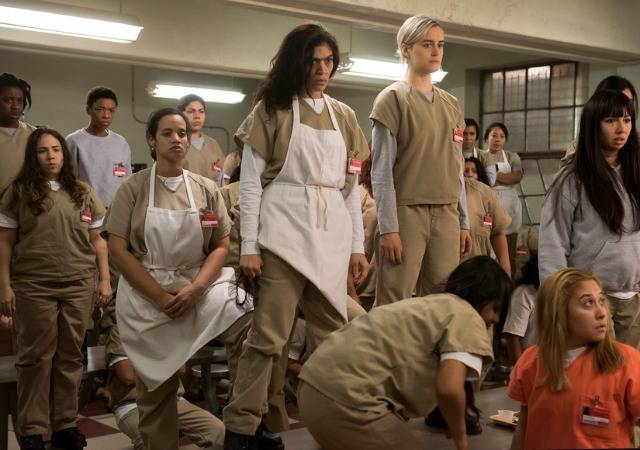 Orange Is The New Black ci aveva lasciato con un cliffhanger da paura. Il Litchfield dell'ultima stagione è un vero e proprio vulcano pronto a scatenarsi. Le ragioni? Moltissime! Il malcontento delle detenute, la morte di Poussey, l'addio di Judie King, il drastico gesto di Dayanara. La quinta stagione ci catapulterà in una situazione estremamente delicata, il cui equilibrio precario aveva smesso di reggere. E non dimentichiamo la situazione di Alex! La ragazza si era lasciata convincere da Piper a non confessare l'omicidio del sicario mandato in carcere da Kubra ad ucciderla. La quinta stagione ha parecchie questioni da risolvere e, non so voi, ma io sono curiosa di vedere come si evolverà la trama!
Cosa aspettarsi, quindi?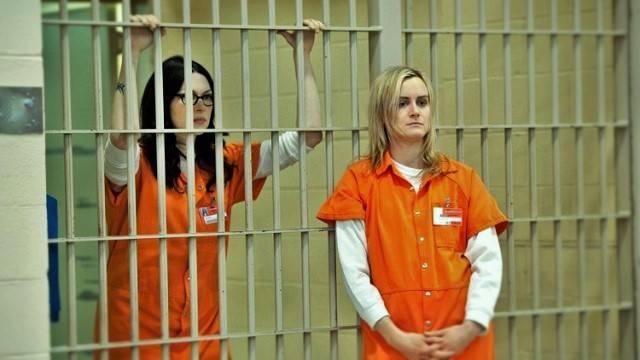 Ahimè, il trailer non ci dice moltissimo. La carrellata di primi piani è costituita da scene della stagione precedente, quindi sicuramente non è d'aiuto. Circolano però informazioni interessanti, grazie alle interviste rilasciate dalle attrici.
Sarà senza alcun dubbio una stagione ad altissima tensione. Danielle Brooks (Taystee) ha dichiarato che la quinta stagione di Orange Is The New Black si svilupperà in un arco temporale di soli tre giorni. Gli episodi saranno quindi saturi di eventi, di azione e, sicuramente, di colpi di scena. Il clima nel carcere sarà rovente, e assistere ai tre giorni della rivolta sarà sicuramente un'altalena  di emozioni!
Possiamo aspettarci sicuramente lacrime a fiumi! Piangeremo tutti, perché sicuramente uno dei temi centrali sarà la morte della dolcissima Poussey. Altra questione che la quinta stagione dovrà affrontare, sarà il destino di Dayanara. La ragazza pagherà sicuramente lo scotto di una serie di scelte sbagliate, culminate nella brillante idea di puntare una pistola contro un secondino. Considerato il finale della quarta stagione, è assai probabile che anche la figura di Caputo avrà una certa rilevanza. Il direttore del carcere aveva infatti scelto di prendere le parti del secondino responsabile della morte di Poussey!
È altamente probabile che la situazione delle detenute sia uno dei temi che vedremo nella quinta stagione. In fondo, la morte di Poussey è stata giustificata come un voler denunciare il trattamento degli afroamericani da parte della polizia statunitense. Personalmente credo che rivedremo anche il padre di Poussey che, ricordiamo, è un membro dell'esercito. Sicuramente smuoverà mari e monti per conoscere la verità sulla morte di sua figlia. Sembra quindi che Caputo avrà le sue belle gatte da pelare nella nuova stagione. E a noi non dispiace nemmeno un po'!
E il cast?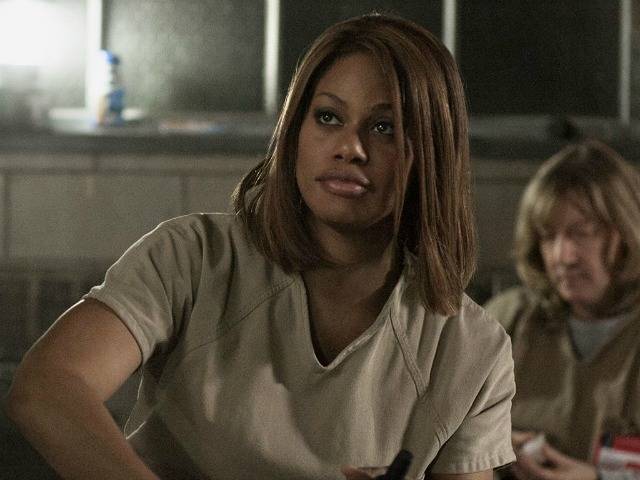 Spostandoci dalla trama ai singoli personaggi, è stato riconfermato il cast principale. Rivedremo quindi tutte le nostre galeotte preferite. È dato per quasi certo anche il ritorno di Lolly! Lori Petty, l'attrice che la interpreta, ha praticamente assicurato la sua presenza sul set di Orange Is The New Black. Il ritorno di Lolly potrebbe smuovere un po' tutti gli equilibri. In fondo, lei era finita per essere il capro espiatorio di un delitto commesso da diverse persone! La presenza di Lolly potrebbe risvegliare i sensi di colpa di Alex e portarla a fare scelte drammatiche!
Parlando di ritorni, sarà sicuramente più presente Sophia, che nella quarta stagione era stata rinchiusa in isolamento per "essere protetta". La sua situazione sarà uno dei temi cruciali, dal momento che Orange Is The New Black non ha mai fatto mistero di voler mettere in scena anche i disagi delle carceri americane. E il trattamento riservato alle donne transessuali è una delle questioni che la Serie Tv affronta sempre.
Per il momento, questo sembra essere tutto! Sulla quinta stagione di Orange Is The New Black vige il silenzio più assoluto. Quello che ci resta da fare è riguardare la quarta (o le quattro, fate voi) stagioni in loop, per cercare di mitigare l'ansia dell'attesa!