Se volete ingannare l'attesa per la terza stagione di GLOW non c'è niente di meglio che una piacevole lettura.
Arriva il fumetto di GLOW, in cui la scintillante squadra di lottatrici di Sam Sylvia dovrà vedersela sul ring con delle wrestler professioniste. Ruth e le altre ragazze si sono infatti iscritte a una gara di wrestling di beneficenza, inconsapevoli della presenza di veri lottatori professionisti.
I fumetti di GLOW saranno quattro, pubblicati da IDW Publishing, e il primo numero verrà pubblicato a marzo, con l'immagine di copertina che trovate di seguito.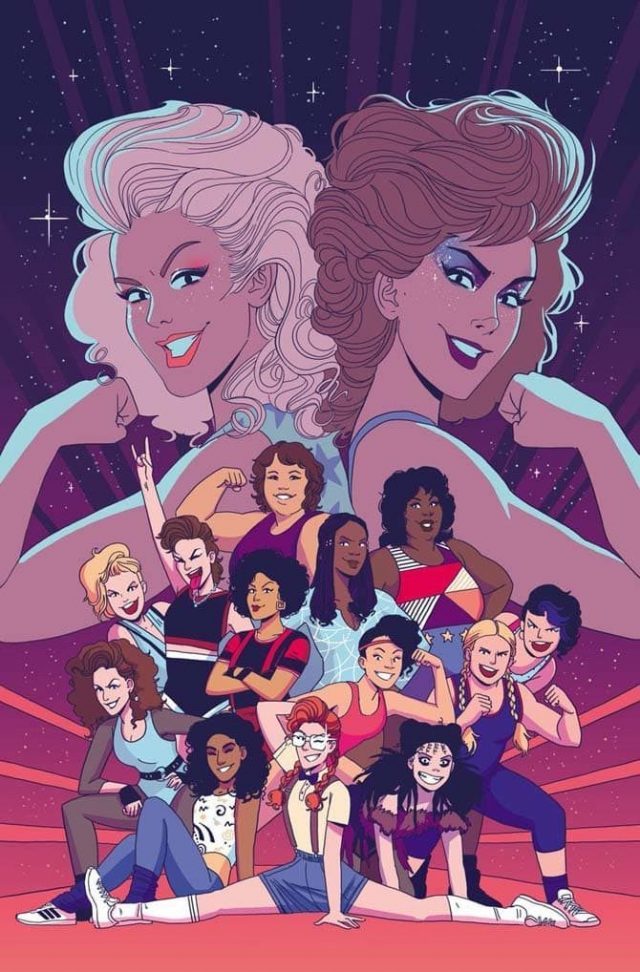 A scrivere queste nuove pagine della storia di GLOW è Tini Howard (WWE, Euthanauts), mentre le illustrazioni sono di Hannah Templer (Jem and the Holograms: Dimensions).
Le creatrici della serie, Liz Flahive e Carly Mensch, hanno inoltre supervisionato la realizzazione del progetto e hanno dichiarato:
Siamo elettrizzate all'idea di lavorare con IDW per portare in vita nuove storie tra le pagine e sul ring. Possiamo schiacciare quattordici donne in una piccola cornice? Solo il tempo potrà dircelo… ma non potremmo essere più entusiaste!
Howard, autrice del fumetto, ha inoltre voluto precisare che lei stessa è una grande fan di questo eccentrico sport:
Sono più di una semplice fan di GLOW, sono anche una fan del wrestling. Ho già scritto altri fumetti ambientati in questo mondo e lo adoro. Wrestling e fumetti si adattano naturalmente e sono un accostamento perfetto non solo via delle calzamaglie e dei combattimenti. Ognuna di queste fantastiche donne ha sviluppato il proprio personaggio, o si è adattata a quello che le è stato affidato, e rendere propria quell'identità non è diverso dall' indossare un costume da pipistrello.
Ancora non è stata annunciata la data di uscita della terza stagione di GLOW ma possiamo supporre che sarà nell'estate 2019.