Come l'inverno, un lungo trailer dell'ottava stagione di Game of Thrones sta arrivando e chissà quando avremo la fortuna di vederlo. David Benioff e Dan Weiss hanno dichiarato che il loro desiderio è quello di far arrivare i fan a ridosso della data sapendo il meno possibile. A proposito della data, non so se lo sapete ma Il Trono di Spade tornerà a riempire le nostre domeniche dal 14 aprile.
"David Lynch una volta ha detto che avrebbe voluto non ci fossero trailer. Ed è vero, potresti solo andare in un cinema e vedere qualcosa di completamente nuovo. Voglio solo che qualcuno dica: 'Fidati di me, vai a vedere questo", ha detto Weiss. Conseguentemente però, dato l'allarmismo generale per la possibilità di assenza di un trailer Weiss continua: "Non lo faremo però. Perché poi siamo andati a vedere Ready Player One con i nostri bambini e hanno proiettato il trailer di Westworld e sembrava fantastico. E noi eravamo tipo, 'Ah, dovremmo farlo.'"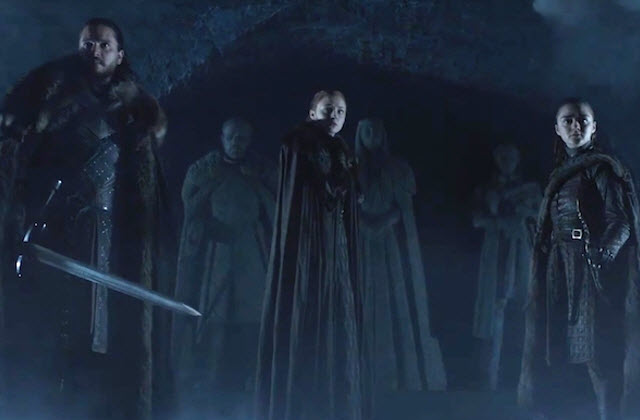 Quindi, in poche parole quello che ci stanno dicendo D&D è che avremo un trailer, ma non si sa quando. Nonostante alcuni dubbi ovvero: ma perché ci stanno mettendo così tanto tempo? La produzione dell'ultima stagione è iniziata nel 2017 e terminata lo scorso agosto, quindi dopo tutte le riprese (anche considerando la necessità di effetti speciali) non dovrebbe essere un problema. A differenza di quasi tutte le altre serie, l'hype di Game of Thrones è così grande che HBO non ha bisogno di pubblicare un trailer con molti mesi di anticipo per creare suspanse.
Data la riluttanza degli showrunner a pubblicare più trailer sembra probabile che potremmo avere solo un trailer completo prima del ritorno dello show ad aprile. Al momento abbiamo solo una breve clip della nuova stagione di Sansa che incontra Daenerys. Per il resto è meglio aspettare!