Mancano ancora due stagioni prima della conclusione di Game of Thrones e già si parla di un prequel. Il buon vecchio George R. R. Martin non ha ancora finito di scrivere Le Cronache del Ghiaccio e del Fuoco, ma in molti lo vorrebbero già all'opera su del materiale per una serie spin off de Il Trono di Spade.
La questione è emersa nel backstage della 68esima edizione degli Emmy Awards: gli showrunner David Benioff e D. B. Weiss dopo aver incassato 3 statuette (miglior sceneggiatura, miglior regia, miglior drama) hanno dichiarato, infatti, che il mondo fantasy di Game of Thrones sicuramente non finirà dopo l'ottava stagione di GoT, ma se nasceranno dei progetti per il piccolo schermo, non saranno loro a dirigere i lavori.
"Quello che George ha creato è un mondo incredibile. Un mondo davvero ricco. Sono sicuro che ci saranno molte altre serie ambientate a Westeros. Ma per noi, finisce qui".
La palla passa quindi nelle mani della HBO e di Martin! Lo scrittore dal canto suo non si è particolarmente sbilanciato sulla questione, rimandando la faccenda una volta concluso definitivamente Il Trono di Spade. "Ho migliaia di pagine di storie che hanno portato a Game of Thrones. C'è un mucchio di materiale qui, e ne sto scrivendo altro… Per ora, abbiamo ancora uno show da concludere, e io ho due libri da terminare". Parole sante Martin, dato che i fan ancora aspettano gli ultimi due capitoli de Le Cronache del Ghiaccio e del Fuoco. Datti da fare!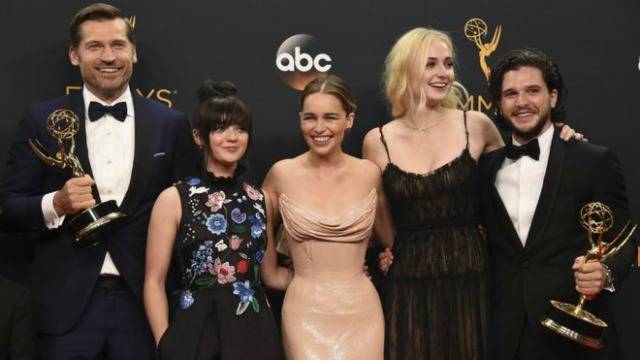 La HBO, invece, vorrebbe che la serie non finisse mai. Come darle torto: il fenomeno mondiale di Game of Thrones ha vinto 38 Emmy Awards (oltre che cifre a sei zeri) in sei stagioni, diventando il primo show ad incassare il maggior numero di premi nella storia. Casey Bloys, presidente della Home Box Office, alla questione spin off aveva già fatto un pensierino mesi fa, affermando che la HBO certamente non si negherà ad un prequel.
In cantiere non c'è nulla di pronto! Ci saranno sicuramente aggiornamenti una volta che l'impegnatissimo Martin avrà terminato la sua più grande opera letteraria.