Nella precedente novella di How to Get Away with Decameron:
"Senti ancora quelle voci? Dovresti farti controllare, da uno bravo."
"Laurel, non avevi detto che casa di Annalise era dietro l'angolo? Per essere precisi, dietro dieci angoli fa?!"
"Eccolaaaa! Ragazzi, è casa di Annalise!"
–Sommo Maestro, sto per incontrare Annalise, ha qualche consiglio narrativo?
–Si si, vado a dare una lezione a quello scostumato di un poeta fiorentino che si è fumato anche la mia pazienza, e arrivo.
"ANNAAAAALISEE! Sei in casa? Va beh, noi entriamo."
"Chi è?"
"Ciao Annalise, siamo Laurel, Nate e… A."
"Annalise, siamo qui perché ci serve una mano."
"Ah si?! Ma quando mai. E dov'è Pollon combina guai? Non mi dite che siete nei guai per colpa sua?"
"Sinceramente non so cosa dirti. Sono una persona diversa da quella che ero un tempo, sognavo una vita completamente diversa, non una dedita a questi cinque minions attira guai! Credo di esserne dipendente, del male"
–Dunque, allorquando decidiate di farla finita, voi due non più giovincelli, mi fareste proprio un gran favore, c'è gente che vorrebbe dormire!
Oh, santa misericordia!
Cosa sono quelle lenti di così poca virtude?!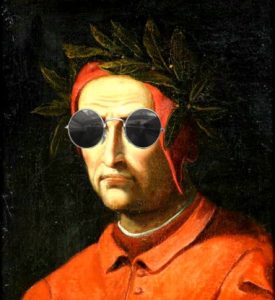 …
-Va bene, razza di poetuncolo ricreduto, non ho volontà di argomentare una discussione con te, son pronto ad usare la forza se necessario!
-Caro Jhon, keep calm and relax, take a little piece of my heart…
-Cooome dici?!
Lasciamo stare, io non ho più parole. Ma cos'hai nella testa?
-Ehmm, in questo momento i miei neuroni sono… come dire… 'in fumo'.
-Tuuuu! Io…
-Signori, signori, calmiamoci. Cerchiamo di rilassarci.
Maestro, tutto bene?
-No, non va per niente bene!
-Io non potrei essere più relaxato.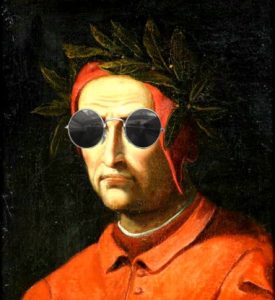 -Mio grandissimo poeta Dante, questo lo vedo, ahahahah.
Maestro Boccaccio si rilassi, vediamo di risolvere la situazione con calma e ragionevolezza.
-Il tuo poeta preferito deve cessare il gran rumore!
-Mio grandissimo poeta Dante, potrebbe abbassare il volume del suo…
impianto stereo?
Lei ha un impianto stereo?
-Ma come, non lo sa che qui, nel Paradiso dei Poeti, c'è tutto quello di cui ognuno di noi ha bisogno?
-Bene, amichetti del cuore, vi ricordo che qui stiamo discorrendo di serie questioni!
E tu figliuola, devi andare ad incontrare il prossimo personaggio.
-Si Sommo Maestro. Mio grandissimo poeta spero di risentirla a breve.
-Anche io tesoro mio.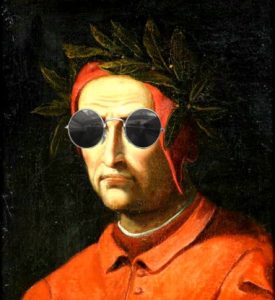 -E tu, caro Alighieri Dante, sarai sfidato da me a singolar tenzone.
…
"Tutto buonissimo Annalise, davvero. Potrei fare il bis?"
"Certo! Vado a prendere la teglia. Laurel, chiama Wes e gli altri, dobbiamo cominciare a lavorare al nuovo caso. Nate, vieni con me."
"Va bene, comincio a chiamare Wes, anche se non credo voglia parlarmi. A, tu dove stai andando?"
"Vado a smaltire prima di poter ricominciare a mangiare, vado a prendere un po' d'aria, torno subito."
–Maestro, davvero vuole sfidare il Sommo Poeta Dante a singolar tenzone?
-Figliuola, è quel che merita!
Perché, credi che la vittoria non possa essere raggiunta da me?
-No, Maestro, certo che credo che lei possa vincere, però, diciamo che non saprei per chi dei due tifare.
-Figliuola, ti ricordo che io ti ho dato un lavoro.
-E' vero Sommo Maestro, ma devo ricordarle che questo 'lavoro' non ha retribuzione?!
-Figliuola, come fa ad avere retribuzione se tutto questo si svolge nella tua testa?
I sogni non pagano.
-Touché Maestro.
"Vedo che anche tu sei stata mandata via da casa."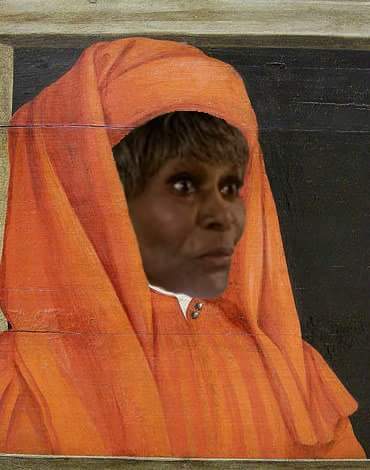 "Oh, signora Ophelia, salve. Non l'ho vista in casa, dov'era?"
"Mia cara, la mia Anna Mae ha sempre cercato di tenermi nascosta ai suoi amici. Ma una figlia è persa senza la guida di sua madre. Ed in effetti sappiamo tutte e due come è andata a finire. Ma parlami di te, è da tanto che senti quelle vocine?"
"Non sono vocine signora Ophelia, sto cercando di raccontare novella dopo novella uno di voi e per farlo ho bisogno della sapiente guida del Sommo Maestro Boccaccio."
"Scusa, chi?"
"Giovanni Boccaccio signora, adesso è in rivalità con Dante Alighieri per la questione del trono, sto cercando di tenere la situazione sotto controllo."
"Smettila di chiamarmi signora, per te sono la mamma."
"Ma, signora, io ho già una mamma."
"Infatti ho detto che devi chiamarmi 'LA mamma'. Comunque, da quanto tempo credi di essere in questa realtà parallela in cui puoi parlare con i morti?"
"Ehmm, so cosa sta pensando mam… 'LA mamma', non sono pazza, quello che le ho detto è tutto vero."
"Si tesoro, capisco. Devi liberarti di questi demoni. Vieni con me, ti prometto che entro domattina tutto diventerà più chiaro e ti sentirai meglio. Andiamo, forza."
"Ma, 'la mamma', devo rientrare, devo finire il dolce, si domanderanno tutti dove sono."
"Non preoccuparti per loro, adesso non riesci a capire, ma ti sto salvando la vita. È quello che una mamma fa sempre per i propri figli."
…
"Questa è casa sua 'la mamma'?"
"Si, in realtà è il mio studio. Mettiamoci a lavoro, sei una di quelle complicate."
"Strano, assomiglia molto allo studio che aveva Hannibal nella sua serie tv.
Ma… cosa significa che sono una di quelle complicate?"
"Ma niente, solo che sei una ragazza speciale, tutto qui. Cominciamo.
Riesci a sentire quelle vocine adesso?"
"Se intende la voce del Maestro basta che io lo chiami e lui risponderà."
"Potresti chiamarlo ora?"
"Va bene, anche se non credo che lei possa sentirlo, gli altri non ci sono riusciti, forse ci sono delle particolari interferenze nella linea tra qui ed il Paradiso dei Poeti…"
-Maestro, mi sente?
Maestro?
"Che strano, non mi risponde."
"Mmmm capisco. Facciamo così, andiamo a riposare, domani ripartiremo da qui."
"Va bene, ma dovrei proprio avvisare Annalise o Laurel."
"Tranquilla, ci penso io. Adesso vai a dormire, buonanotte."
"Grazie mille 'la mamma'. A domani."
-Maestro, riesce a sentirmi?
-Si, eccomi, sto preparando de' mia arringa finale per la sfida col fiorentino.
-Perché prima non ha risposto?
-Perché quella donna sta cercando di separarci, non devi assecondarla. Comprendi?
-Maestro, ma di cosa parla? Non è lei il prossimo personaggio che devo intervistare?
-Si, ma devi stare accorta, se darai adito ai suoi consigli non riusciremo più a comunicare e non potremo portare a termine questo lavoro.
-Cosa dovrei fare allora?

-Dille quello che vuole sentirsi dire. Ma non cadere ne' sue trappole.
-Ricevuto!
LA MATTINA SEGUENTE…
"Come stiamo questa mattina?"
"Molto meglio, grazie."
"Benissimo, e le voci? Sono ancora lì?"
"Direi di no, sono quasi completamente scomparse."
"Sono molto contenta di questo."
"Non c'è stato ancora modo di parlare di lei 'la mamma', come sta?"
"Non siamo qui per parlare di me."
"Mi aiuterebbe molto ad aprirmi se anche lei mi raccontasse qualcosa della sua vita."
"E va bene. In questo momento, come avrai notato, mi manca mia figlia. Una volta avevamo un rapporto straordinario, ma adesso, adesso non so, lei è cambiata. Preferisce altre cose a me, altre persone. È mia figlia, ma non riesco a sentire quel sentimento, quella intensità che una volta c'era tra di noi. È mia figlia, continuerò a considerarla tale per il resto dei miei giorni, anche se ha perso la felicità che un tempo provava.
Adesso però, parliamo di te! Quelle voci ti stanno lentamente uccidendo, devi eliminarle!"
–Uccidila!
-Cosa?
–Uccidila!
-Maestro, ma! Non posso ucciderla! Perché?
-Devi farlo, dobbiamo continuare il nostro progetto, se lei continuerà a vivere non avremo più possibilità alcuna, devi ucciderla!
-Ne è sicuro?
-Si, non pensarci troppo, fallo e basta!
"Mi dispiace 'la mamma' davvero, ma non posso farlo, non posso eliminarle, devo eliminare lei."
"Cosa stai facendo? Posa quella pistola…!
…
"Coo…s…"
"Mi dispiace, davvero."
…
"A, dove seeei? Siamo noi, Laurel, Annalise, Wes e Nate! Tutto bene?
A? Ma cos…?
Che cosa è successo?"
"Annalise, mi dispiace. Non avrei mai voluto farlo, ma ho dovuto!"
"Oh, mio Dio.
Addio K5, benvenuti K6."
…
Alla fine il Maestro aveva torto. I sogni pagano… ed anche caro!
TO BE CONTINUED …