# #
Nella puntata precedente di How to Get Away with Decameron:
# #
-Uccidila!
-Cosa?
# #
-Uccidila!
-Maestro, ma! Non posso ucciderla! Perché?
-Devi farlo, dobbiamo continuare il nostro progetto, se lei continuerà a vivere non avremo più possibilità alcuna, devi ucciderla!
-Ne è sicuro?
-Si, non pensarci troppo, fallo e basta!
"Mi dispiace 'la mamma' davvero, ma non posso farlo, non posso eliminarle, devo eliminare lei."
"Cosa stai facendo? Posa quella pistola…!
…
"Annalise, mi dispiace. Non avrei mai voluto farlo, ma ho dovuto!"
"Oh, mio Dio.
Addio K5, benvenuti K6."
…
"Mi spieghi perché l'avresti fatto?"
"Mi dispiace Annalise! Non volevo farlo! Sono stata costretta."
"Da chi? Non vedo nessuno nella stanza."
"Nessuno di voi mi crederebbe se ve lo dicessi. Davvero, Annalise mi dispiace tantissimo!"
"Non preoccuparti.
Laurel, chiama Bonnie, dille di venire immediatamente."
"Non sei arrabbiata?!"
"Certo che lo sono! Ma d'altronde, siamo tutti nella tua testa, niente di tutto questo è reale.
Ma comunque hai ucciso mia madre! Dovresti vergognarti, in questa dimensione e in quella tua lì, dove vivi nella realtà."
"Mi vergogno davvero tantissimo Annalise, scusami ancora…"
"Smettila di piagnucolare e aiutaci a pulire questo casino!
Ma vedi te, ed io che pensavo che con la dipartita di Pollon combina guai i guai sarebbero finiti…"
…
"Bonnie, devi venire immediatamente qui!
No, non c'è Frank tranquilla, ti ucciderò un'altra volta, adesso abbiamo un altro omicidio da insabbiare.
No, Bonnie! Non sono idiota, lo so che non dovrei dire queste cose al telefono!
Smettila di insultarmi Bonnie e presentati qui al più presto!
Prima o poi la uccido seriamente!
No Bonnie, non mi riferisco a te! Termina questa benedetta chiamata e muoviti!"
"Laurel! Vieni qui."
"Si, arrivo Annalise."
-Maestro, dove cavolo è?
-Ecco tuo Maestro, figliuola.
-Maestro, come può essere così felice? Mi ha appena consigliato di uccidere una donna, la madre di Annalise per giunta!
-Io, pietade… cosa?
-Maestro, sia coerente. Ormai è fatta, può smettere di fare il finto tonto.
-Fare il cosa?
Di cosa sta discorrendo figliuola? Son stato assente per un po'… cosa ha combinato in mia assenza? A chi avrebbe ucciso l'anima?
-No, forse non ha capito Maestro! Non ho ucciso un'anima, ho ucciso una persona! Ophelia Maestro! È stato lei a dirmi di farlo!
-Non discorrere di codeste scempiaggini accusandomi ingiustamente. Non ho costretto nessuno a fare niente.
-Allora chi cavolo è stato?
-Pietade figliuola, ardentemente cerco di seguire l'odierno tempo, evitiamo però malevole parole!
-Sommo Maestro, ho detto cacchio non ca…
-PIETADEEE!
Modera de' tuo linguaggio!
-Ha ragione Sommo maestro, vogliate scusarmi. Ho appena ucciso una persona.
-Oh mio Dio, chi?!
-Maestroooooo!
-Ahahah, scusate figliuola, mi stavo giocosamente burlando di lei.
-Sorvoliamo Maestro!
Parliamo di cose serie. Dobbiamo scoprire chi mi ha ordinato di uccidere Ophelia fingendo di essere lei Maestro!
-Guardi figliuola potrei aver lasciato aperta la comunicazione, qualche anima avrà sfruttato la situazione. Ma tranquilla, figliuola, ho già messo all'opera un mio amico hacker che troverà immediatamente il bug eliminandolo, così potremmo risalire facilmente alla source e scoprire l'account dell'utente che ha perpetrato il reato.
-Maestro! Ma…!
Di cosa sta parlando?
Ma almeno conosce il significato di quello che ha detto?
-Per certo, figliuola…
no, per verità, questo mio compagno mi ha lasciate scritte queste parole da dire a lei figliuola.
-Ah, ecco!
…
"Eccomi qua! Chi è morto stavolta?"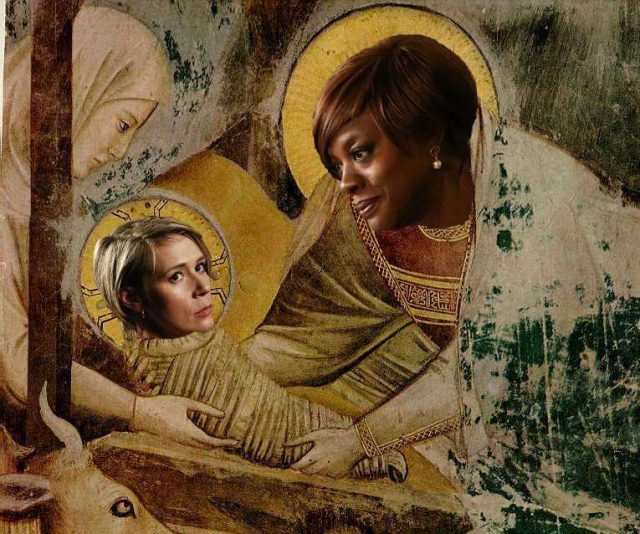 "Bonnie, per piacere. Fingi almeno un po' di tristezza."
"Laurel, non rompere, ormai ci siamo abituati.
Ma questo non può che andare a mio favore per quando ucciderò te."
"Cara Bonnie, ti ricordo che sei tu quella che ha fregato il ragazzo a me."
"Prego, CARA?! Mi duole ricordarti che mentre il tuo 'ragazzo' era con me, tu eri intenta a trastullarti con Pollon combina guai! In sostanza, non ho rubato proprio niente a nessuno."
"Ma per piacere! Vorrei ricor…"
"Ragazze! Per favore! Mia madre è appena stata uccida da questa qui… com'è che ti chiamavi scusa?"
"Mi chiamo A…"
"Annaliseee, sta arrivando qualcuno! Dobbiamo andare via."
"Ok, Wes, non chiamare gli altri, non devono sapere assolutamente niente. Noi qui, sbrighiamoci a portare il cadavere nel bagagliaio della mia auto."
"In realtà Annalise, Laurel li ha già chiamati tutti…"
"Laurel! Richiama tutti e dì ad ognuno di loro di non venire."
"Lo consideri fatto, Annalise."
"Bonnie, tu occupati di A. Sembra ancora sotto shock."
"Quindi tu sei A. La famosa A. Cosa ti passa per la testa?"
"Attenta, l'ultima persona che ha cercato di capirlo adesso è leggermente… morta."
"Touchè.
Se vuoi allora, posso parlarti un po' di me, ho saputo che sei famosa tra il nostro cast per le tue interviste personali su di noi."
"Davvero lo faresti?"
"Ma si, tanto non devo fare altro. Cosa vuoi sapere?"
"Va bene allora, forse riuscirai a distrarmi.
Lasciando per un attimo da parte il tuo rapporto con Laurel, potresti descrivermi i sentimenti che provi verso Annalise, che tipo di persona è, e cosa ti spinge a starle accanto sempre e comunque?"
"Credo che tu lo sappia, è difficile non essere affascinati da una persona come Annalise, una volta che entri nel suo raggio d'azione non puoi fare a meno di cercare di capire chi è realmente. Si viene risucchiati nella sua aura e non vuoi uscirne, almeno in un primo momento, quando invece ti rendi conto di aver bisogno di andare via, lontano da lei, non puoi più abbandonarla, ormai ha già avuto il suo effetto su di te.
Per me è una persona veramente importante, forse è la sorella che non ho mai avuto, o forse è persino qualcosa di più, è sicuramente qualcosa di più. Mi ha salvato da un destino crudele e non posso fare altro che ringraziarla.
Ma avvicinandomi a lei, adesso devo subirne gli effetti e come vedi sono ancora qui, quando mi chiama, la raggiungo immediatamente.
Anche se a 'sta botta a chiamarmi è stata quella arrampicatrice sociale, mangiatrice de uomini che non è altro."
"Non prendertela con Laurel, avete amato lo stesso uomo, ma questo non deve per forza ripercuotersi sul vostro rapporto…
ok, si, magari è normale che si ripercuota su di voi, ma si può sempre risolvere."
"Tu credi?"
"Ragazze, l'aquila è atterrata."
"Laurel, ma che dici?"
"Eh Bonnie però, sto usando un linguaggio in codice. Mi avevi detto di non usare termini espliciti che potrebbero essere collegati all'omicidio. Eh, comprendi dai. Una ci prova pure e poi… comunque il cadavere è nel bagagliaio."
"Apprezzo lo sforzo Laurel, grazie dell'informazione."
"Figurati, dobbiamo andare, venite."
Anticipazioni prossima puntata de'
How to Get Away with Decameron:
Riusciranno Bonnie e Laurel a lasciarsi alle spalle i loro screzi amorosi?
Boccaccio sfiderà veramente il Sommo Poeta Dante a singolar tenzone?
Ma soprattutto, chi mi ha ordinato di uccidere Ophelia?
Nella prossima puntata riusciremo finalmente a parlare con un altro dei K5… ehmm K6, oramai.
LEGGI ANCHE – How to Get Away with Decameron – Capitolo I