Sapevamo che prima o poi sarebbe arrivato questo momento; ed eccoci qua, a commentare – commemorare- insieme, il finale di stagione di How To Get Away With Murder 2.
Vi confesso che ero contrariata e combattuta, da una parte non vedevo l'ora di sapere come sarebbe andata a finire, dall'altra però volevo che non finisse. Mentre caricavo l'episodio mi giravano in teste tutte le domande che mi ero posta durante la 2×14 ma sapevo già che la Rhimes non mi avrebbe mai delusa, e infatti…
Annalise è scappata, ha deciso che la rivelazione di  Laurel su Frank era troppo da sopportare. Si rifugia a Memphis dalla madre, dove dorme beata nel lettino di quando era bambina, tra le sue cose come i poster di Michael Jackson e Whitney Houston ed i trofei che la identificano da sempre come vincente. Accanto a lei la sorella, con cui sorride e scherza, libera. Intanto il cellulare squilla – è Bonnie che la cerca – ma lei lo stacca, di sotto la madre prepara il rinfresco per la grande rimpatriata di famiglia. Fuggire non è la soluzione quando il problema te lo porti dentro. Riconosce la giacca di Sam, la indossa uno dei parenti.
Quella casa non è altro che il covo di tutti i suoi fantasmi. Riappare anche il padre. Ed Anna Mae – così la chiamano in famiglia – non sa più dove rifugiarsi.
Intanto a casa, nella sua personale casa degli orrori, è arrivato Nate e comunica ai Keating – che non sono più solo cinque- che hanno appena emesso un mandato di arresto per lei, solo per lei. A noi ci viene mostrata un'altra parte del solito flashback in cui si ricostruisce la storia di Frank e di quella Room 512. La donna del mistero che Mister Delfino pensava di portarsi a letto propone a Frank un lavoretto in cambio di una borsa piena di soldi – gli stessi soldi della valigia che Frank giustificò come bavaglio per la bocca di Rebecca. Delfino accetta, perchè la Keating in fondo se lo merita pure, e piazza una cimice nella stanza di Annalise.
I Keating non si danno pace, Nate raggiunge Annalise dalla madre per informarla dei nuovi fatti, e intanto loro – dalla macabra sede centrale- fanno quello che sanno fare meglio: indagare. Scoprono così la presenza di una talpa.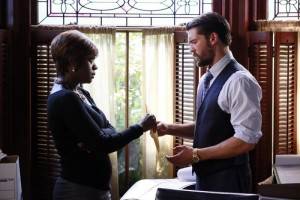 Annalise ancora non sa nulla, si gode la cena con la famiglia e con Nate, e a parte qualche confessione drammatica del l'ultimo secondo, la giornata procede tranquilla e si conclude con un bacio romantico per salutare il suo bello. Ma Anna Mae non ha tregua, la madre decide di svegliarla nel cuore della notte per porre fine al suo tormento: la costringe a scrivere una lettera a quel bimbo mai nato, ucciso nell'incidente stradale di 10 anni prima. Ora scopriamo non essere stato un caso, ma un tentato omicidio commesso dal vero padre di Wes che pagò Frank per controllare i movimenti della Keating.
Annalise mette in carica il telefono ed il suono di un messaggio rompe il silenzio che aveva creato la presenza del padre in quella stanza. Non uno ma 23 messaggi nella casella vocale, tutti la cercano ma soprattutto la cerca il procuratore: ha tempo fino alle 17 di quel giorno per presentarsi in procura. Eccoli li! Ecco tutti i mostri della nostra Prof..
Ma c'è qualcosa di nuovo, Caleb non è scomparso. Ha collaborato con la polizia per incastrare Annalise. La villeggiatura a casa di mamma è finita, la Keating deve togliersi i panni di Anna Mae e rivestire quelli di Annalise, sporchi si ma come una fedele armatura.
Si presenta dal procuratore e quando quest'ultimo gli elenca i capi d'accusa a suo carico, Annalise sorride. Le accuse sono state formate sulla base della testimonianza di un sociopatico assassino: Caleb. Ebbene si, la nostra eroina ha le prove, Philip a casa di Wes ha confessato tutto. Caleb ha ucciso sua zia, lo dimostra con il percorso tracciato dalla "corsetta" dell'assassino e non solo. La sorella, in carcere per coprire i misfatti di tutti, decide di testimoniare contro il fratello adottivo.
Mistero svelato, o quasi.
La Keating consegna il sospettato assassino Philip alla polizia e fa crollare così tutte le accuse su di lei, incastrando – come un boomerang impazzito- il bel Caleb.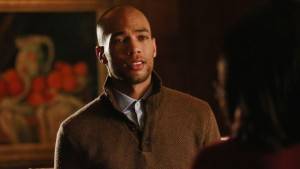 Ma dov'è l'assassino? Morto, nella sua vasca da bagno. Chiaro no? Non potevamo pretendere un finale di stagione senza colpi di scena. Ma non è tutto, la Rhimes ci regala l'ultimo flashback. Ecco Delfino in ospedale con Sam: il marito racconta a Frank che Annalise ha perso il bambino, e il fedele tirapiedi confessa di essere lui il colpevole di quella terribile tragedia.
La buonanima di Sam decide di non dire niente alla moglie che non potrebbe sopportare anche quella rivelazione, i due ora hanno un segreto. Un segreto che li lega, e che darà inizio a tutto con la morte di Lila. La Prof non vuole più vedere Frank dopo la rivelazione di Laurel , ma lui ha giù fatto le valigie. Dov'è andato? Non lo sappiamo – per ora – vediamo solo Wes che trova suo padre; lo ferma per strada gli dice di essere suo figlio e quando il ragazzo pronuncia il nome di Annalise Keating, un colpo di pistola uccide l'uomo.
Finisce così questa seconda stagione, con un altro cadavere sanguinante steso a terra.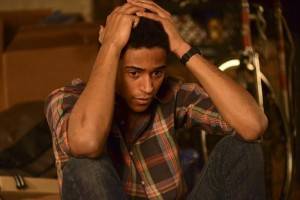 A mio parere meno incisivo del primo finale, forse per il quantitativo di informazioni che abbiamo ricevuto, ma ancora una volta di grande effetto. Altri misteri da svelare nella terza stagione – confermata qualche settimana fa – e noi ora moriremo davvero nell'attesa di rivedere tutti i protagonisti dell'ennesimo capolavoro di Shonda.
Ma è proprio dalla stessa Rhimes che ci viene annunciata la nuovissima serie in produzione: The Catch, l'episodio pilota andrà in onda il 24 Marzo in America e noi siamo pronti a seguirla insieme a voi.
Nel frattempo trapelano le prime indiscrezioni sul capitolo tre di How To Get Away With Murder: confermato tutto il cast e si preannunciano cambiamenti significativi sui personaggi, ad esempio Oliver diventa uno dei regular ( sarà assunto dalla Keating, finalmente!!!)
Ma per saperne di più continuate a seguirci e a seguire i nostri amici delle pagine Un saluto agli amici di How to get away with Murder Italia ,How to get away with Murder – Italian Fanpage!