Il grande momento è giunto. L'abbiamo atteso per mesi, oserei dire anni, ma finalmente ce l'abbiamo fatta.
Il Nord è tornato nelle mani giuste.
Lunedì in biblioteca ho sfoggiato la mia maglietta di casa Stark.
Ma prima facciamo una breve sosta ad Essos.
Piccolo disclaimer: preparatevi ad una valanga di battute sul Signore degli Anelli, insomma, l'avete vista l'immagine in evidenza no?
Meereen:
"Una Kahleesi non è mai il ritardo, Tyrion Lannister. Nè in anticipo. Arriva precisamente quando intende farlo."
Il tempismo di Dany, una volta tanto, non poteva essere dei migliori: il piano di Tyrion è fallito, I Figli dell'Arpia uccidono gente a caso e i Padroni sono pronti a riprendersi la città.
Vogliono conquistarla con una flotta. In legno. Sapendo che la Regina ha tre draghi sputafuoco. Geni veri.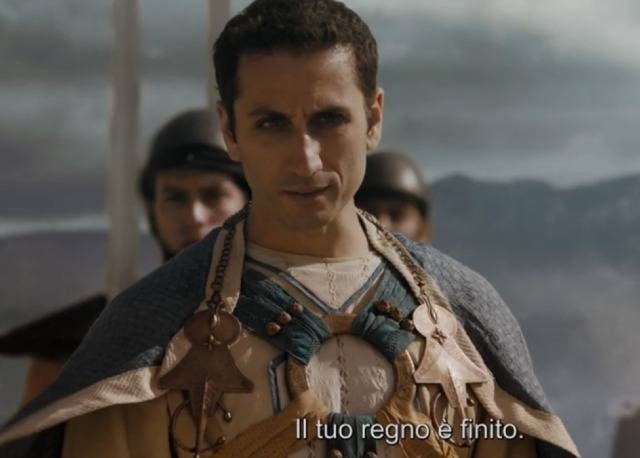 Dracarys di qua Dracarys di là sembra di stare in una partita di battaglia navale leggermente truccata, o di assistere alla lotta di un piccolo Cartepie livello 5 contro Charizard 100.
Non dico che non ci sia confronto, ma semplicemente che la possibilità di vittoria dei Padroni è così lontana che nemmeno Legolas con i suoi occhi da elfo riesce a vederla.
Ma il bello deve ancora venire.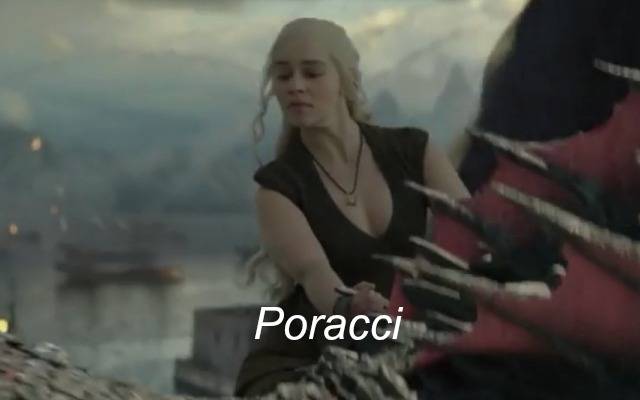 Avevo già sperato nella #Yanerys qualche Pagella fa, ma mai e poi mai mi sarei immaginata che questa ship sarebbe diventata quasi canon.
E se mi avessero detto qualche stagione fa che Theon e Daenerys si sarebbero incontrati l'avrei sicuramente considerata la teoria più folle dopo quella di Lord Bolton vampiro.
E invece eccoci qua, piuttosto increduli.
Questa stagione è decisamente all'insegna del "Who run the world? Girls!": Yara e Dany scoprono di avere molto cose in comune e si perdono in chiacchiere ignorando palesemente Theon.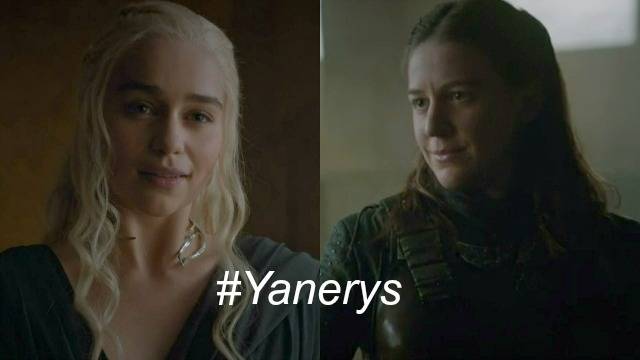 Padri folli e assenti, il loro Trono rubato da un usurpatore, questa brutta storia dell'umidità di Meereen che rende i capelli crespi, un intero regno da riconquistare, nessun buon estetista che sappia fare una ricostruzione decente alle unghie in zona etc etc.
Una cosa tira l'altra, scambio di sguardi e velatissime proposte di matrimonio ci fanno intendere che il vecchio Daario sta per essere mandato in rottamazione.
Per fortuna non c'è più Jorah, penso si sarebbe lanciato dalla piramide più alta della città.
Dany e Yara fondano un nuovo tipo di Sleepover Club: 8
Verme Grigio rivela le sue arti da ninja: 7
Tyrion finalmente la smette con le battutine: 6
A Grande Inverno:
Ma passiamo alle cose veramente salienti: la battaglia dei bastardi.
Jon l'ignorantone prova a fare una fallimentarissima proposta lampo a Ramsay: "Hei tu. Ti andrebbe un pò di Schweppes solo io e te?"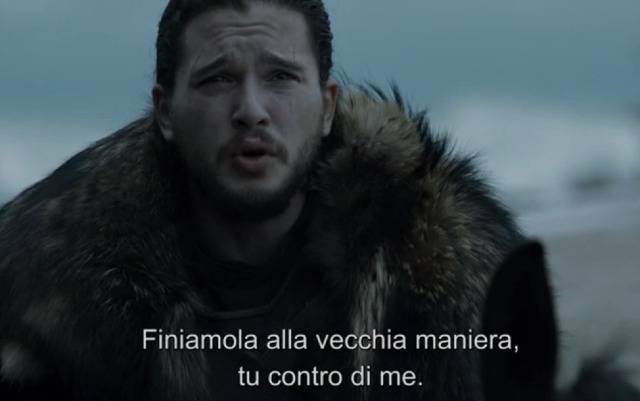 "No io sono il tipo che mescola Fanta e Coca Cola"
Sansa poi per questa storia se la prende tantissimo perché c'ha provato per mesi a farlo smettere di bere le bibite zuccherate (a quanto pare la caffeina lo rende ancora più sadico).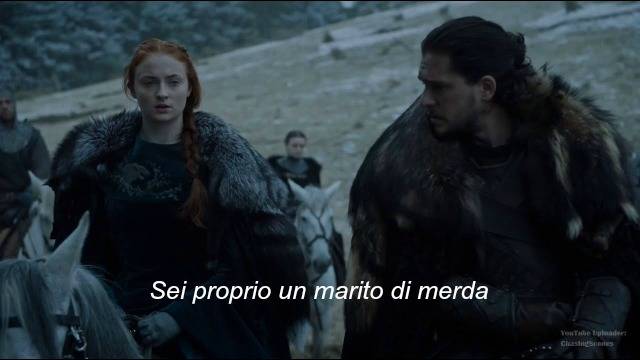 Intanto Jon ci dimostra che lui con le rosse proprio non ce la fa a non farsi mettere i piedi in testa: Sansa smerda la sua tecnica militare, avvertendolo probabilmente che Ramsay farà qualcosa di davvero terribile pur di sconvolgerlo.
Ma Jon dice di aver visto il video del Red Nose Day dove canta ed è così cucciolo e coccoloso, dai, non potrebbe far mai del male a nessuno.
Fluttua dolcemente nel mare della sua ignoranza.
Anche Melisandre si rifiuta di assecondarlo: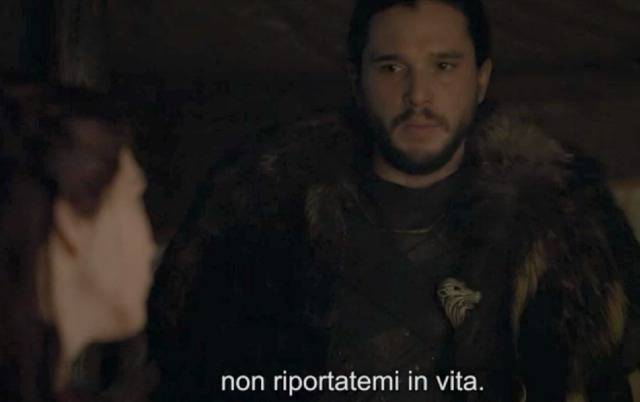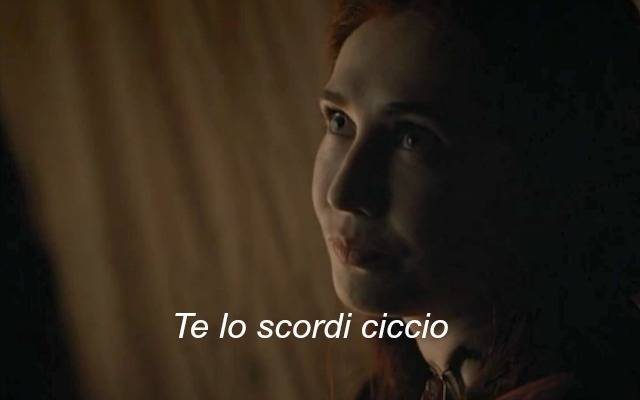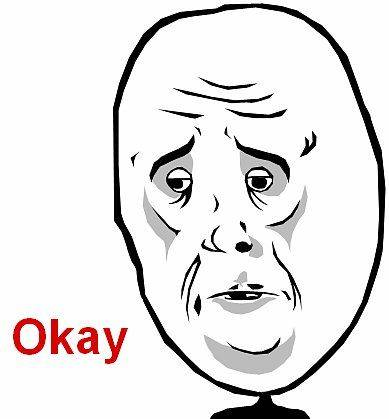 E niente, Jon entra in finalissima per il premio "Non ce la faccio a farcela" della puntata.
Nella sacrosanta notte prima della battaglia si rispettano le tradizioni di silenzio e concentrazione: Tormund augura una "buona cagata" a Davos mentre si prepara a bere come una spugna, il Cavaliere delle Cipolle scopre FINALMENTE la verità su Shireen.
Potrebbe uccidere Melisandre nella prossima puntata? Mi piacerebbe, ma penso che Jon non lo permetterebbe.
Il grande giorno è arrivato. Esercito contro esercito. Chi sia il più bastardo tra i due non si può dire, ma sicuramente sappiamo chi è il vero infame: quello che gioca la carta del fratellino sequestrato.
E anche qui D&D si sganasciano davanti a tutte le teorie sul "Il Nord ricorda" "Piccolo Jon Umber fa solo finta di stare dalla parte di Ramsay" "Quella non è la vera testa di Cagnaccio" e blablabla. Spettatori illusi che non siamo altro.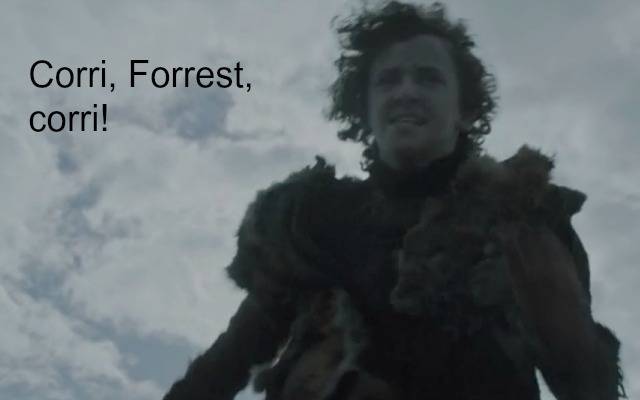 Rickon è terribilmente confuso (ma non si colpisce da solo): crede di essere Forrest Gump, ma in realtà è stato teletrasportato sul set di Saw.
Ramsay gli fa fare un bel giochino, ma lui non capisce bene le regole: si può anche correre a zig zag, sopratutto quando c'è un Guglielmo Tell che cerca di centrare una mela all'altezza del tuo cuore.
Sapevamo che avremmo dovuto perdere almeno uno Stark, e che solitamente muoiono nei modi più stupidi. Rickon anche se è stato un personaggio assolutamente inutile si è rivelato perlomeno coerente con la sua famiglia.
Qui Jon perde veramente le staffe. Letteralmente. Perché cade da cavallo e si prepara ad affrontare un mortale testa a testa con tutto l'esercito Bolton.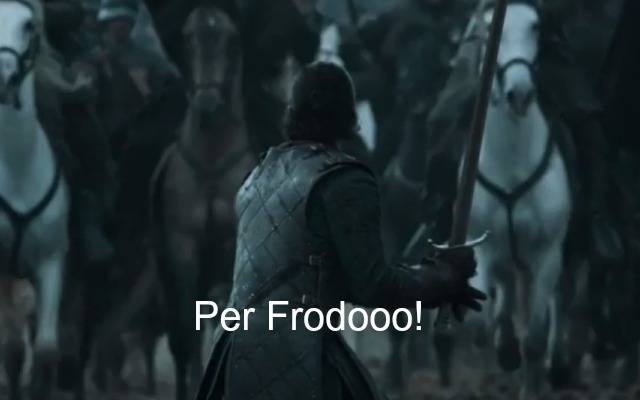 Dopo svariati colpi di spada, teste mozzate e rischi di soffocamento, lo scontro sembra preannunciare una vittoria dell'esercito più numeroso (ma va? Assolutamente inaspettato eh).
Per fortuna arriva Gandalf con i rinforzi, ah no scusate, Ditocorto con l'esercito Arryn.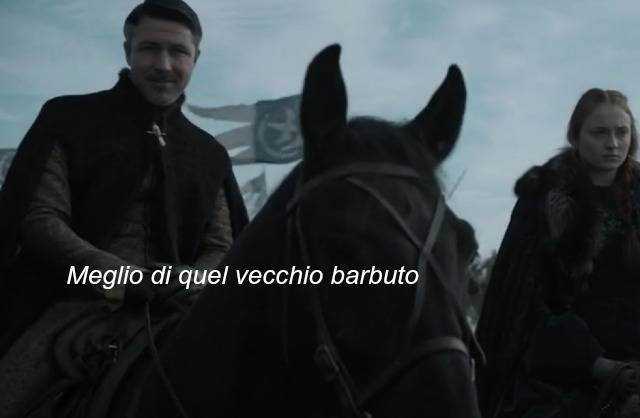 Questo intervento costringe Ramsay a ritirarsi dentro Grande Inverno, senza contare però che i portoni in legno non possono fare molto contro un gigante coraggioso come Wun Wun.
Sfonda la porta, permettendo a Jon di entrare ma (giusto perché il trauma di Hodor stava iniziando a passare lentamente) viene ucciso agli arcieri Bolton.
A questo punto Jon si trasforma in Rocky e non ce n'è più per nessuno: prende a cazzotti in faccia Ramsay come quando il nerd timido della scuola riesce finalmente a vendicarsi del bullo.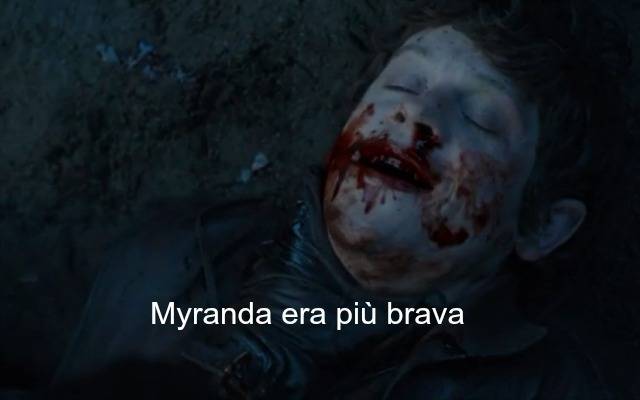 "Benvenuto a Grande Inverno stronzetto".
Ma non è finita qui.
Sansa ci regala la vera ciliegina sulla torta della puntata: Ramsay viene sbranato dai suoi stessi cani, quelli che lui aveva deciso di non nutrire per ben sette giorni per prepararli alla scorpacciata post battaglia. E invece i suoi piani sono andati leggermente storti.
Ecco cosa succede a trasformare in strumenti le persone/cani che ti sono più fedeli: alla prima occasione ti mangiano vivo.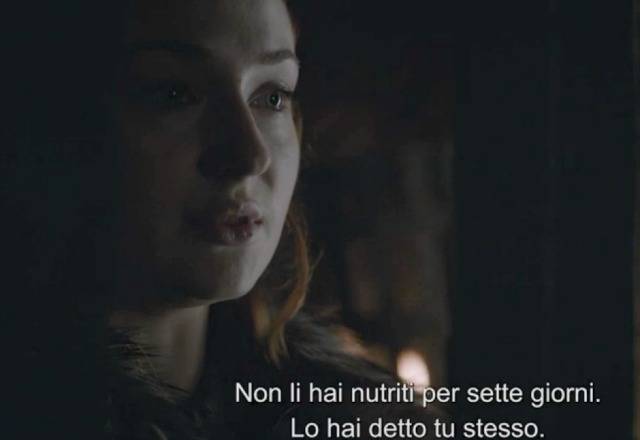 I vessilli Stark a Grande Inverno mi hanno fatto sentire così tanto in pace con il mondo che per due minuti ho dimenticato la sessione estiva: 1000000
Ramsay un folle fino alla fine, ci mancherà: 9
Jon sarà pure un ignorante ma sa tirare dei pugnazzi da urlo: 8
Rickon è probabilmente il personaggio meno considerato nella storia di Game of Thrones: 5
Sansa deve inziare a cucirsi l'abito bianco dopo questo "piccolo favore" chiesto a Ditocorto: 8, povera ragazza
Tormund is the new Rick Grimes: 7
L'assenza di Ghost: -234
Anche in queste pagelle tornano…. gli Oscar del Trono!
Premio scemo del villaggio: I mitici Padroni della Baia degli Schiavisti
Premio muori male: Melisandre, ci è piaciuto il tuo trucchetto con Jon ma la storia di Shireen non si dimentica
Miglior nuovo personaggio: il futuro matrimonio tra le #Yanerys
Premio spaccaculi: Jon e Sansa, decisamente
Premio non ce la faccio a farcela (neanche per sbaglio): Rickon, insegna agli angeli a correre esclusivamente in linea retta
D'ora in poi penso mi appenderò davanti alla scrivania e nel frigo questa foto di Lyanna Mormont.
Della serie "Non fare nulla che possa far incazzare questa piccoletta. Niente pause studio, niente pause merendina di 4 ore".
Soluzione definitiva per superare questa maturità/sessione estiva ragazzi. Non ringraziatemi.
Ringraziamo i nostri partner di  Game of Thrones – Italy, Game Of Thrones fans page -ITA- , Game of Thrones ITALIA , L'immane disgusto di Varys nei confronti dell'umanità. Team Sansa, Il trono di spade