Quando il pilota di una serie ha 4.1 milioni di spettatori, ma te comune mortale ti guardi intorno e nessuno dei tuoi amici sa di cosa stai parlando, ti viene da chiederti "Ma Eureka l'ho visto solo io?".
Ripenso con nostalgia all'allegra sigla e colonna sonora e alle simpatiche avventure della cittadella e così, con un sorriso rifletto sull'evoluzione dei personaggi, a come tutto è iniziato e finito, ma in particolare iniziato. Eureka è uscito nel 2006 ed è proseguito per 5 stagioni, fino al 2012, rilasciato dal canale Syfy, anche conosciuto come A Town Called Eureka. Infatti parla di questa cittadina – il cui nome è il titolo – in cui succedono avvenimenti strani.. no, non stiamo parlando di Twin Peaks, il tono è decisamente più allegro.
Questo paese è, nella trama in Oregon ed è costruito per volere di Albert Einstein e protetta dal Ministero della difesa, con l'idea di ospitare le menti più geniali e le loro famiglie. Confinata da uno scudo elettromagnetico, la comunità è tenuta top secret dal governo anche se, quasi per caso, lo sceriffo federale Jack Carter e Zoe (Jordan Hinson), la scopriranno e vi si troveranno bloccati. Infatti stavano viaggiando in macchina quando Zoe vede loro stessi incrociarli in macchina nella carreggiata opposta e, agitata, distrae Jack dalla guida che di conseguenza li fa finire fuori strada.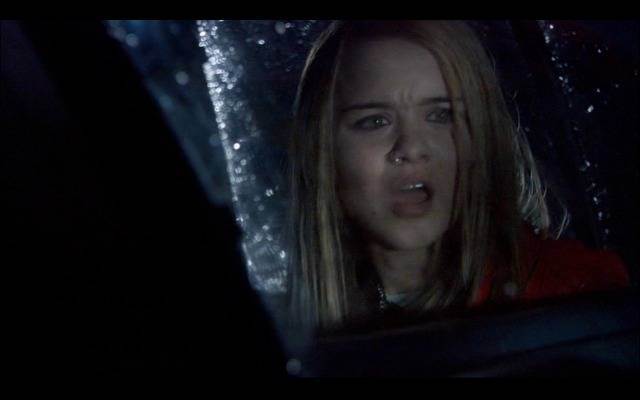 Dopo aver camminato tutta la notte si ritrovano in questa città sconosciuta e Jack (Colin Ferguson, Tripp Cooke di The Vampire Diaries) chiede indicazioni per la stazione di polizia dove incontrerà il vice-sceriffo Josephina "Jo" Lupo (Erica Cerra, canadese di origini italiane, Maya di Battlestar Galactica), una donna dal carattere molto forte, ex militare del forze speciali che ascolta praticamente solo lo sceriffo della città.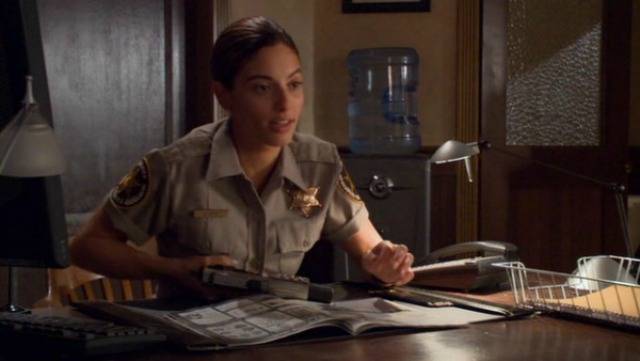 Carter verrà quindi mandato da Henry, il meccanico/ingegnere aerospaziale/inventore particolarmente originale della comunità.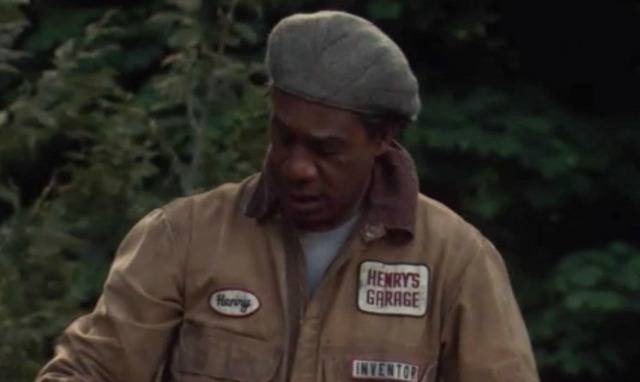 Interpretato da Joe Morton (Eli Pope di Scandal), Henry aiuta Carter a recuperare la macchina e a riparargliela ma, volendoci qualche giorno, Carter deve trovarsi una sistemazione ad Eureka.
Nel frattempo si scopre che la fuggitiva che ha in custodia è in realtà la sua figlia, che è scappata dalla famiglia per anni. Zoe ha infatti un suo carattere molto ribelle e forte, ed un'intelligenza che definirà "da strada", in contrasto e comunque molto diversa da quella che hanno i geni coetanei della cittadella.
Eureka, oltre al lato leggero della commedia, è anche e sopratutto una serie fantascientifica, la versione divertente di Fringe, dove eventi improbabili prendono svolte ancora più impensabili. In quanto comunità di scienziati dotati di tecnologie all'avanguardia, è quasi ovvio che gli esperimenti vadano fuori controllo. E infatti Carter si trova presto a fare i conti con la sparizione misteriosa di un bambino, insieme al suo cane e mezza roulotte (si, in stile wormhole) in cui aspettava i genitori. Jack ritroverà in men che non si dica il bambino, quasi impressionando l'agente Allison Blake del ministero della difesa appena conosciuta, senza però approfondire la sparizione del mezzo, almeno inizialmente.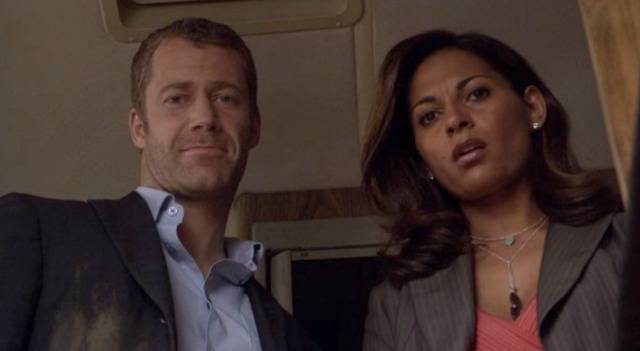 Questo viene poi ritrovato in mezzo al bosco, dove l'attore Matt Frewer – che interpreta un australiano un po' pazzo e famelico di avventure – conduce il gruppo di scienziati allo strano evento.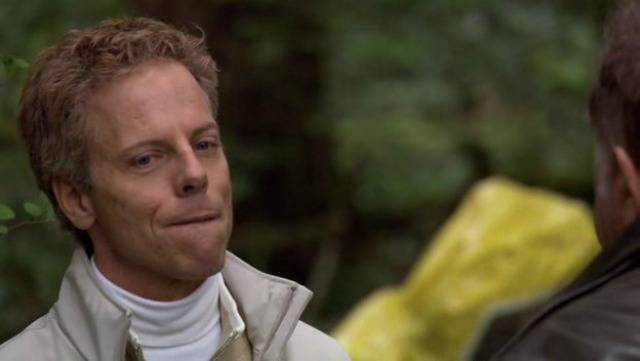 In questi spicca Warren King (Greg Germann, Hades di Once Upon A Time) ed un altro dei personaggi principali: Douglas Fargo (Neil Grayston) un nervoso e facilmente irritabile scienziato.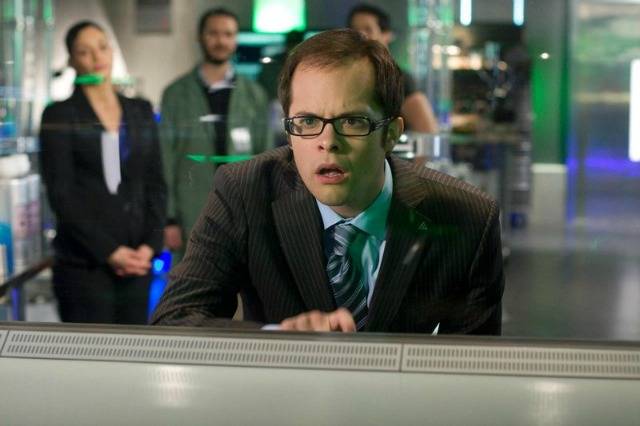 Una volta che questi strani eventi si intensificano, lo sceriffo della città rimane ferito e per risolvere la situazione Blake decide di usare le competenze di Jack. Ma non prima di fargli firmare un contratto di non-divulgazione che se violato permetterà al governo di accusarlo di tradimento. Così Carter viene portato nella struttura di ricerca top secret nascosta da degli ologrammi, dove vengono fatte delle ricerche e degli esperimenti molto avanzati con l'intenzione di costruire un futuro migliore.
Jack col suo carattere pungente, nel momento in cui conosce il dottor King sin da subito non si fa problemi a creare tensioni pur di aver risposte alle misteriose domande assolutamente al di là della sua comprensione. Il dottor King come figura di rivalità con Jack, viene presto sostituito dal dottor Nathan Stark (modellato sul personaggio di Iron Man e interpretato dall'affascinante Ed Quinn).
È però per l'abilità pratica di Carter e capacità di pensare fuori dagli schemi scientifici che riesce a dare un contributo intuitivo completamente diverso dalle conoscenze degli abitanti della comunità. Viste queste competenze, lo sceriffo della città che è in realtà un maggiore del dipartimento della difesa, promuove Carter a prendere il suo posto, per vegliare sulla pazza comunità di Eureka! Con la promozione arriverà anche S.A.R.A.H, la sua nuova casa domotica, premurosa e permalosa come un moglie.
Inoltre sin dal pilota viene accennata la top, top secret Section Five, di cui nemmeno gli scienziati di Eureka non sanno praticamente nulla.
Gli episodi sono strutturati in maniera spesso auto-conclusiva, con una trama di background ed un problema a cui devono trovare la soluzione prima che venga distrutto più o meno tutto.
Eureka ci regala anche attori particolari, infatti più avanti nelle stagioni assumeranno un ruolo considerevole anche interpreti del calibro di Wil Wheaton e la sua collega – nonché sceneggiatrice e produttrice – di The Guild, Felicia Day (Vi in Buffy).
In sintesi Eureka è una serie fresca e divertente ottima da rivedere o recuperare in una calda estate.