# #
Attenzione: evitate la lettura se non volete imbattervi in spoiler sulla decima stagione di Doctor Who 
Un tempo il Dottore raccontava grandi storie. Ora, invece, si racconta la grande storia del Dottore. Uno degli elementi peculiari del Doctor Who di Steven Moffat è la ricerca costante dell'orizzontalità nella costruzione delle trame di stagione, e il decimo atto dell'era moderna, chiuso pochi giorni fa con un season finale coraggioso e sorprendente, non è stato da meno. La svolta narrativa, più evidente con Moffat che con il predecessore Davies, non è un problema in quanto tale, ma lo diventa nel momento in cui le trame verticali perdono in efficacia, come è successo in larga misura nel triennio di Peter Capaldi. Un'era che porta con sé pregi e difetti riflessi anche nella stagione appena conclusa, focus centrale di questo articolo.
# #
Doctor Who, infatti, ha fatto degli stand-alone il punto di forza principale. Ci siamo innamorati del Dottore una grande storia dopo l'altra, senza mai riuscire a prevedere se la volta dopo ci saremmo trovati a scambiare due parole con l'incarnazione femminile della TARDIS, affrontare i problemi esistenziali di Van Gogh oppure rimanere senza parole di fronte alla forza brutale degli Angeli Piangenti e ai pericoli di un aereo che vola verso la mezzanotte più buia di sempre. Negli ultimi anni, invece, si è dato uno spazio crescente ai dilemmi del Dottore e alla definizione di una personalità più cupa, condizionata dallo scorrere inesorabile del tempo che assorbe tutto, incluso il suo Signore prediletto.
Gli appuntamenti settimanali, un tempo occasioni imperdibili per affrontare dei viaggi unici, sono entrati a far parte di un discorso globale più ampio non sempre efficace come avrebbe potuto, togliendo tanto (forse troppo) alla centralità delle narrazioni episodiche, più scontate e meno suggestive. È successo con la decima stagione, e non è la prima volta. Se si affrontano i limiti di una delle serie tv più longeve di sempre, tuttavia, non possiamo limitarci a questo: i problemi dell'ultimo Doctor Who di Moffat, purtroppo, non finiscono qui.
# #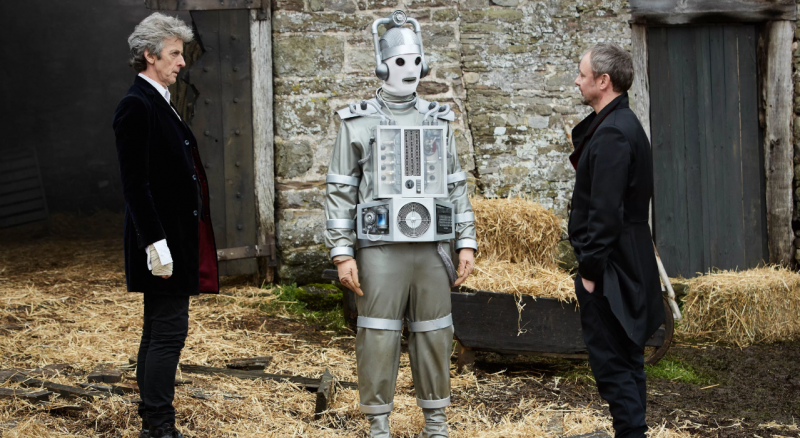 Diciamolo con un pizzico di delusione e il rispetto dovuto ad un cardine della cultura popolare di un mondo intero: la decima stagione, seppure abbia regalato dei momenti indimenticabili, è il trionfo delle occasioni perse. Soprattutto se si pensa alla gestione di alcuni personaggi, potenzialmente straordinari. La prima che viene in mente è Bill Potts. La nuova (ormai già vecchia) companion del Dottore si era presentata benissimo fin dalle prime battute e ci aveva illuso di aver trovato qualcuno da amare incondizionatamente per anni. Chi conosce il suo destino, però, sa bene che non è andata così. Dodici episodi non sono stati sufficienti per approfondire al meglio una personalità dalle mille sfumature, appena abbozzate e in certi casi tendenti eccessivamente al fanservice. La sua storia, inoltre, ricalca oltremisura quella di Clara Oswald (dalla trasformazione in Dalek della prima a quella in Cyberwoman della seconda il passo è troppo breve, così come nella morte non morte finale), dandoci spesso la sensazione di vivere una storia che abbiamo già vissuto.
Bill avrebbe meritato maggiore spazio, e altrettanto si può dire per Missy con il Master, suo alter-ego in ogni accezione possibile del termine, e per il povero Nardole, mera figura di contorno interpretata magistralmente da Matt Lucas. C'erano grandi aspettative sul canto del cigno della prima e sul ritorno inaspettato del secondo, ma sono state rispettate del tutto. L'alchimia che ha unito immediatamente due mostri sacri come Michelle Gomez e John Simm ha mascherato le falle, senza tuttavia coprirle del tutto.
Il percorso di evoluzione di Missy, palesato soprattutto in World enough and time e The Doctor Falls, è forzato (quantomeno nella scelta dei tempi) agli occhi di ha osservato i rari momenti in cui il personaggio ha avuto la possibilità di mettersi in luce, ci lascia in eredità una donna con un'identità meno riconoscibile di un tempo e l'amaro in bocca per quel che è e non è stato.  Lei, come il suo predecessore. Il ritorno del Master sembra esser stato quasi un pretesto per regalare un nuovo background ai Cybermen e una degna conclusione al percorso di Missy. Troppo poco per uno come lui, lontano anni luce dal villain sontuoso che ci aveva incantato ai tempi del Decimo Dottore. Cosa ne sarà di lui/lei? Perché non ci hanno mostrato almeno una rigenerazione? Doctor Who sa essere forte nel tenere aperte anche le storyline apparentemente più chiuse, ma talvolta esagera.

Se si parla di rigenerazioni, infine, non si può non pensare al più grande mistero irrisolto della serie: quante "vite" ha a disposizione il Dottore? Una? Dodici? Infinite? Moffat ha una risposta da darci? Lo special potrebbe (e dovrebbe) far luce a riguardo, ma non è certo questo il problema principale che caratterizza l'epoca al tramonto di Twelve. Il Dottore di Capaldi ha gettato un'ombra su un personaggio che ha ritrovato per strada le proprie origini, perdendo tuttavia in freschezza e brillantezza. L'interpretazione sontuosa dell'attore scozzese nei momenti più drammatici (indimenticabile il one man show in Heaven Sent) stona con la scarsa efficacia con cui si è calato in parti maggiormente comiche, cardini imprescindibili dell'intera storia di Doctor Who, nato cinquantaquattro anni fa per intrattenere i giovani ragazzi inglesi.
Dopo tre anni possiamo dire che la scelta di affidarsi a Peter Capaldi sia stata azzeccata, ma non mancano i limiti tipici di un attore straordinario che fa della drammaticità il proprio punto di forza. Lo special di Natale e il confronto con la reincarnazione del Primo Dottore chiuderanno un cerchio fondamentale e ci offriranno la possibilità di prendere parte ad un nuovo inizio con un nuovo showrunner e un nuovo protagonista. Nella speranza di vivere ancora tante grandi storie in giro per lo Spazio e il Tempo, senza dimenticare gli errori del passato. Come ha fatto Twelve, e come ci auguriamo non farà Chris Chibnall.
Antonio Casu