# #
Sarà la mia passione per i telefilm in costume, o più semplicemente per il mio amore incontenibile nei confronti di Clive Owen, ma ho proprio voglia di parlare di THE KNICK.
Serie statunitense di genere period drama creata da Jack Amiel e Michael Begler e diretta da Steven Soderbergh, The Knick sbarca sugli schermi nell'agosto del 2014.
Ripresa da Sky Atlantic qualche tempo dopo, ha avuto un successo di nicchia.
# #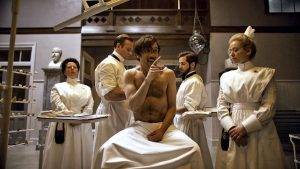 The Knick è per pochi intenditori, per i palati fini che gustano dialoghi complessi e sceneggiature circoncise.
Clive Owen nei panni del dottor John Thackery, personaggio ispirato dal chirurgo William Stewart Halsted, è magistrale. Porta avanti un personaggio straordinario dalle mille sfumature.
New York 1900, John Thackery assume la guida del reparto di chirurgia del Knickerbocker Hospital, il The Knick per gli amici, dopo l'improvvisa morte dell'ex primario.
Thackery è geniale. Medico brillante ed avanguardista, sempre alla ricerca di nuovi metodi e nuove dottrine. Informato, attento e dalla vena saccente.
Ricorda un altro grande del piccolo schermo: Dott. House, ma più vizioso e meno cinico.
Ma Thackery come House ha una forte dipendenza, dalla cocaina.
Piccola premessa, essenziale: Nei primi anni del '900 la cocaina veniva usata per fini medici, la si trovava in ampolle, tipo penicillina.
John come altri, ne aveva scoperto i benefici e si dilettava nell'uso sempre più frequente di quel liquido magico.
# #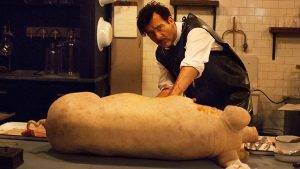 Seguiamo questo chirurgo e la sua equipe in un percorso surreale, per quanto reale e ben costruito. Ci immergiamo completamente nel mood novecentesco e lo viviamo da protagonisti. Scopriremo piano piano che il nostro moderno concetto di malasanità è davvero avanguardista. A quei tempi le morti per febbre alta, o durante il parto, erano consuete. Ed epidemie e quarantene all'ordine del giorno.
In un ospedale pieno di intrighi e vizi, si trova l'umanità. Non è di certo John Thackery a rappresentare questo aspetto ma il suo ami-nemico Algernon Edwards, medico afro-americano formatosi in Europa, dalla lucida pelle nera e dal cuore grande.
A si, nel 1900 a New York la discriminazione razziale era controllata da leggi severissime. Uomini e donne si dividevano in classi di appartenenza sociale e soprattutto razziale.
Un medico nero in un ospedale per bianchi era come un marziano a messa di domenica: fuori posto.
Thackery non lo vuole, non lo stima, e preferisce agire da solo, sbagliando..spesso.
Edwards ha esperienza e capacità e soprattutto ha dei precedenti affettuosi con la direttrice del The Knick: Cornelia Robertson, figlia del principale finanziatore con l'obiettivo di risollevare le sorti dell'ospedale di famiglia in miseria. Anche a John non mancheranno intrecci dai toni rosa, ma spesso saranno le prostitute del suo bordello preferito a cullare il sonno del nostro luminare anche se lentamente nascerà una simpatia con l'infermiera Lucy che regalerà sorprese e risvolti nella trama.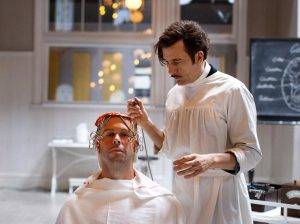 La cocaina e la dipendenza che crea sarà comunque il centro della prima stagione. L'onnipotenza che regala assumendola e la scarnificazione dell'anima e del corpo che restituisce se non la prendi.
Questa continua lotta con se stessi, con la consapevolezza di essere grandi ed il grande limite di non essere del tutto liberi.
Oppio cinese, meretrici di alto borgo, cocaina endovenosa e tanta medicina, miscelata ad una buona dose di cinismo e Humor noir, nello scenario straordinario di una New York cattiva e spietata del '900.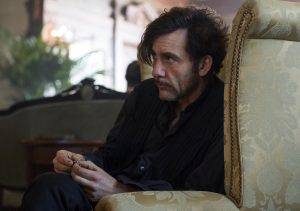 The Knick è tutto questo e molto altro, basti pensare alla direzione: Steven Andrew Soderbergh, Palma d'oro al Festival di Cannes per il film cult Sesso, bugie e videotape, doppia candidatura all'Oscar al miglior regista per i film Erin Brockovich e Traffic ed ancora Intrigo a Berlino, Ocean's Eleven, Ocean's Twelve, Ocean's Thirteen, Magic Mike ed Effetti collaterali. Insomma se non bastasse questo vi dico inoltre che The Knick è stato girato come un film, e montato in seguito ad episodi. Colpa/ merito dei pochissimi fondi a disposizione. Per questo ha un ritmo interessante, e sembra sempre fluido nei dialoghi e delle inquadrature.
L'incredibile forza di questo serial sta tutta nella narrazione di fatti che con tutta probabilità sono reali, infatti molti protagonisti sono ispirati a persone realmente esistite. Ma non solo, The Knick ti cattura lentamente, e lentamente crea dipendenza. Più ne hai più ne vuoi. Se cercate una serie diversa dal solito, fatta bene e curata in ogni particolare, le vicende del del Knickerbocker Hospital fanno per voi!
Non vi resta che caricare la prima puntata (lo trovate sul box di Sky) ed enjoy!