#ConsigliSeriali è la rubrica di Hall Of Series in cui vogliamo portare alla vostra attenzione orizzonti seriali rimasti ingiustamente inesplorati. Questa volta ci occupiamo di Broadchurch, serie televisiva britannica ideata da Chris Chibnall.
Broadchurch è un piccolo centro marittimo inglese dove ci si conosce tutti e dove la vita scorre noiosa e ripetitiva, come in ogni piccola città sperduta che si rispetti. La vita tranquilla e noiosa della cittadina viene però sconvolta da un tragico avvenimento: il ritrovamento sulla spiaggia del cadavere del piccolo Danny Latimer, poco più che dodicenne. A indagare su questo orrendo fatto di cronaca, il neo Detective Ispettore della Polizia locale Alec Hardy, appena trasferito in paese per motivi che scopriremo strada facendo, coadiuvato dal Detective Sergente Ellie Miller, la donna che ambiva al ruolo di comando sottrattole dal neo arrivato. Il rapporto tra i due inizialmente sarà tutt'altro che facile, sia per l'ambizione della donna, che si ritiene preparata e pronta a quel ruolo e non comprende i motivi per i quali le sia stato preferito quello strambo Detective, che sembra si bravissimo nel suo lavoro, ma sembra anche un uomo totalmente disaffezionato al resto delle persone che lo circondano, privo di tatto e di emozioni da sembrare una macchina. Non sarà così e i due col tempo diventeranno ottimi amici.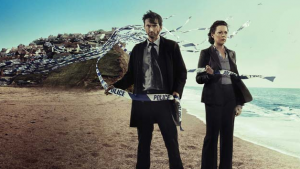 Come ogni paesino che si rispetti e nel quale crimini del genere non avvengono praticamente mai, chiunque può essere stato il killer. Le indagini perciò coinvolgono praticamente tutta la cittadina e man mano che gli eventi si susseguono, i due detectivi faranno le valutazioni del caso e restringeranno sempre più il campo delle ipotesi. Le indagini, inoltre, porteranno alla luce misteri e segreti che molti dei sospettati custodiscono gelosamente. L'indagine sarà complessa e di difficile interpretazione e ogni volta che un nuovo possibile sospetto verrà fuori, sarà sempre più difficile venirne a capo. Tutto questo comporterà una crisi di nervi nella famiglia del ragazzino, con la madre Beth e il padre Mark a dover convivere anche con i loro problemi di coppia, oltre che con la difficile soluzione del caso.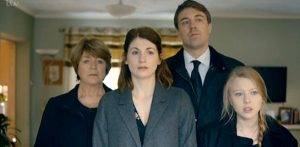 La Famiglia Latimer è composta come dicevamo dal padre Mark, titolare di una ditta idraulica e che mentirà sul suo alibi, dalla madre Beth, sconvolta dalla morte del figlio e che non riesce a fidarsi più del marito, nonostante scoprirà strada facendo di essere nuovamente incinta, dalla figlia maggiore Chloe che cercherà a fatica di andare avanti e dalla nonna materna Liz, anch'essa completamente distrutta dal dolore. Nigel è l'operaio di Mark nonché amico di famiglia. Graviteranno intorno alla cittadina e al caso il marito di Ellie, Joe, vicini di casa della vittima, il reverendo Paul Coates che cercherà di fornire un aiuto spirituale alla famiglia Latimer, Maggie e Oliver dell'Eco di Broadchurch e Karen White, inviata del Daily Herald per indagare sul caso. Inoltre ci sarà la presenza un po' ambigua e misteriosa anche di Susan Wright, una donna che vive non molto lontano da dove è stato rinvenuto il cadavere di Danny e Jack Marshall, edicolante del paese al quale il ragazzino dava una mano per la consegna dei giornali. Marshall è un uomo però dal passato oscuro e ben presto verrà fuori, con conseguenze altrettanto tragiche.
Le indagini riveleranno solo alla fine il colpevole e uno dei punti di forza di questo gioiellino di serie è proprio quello di non riuscire a capire fino alla fine chi possa aver davvero ucciso il giovane Danny. Nella 2° stagione invece si seguirà tutta la parte del processo e delle conseguenze che la morte del piccolo e la conseguente scoperta dell'assassino porteranno sulla cittadina e sulle vite dei suoi abitanti coinvolti in questa brutta storia.
Senza dubbio la recitazione e l'interpretazione di uno strepitoso David Tennant (Doctor Who, Jessica Jones) ha influito non poco nell'ottima riuscita della serie, senza sottovalutare l'altra protagonista assoluta, Olivia Colman, semplicemente perfetta nei panni del Sergente Ellie Miller. Mark Latimer invece è stato interpretato da Andrew Buchan, recentemente apprezzato anche in The Honourable Woman.
Broadchurch è un prodotto breve e che va via tutto d'un fiato e personalmente consiglio di guardare tutti i 16 episodi che compongono le due stagioni uno dietro l'altro senza sosta, in quanto comunque le due stagioni sono collegate una all'altra e in attesa della terza stagione che concluderà ufficialmente anche la Serie. David Tennant e soci li potete tranquillamente recuperare sul catalogo italiano di Netflix.