Lo ammetto, se è un 'tranello' degli autori io ci sono cascato in pieno.
Il mio 'noooo' alla scena della caduta di Glenn in pasto agli zombie 'squalo' mi ha davvero reso triste in quell'attimo.
Mi ero insospettito all'inizio con quel suo parlare da 'eroe prossimo all'addio' ma poi mi ero convinto 'ma no, dai, mica faranno sul serio! No dai, fate un'altra volta…!
Però poi il cerchio si stringeva sempre più… e una volta rimasti lì senza via di uscita, quando poi è partito lo sparo e li ho visti andar giù… 'Noooooo!' , non ci riuscivo a credere, non lo accettavo. Povero Glenn. E giù un altro 'nooooo'.
La colonna sonora forte e toccante nell'immagine successiva poi, con quei fasci di luce tra gli alberi tipo 'ascensione tra i cieli' sembravano davvero il quadro commovente per la fine di questo personaggio.
Mille altre emozioni per le altre situazioni successive fino al fischio finale con la siglia che è sempre una botta tagliente di adrenalina e mistero e altre 600 cose insieme.
Finita la puntata di The Walking Dead pur con dispiacere resto con la convinzione che Glenn sia finito all'altro mondo.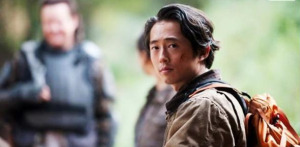 Ed avevo scritto come ogni settimana le mie impressioni sulla puntata. Sul finale  campeggiava un RIP al povero Glenn e un ringraziamento all'attore che lo ha interpretato per tutto questo tempo, Steve Yeun.
Al che, nel far leggere quel che avevo scritto a un mio amico e mi vedo recapitare un messaggio con scritto : 'Calma, Glenn non è morto. O meglio potrebbe esserlo ma non è sicuro'
E qui ragazzi, per me il colpo di scena già c'è stato, perchè balzo dalla sedia e dico (e scrivo) : 'Coooosa?????'
A questo punto entro precipitosamente nei forum di The Walking Dead, sul sito di Fox, di AMC, di tutto quello che sapete perchè ci siete dentro tutti voi! Ed effettivamente leggo che 'ufficialmente' Glenn NON è morto.
Allora mi riprendo e faccio mente locale: a) devo riscrivere tutto b) la domanda che sorge spontanea : ma allora io cosa ho visto?
Ho letto di sfuggita e si parlava di 'allucinazioni di Nicholas' ed ho pensato che forse le ho avute anche io.
Confusion.
Quindi comincio a pensare una cosa : e se gli autori avessero voluto fare una 'finta' e 'controfinta'? Mi spiego: hanno creato volutamente questo 'caso' perchè The Walking Dead è essenzialmente anche e soprattutto questo: mistero, pathos, enigma, suspence. Insomma quello che ti rimane in gola e che ti fa maledire ogni settimana sia già finito l'episodio.
In pratica Glenn è (purtroppo) effettivamente morto ma non dandone certezza creano l'aspettativa del colpo di scena che sia vivo. Mentre ahimè il 'colpo di scena nel colpo di scena' è che in definitiva Glenn abbia finito davvero lì in quel modo.
E se è vero come ho letto da più parti , che Nicholas cadendogli sopra gli farebbe da scudo umano e che le budella o quella roba sanguinosa che fuoriesce non siano effettivamente di Glenn ci sta, ma ci sta molto meno pensare che si sia nascosto sotto il cassonetto o che gli zombie dopo di Nicholas non continuino mangiando anche lui.
A MENO CHE….
A meno che non intervenga un altro clacson o un qualsiasi super rumore o scoppio, qualsiasi accidenti possibile che richiami in modo netto la mandria di zombie divoratrice. E che Glenn quindi per miracolo fiction sia rimasto coperto dal corpo di Nicholas e non sia stato preso.
Allora sì.
Forse c'è una speranza di rivederlo ancora in campo in The Walking Dead.
Nella mia testa malata Glenn mi riporta a quel personaggio asiatico che ho sempre trovato in ogni gruppo di eroi che mi sono piaciuti. Eroe svelto, pulito, pratico, veloce …insomma uno forte e che non manca MAI.
Ed anche se tante volte la prima impressione è quella che non ti sbagli (ed io mi sento questa ancora) voglio credere che anche questa volta il campione d'oriente ce la farà.
Glenn….rispondi!
Ti vogliamo ancora con noi!
P.S. Allego questo video al mio articolo, non so se lo avete già visto ma è molto simpatico e sincero e ve lo consiglio
P.S. C'è ancora tanto cuore nel mondo! E che importa sia solo una serie tv!!??