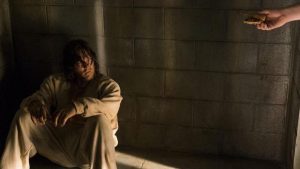 Le critiche subite per il ritmo claudicante, i tabloid delle riviste televisive che riportano spietatamente all'attenzione il calo di ascolti dopo il primo episodio della nuova stagione (plausibile, se consideriamo che la densità formatasi durante la sosta è stata nutrita dalla curiosità e dal potere pubblicitario trainati da un agghiacciante twist ending), sono soltanto alcune delle croci che il marchio The Walking Dead è costretto a tenere recentemente sulle spalle, confermando l'idea che per qualsiasi fenomeno le critiche siano nient'altro che la sovrimposta del successo.
È totalmente indubbio, quindi, che quello stesso potere mediatico (positivo o negativo che sia, direbbe Oscar Wilde) sono i binari della fama della serie, il cui brand ha imparato a districarsi tra i vari rami della pubblicità, finendo per radicarsi ed essere ricordato anche in altri settori (come con la Telltale, nel caso specifico dell'industria videoludica) attraverso l'infallibile risonanza del tormentone.
La musica ha avuto la sua piccola parte in questo lavoro di condivisione comune che ha plasmato la fandom di The Walking Dead.
Dai momenti in cui questa è stata in grado di coadiuvare i più baritonali e cupi colpi di scena, a quando ha avuto modo di occupare un'insenatura nel cuore dei fan con l'opportuna applicazione della tecnica "show, don't tell" come solo la melodia sa fare, oggi vi presentiamo la musica più iconica dell'universo The Walking Dead.
1. Space Junk – Wang Chung (1×01)
"Welcome to my world"
Il momento in cui apre la prima battuta la melodia di Space Junk, all'apparenza, sembra entrare in contrasto col tono della serie. L'antitesi musicale nella sequenza che ritrae Rick rinchiuso nel carro armato, prima dell'esordio (in quell'istante solo vocale) di Glenn, è un dettame che funziona all'occhio dello spettatore in quanto emblema di una situazione grottesca, per quanto contestualmente drammatica.
The Walking Dead ci dà il "benvenuto nel nuovo mondo", mentre la focale dell'obiettivo si allontana progressivamente dall'orda di non morti al gentile banchetto sacrificale che Rick ha imbastito, con la sua venuta rapsodica al dorso dell'ormai sviscerato cavallo.