Charlie Hunnam in Sons Of Anarchy ha dovuto girare scene difficili, sia fisicamente che emozionalmente. Purtroppo per lui.
Per quanto l'attore si sia immedesimato nel personaggio (anche grazie alla quantità di caratteristiche che hanno in comune) e abbia provato lui stesso le forti emozioni che hanno travolto gli spettatori, le scene più difficili da girare per lui sono state altre. Charlie Hunnam ha trovato più impegnative le scene d'amore inserite in Sons Of Anarchy.
Ci chiediamo perchè. In fondo non sembra poi così male per un uomo trovarsi a letto con delle belle ragazze che ti baciano e si dimenano sopra di te.
Beh, pare che Charlie Hunnam abbia qualche problemino con i germi e non gli piaccia tanto stare a stretto contatto con gli sconosciuti.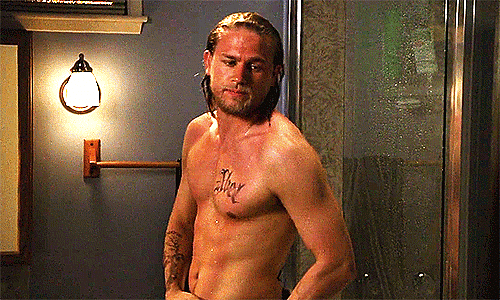 É proprio l'interprete di Jax in Sons Of Anarchy a confermarlo, infatti rivela:
"Sono germofobico da quando ero bambino."
Charlie accetta con serenità contatti stretti solo con poche persone, una delle quali ovviamente è la sua storica fidanzata Morgana McNeils.
Le sue dichiarazioni riguardano proprio la conciliazione tra la sua paura dei germi e i contatti con le persone a lui care:
"Non ho mai voluto baciare nessuno eccetto la mia fidanzata."
L'attore ci spiega anche il motivo, che ha inizio durante la sua infanzia:
"A scuola davano molta importanza alla nostra igiene, specialmente riguardo alle droghe, visto che avevamo un paio di ragazzi divenuti ciechi. Mi terrorizzò. Il punto è che ognuno pensa che sia fantastico essere un attore e baciare tante bellissime attrici nei film, ma io in realtà lo odio."
Mai prima d'ora risulta vero il proverbio "chi ha il pane non ha i denti e chi ha i denti non ha il pane"!
Per una persona con questa fobia girare scene d'amore come quelle che abbiamo visto in Sons Of Anarchy, non deve essere stato per niente piacevole.
Dobbiamo ammettere però che il lavoro di Charlie è stato egregio anche sotto questo punto di vista, considerata la passione con cui la storia d'amore tra Jax e Tara ha coinvolto i fan.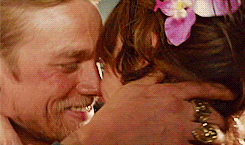 E non è finita qui, la germofobia di Hunnam è anche uno dei motivi per cui l'attore ha rinunciato alla parte nel film 50 Sfumature di Grigio, per cui era stato scelto!
"Non l'ho fatto. […] Per me era un'esperienza traumatica. Non ho voluto aprire quella ferita."
Quindi non era solo perchè avrebbe dovuto "sacrificare" Sons Of Anarchy per qualche periodo, ma piuttosto perchè non voleva toccare Dakota Johnson!