# #
Abituati ormai a serie tv con trame intricate e ricche di colpi di scena è difficile rimanere stupiti. Per questo motivo serie tv crime, come The Undoing o How to Get Away With Murder, attirano la nostra attenzione regalandoci momenti di stupore facendoci chiedere durante tutta la stagione chi sia il colpevole.
# #
Scommesse con gli amici, supposizioni e pensieri fissi, il punto è solo uno: scoprire chi è il colpevole. Più questa azione risulta difficile, più la trama ci intriga e ci coinvolge. I titoli sono numerosi, ma non tutti sono all'altezza del nuovo spettatore, più attento ed esigente.
(Da qui in poi: SPOILER)
# #
Ecco 5 Serie Tv crime in cui farete fatica a capire chi è il colpevole
1) How to Get Away With Murder
How to Get Away With Murder è una delle serie tv crime più famose e viste di sempre.
Lo show vede al centro delle vicende la carismatica e inarrestabile Annalise Keating (Viola Davis), un brillante avvocato e docente di diritto della Middleton University, che ogni anno raccoglie intorno a sé gli studenti più meritevoli del suo corso per metterli alla prova su alcuni dei suoi casi. Il destino dei ragazzi e di Annalise verrà legato a doppio filo a partire dalle indagini sulla morte della studentessa Lila Stangard, che porterà i "Keating Five" a essere a loro volta coinvolti in un omicidio.
In questo caso non si tratta di una trama classica: omicidio, indagini, sospettato e colpevole. In ogni stagione, e quasi in ogni puntata, gli omicidi sono innumerevoli, e altrettanti sono i sospettati. Pensiamo a Lila, siamo pronti a scommettere che nessuno di voi (tranne i più scaltri) abbia pensato a Frank. E che dire di Rebecca? e Wes? Per non parlare poi dei casi affrontati. Ricordiamo la difesa di Annalise nei confronti dei due fratelli Caleb e Catherine Hapstall dall'accusa di omicidio nei confronti dei loro genitori adottivi: quanti di voi si sono interrogati sulla loro onestà?
Quel che è certo è che How to Get Away With Murder ci coinvolge e ci porta a pensare e a dubitare di tutti, ed è esattamente quello di cui abbiamo bisogno.
2) Tabula Rasa
Poco conosciuta, questo gioiellino di casa Netflix è un vero e proprio capolavoro tra le serie tv crime.
Costruito sugli stralci della memoria di una protagonista che non sa più niente del proprio passato, Annemie, detta semplicemente "Mie", si ritrova in un ospedale psichiatrico dove le viene detto di essere la testimone chiave nel caso di una persona scomparsa. Se questa persona è ancora viva o meno, scoprirlo spetta all'investigatore che la interroga, ma sta a lei scavare nei propri ricordi in una lotta contro il tempo che mina il suo già instabile equilibrio.
Aiutata da un piromane, rinchiuso con lei, la donna progressivamente riesce a recuperare la memoria. Grazie a un'alternanza di flashback, ripercorriamo con lei i mesi precedenti alla scomparsa di Thomas. La serie è scritta talmente bene che non solo risulta credibile questo progressivo recupero della memoria, ma riusciamo anche ad approfondire la personalità dei personaggi coinvolti. Ad ogni flashback acquisiamo nuove informazioni sui protagonisti della vicenda, sempre però passando dalla mente di Ami e quindi da ricostruzioni che sono parziali e destinate a cambiare con il passare del tempo. È proprio la possibilità di metterci alla prova, il riconoscimento (che di fatto ci conferiamo da soli) per aver trovato il colpevole prima dei protagonisti, che ci porta a ricercare serie tv di questo genere.
3) The Undoing
Serie evento di inizio 2021, The Undoing non poteva non essere citata tra le Serie Tv crime
La trama tratta le vicende della psicoterapeuta Grace Fraser, che vive a Manhattan con il marito Jonathan, oncologo, e il figlio Henry. Quando Jonathan viene accusato di un orribile omicidio, Grace scopre una fitta rete di bugie e la sua vita va in pezzi.
Forse più di ogni altra serie, The Undoing ci porta a dubitare di tutti. Ma proprio di tutti. Dubitiamo di Grace, torchiata dai detective che mostrano dalle telecamere la donna vicino al luogo del delitto, dubitiamo di Henry, quando nasconde l'arma del delitto e ancora dubitiamo di Jonathan, ma in questo caso con una piccola riserva: è troppo scontato.
È questo il punto forte del plot, che proprio come quello di altre serie tv crime citate in precedenza, ci mette di fronte a un bivio: accettare che la soluzione sia quella più semplice oppure scervellarci in cerca della soluzione più difficile e contorta. The Undoing sfrutta le doti dello spettatore moderno, attento, sveglio e riflessivo per ingannarlo. Uno spettatore che vuole trovare di più, vuole sapere di più e non accetta una sentenza che fin dal primo episodio risulta evidente.
4) Quantico
Quantico è il centro di reclutamento dell'FBI, il luogo in cui l'agenzia sceglie i suoi agenti speciali. Lo show costruito su un cast giovane, fresco e promettente (ricordiamo che ha reso celebre Priyanka Chopra), si districa su due linee. Da una parte conosciamo i futuri agenti speciali, dall'altra guardiamo al futuro e scopriamo che, da qui a nove mesi, la stazione centrale di New York verrà colpita da un vile attacco terroristico, il più crudele dopo l'11 settembre. Scopriamo così che tra i nuovi adepti c'è un nemico che potrebbe aver progettato questa tragedia.
La domanda è legittima: chi sarà stato? Anche in questo caso tutti i protagonisti vengono messi in dubbio, un dubbio che spezza amori, amicizie e alleanze.
Chi l'avrebbe mai detto!
Solo dopo venti episodi ci viene finalmente svelata la vera identità del terrorista: Liam, agente e insegnante, che si è servito dei suoi studenti per mettere a punto un piano terroristico. Quanti di voi lo avevano indovinato?
5) Defending Jacob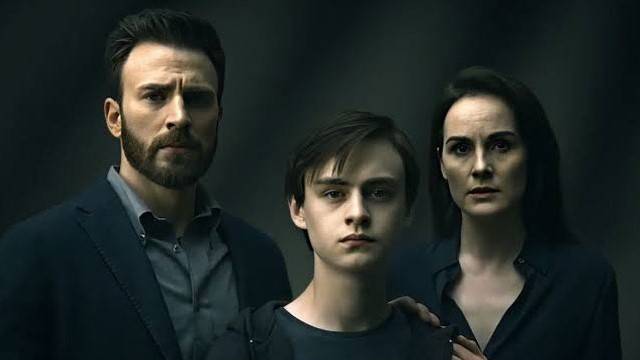 Ancora non molto conosciuta, l'ultima serie tv crime targata Apple Tv+ di cui è bene parlare è Defending Jacob, un po' per la trama superlativa un po' per Chris Evans (basta lui per convincerci a guardarla).
Racconta le vicende di un procuratore distrettuale che si ritrova a dover difendere suo figlio, un teenager, dall'accusa di omicidio di un coetaneo. Durante le indagini scopre una serie di verità sorprendenti su suo figlio, dubita di lui, lo difende, poi infine capisce la verità.
Durante tutta la serie, e anche sul finale (ma anche dopo averla finita), abbiamo fatto mille ipotesi, Jacob sembra un bambino disturbato ma allo stesso tempo docile. Per questo, proprio come in The Undoing, non vogliamo accettare la soluzione più ovvia: è lui il colpevole. Anche in questo caso non risulta così semplice giungere a conclusioni: non accettiamo di conoscere fin da subito l'esito e le altre vicende, come l'accusa all'ex pedofilo, ci mandano fuori strada.
Tutte queste serie hanno un solo obiettivo: metterci alla prova. Possiamo fare i nostri schemi, dimostrare a noi stessi che avevamo ragione o rimanere delusi quando non risolviamo il caso, ma una cosa è certa: ci piacciono da morire.