Ci sono personaggi che non si possono decifrare, per tutto il resto c'è… Sean Bean. Se conoscete almeno un po' la filmografia di questo bravo attore britannico, saprete che non c'è scampo per lui. Non importa se si tratti di un film o di una Serie Tv, non importa il ruolo interpretato, la sua presenza è un oscuro presagio di morte. Per sé stesso.
Eppure, il buon Sean, indubbiamente primatista in questa non invidiabile classifica, è in buona compagnia. Eccezion fatta per il suo caso, per fortuna, non è l'attore che determina la sorte di quel personaggio, ma l'agire del personaggio stesso. Basta infatti seguire attentamente la trama per rendersi conto che alcuni characters hanno il destino segnato. Spesso lo capiamo fin dal primo approccio.
Chiaramente con i villain, che nel 90% dei casi sono intrinsecamente destinati a morire, il discorso è infinitamente più semplice. Ragion per cui in questa lista non saranno presenti antagonisti apertamente dichiarati come potrebbe essere, ad esempio, Il Governatore per Rick Grimes.
Attenzione: stiamo per addentrarci in un campo minato di spoiler. Il corrente articolo potrebbe spoilerarvi le morti di personaggi di Serie Tv con cui non siete in pari.
Ma dato che sono buono, vi lascerò una leggenda delle Serie Tv che verranno nominate, in tal modo potrete saltare allegramente le pagine che potrebbero rovinarvi la sorpresa e proseguire la lettura. Pagina 1: Scrubs. 2: Sons of Anarchy. 3: Breaking Bad. 4: The Shield/ I Soprano. 5: Game of Thrones/Lost. 6: Boardwalk Empire.
1. BEN SULLIVAN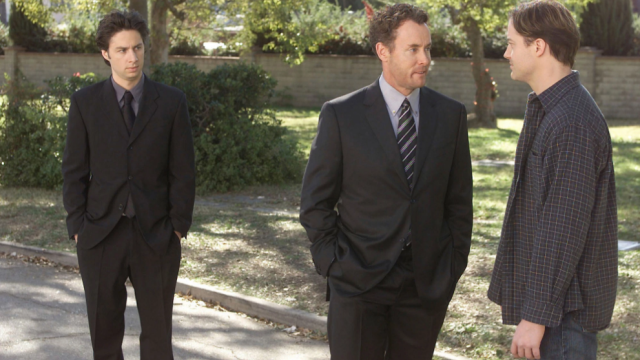 Come già espresso in questo articolo, Scrubs mostra fin dai suoi primi passi di che pasta sia fatto. Parliamo, infatti, di una Serie Tv in grado di far ridere e piangere senza controllo, come pochi altri casi. Per un telefilm così, il grado di affetto immediato che proviamo per un personaggio come Ben Sullivan può essere eguagliato solo dalla consapevolezza che, prima della fine, avremmo assistito alla sua morte.