La notte è  iconicamente il momento di massima allerta per tutti gli esseri viventi. Questo le Serie Tv lo sanno molto bene. Sfruttando questo utile espediente "grafico" riescono a darci la sensazione di allarme, facendoci capire quando potrebbero succedere le cose più brutte. Qualcosa potrebbe seguirci indisturbato nel buio, perchè la visibilità è minima.
Non è difatti un caso che le Serie Tv Horror scelgano toni scuri ("dark" o "gotici") per ricreare le proprie ambientazioni. Tuttavia ciò non è l'unica regola: molte Serie sono ambientate anche di giorno, mantenendo un certo tono, per poi cambiarlo improvvisamente quando arriva la sera. Altre piuttosto, scelgono la via dei "filtri", come per Taboo. Questa Serie ha un costante filtro che "ingrigisce" le scene, lungo tutto il corso degli episodi: ciò renderà l'ambiente più scuro, quasi gotico ed il motivo è ben chiaro.
In questo articolo abbiamo deciso di elencare per voi quelle Serie Tv ambientate prevalentemente di notte. Come noterete, non tutte sono tipicamente horror così come non tutte sono esclusivamente notturne.
1. The Strain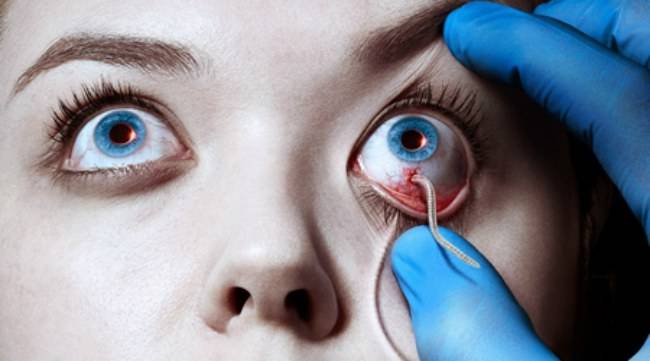 La Serie Tv creata da Guillermo del Toro e Chuck Hogan ha ottimi motivi per essere ambientata prevalentemente di notte. Ispirata alla trilogia "Nocturna" dei medesimi autori, The Strain non è la solita storia sui Vampiri. Come vuole la leggenda, anche essi vivono prevalentemente di notte e muoiono alla luce del sole (per i raggi UV), ma in questa storia il tipico "morso" cambia completamente forma. Sostituito da un vero e proprio apparato, i Vampiri si nutrono attraverso un "pungiglione" che viene espulso al momento dell'attacco.
La trama si infittisce quando scopriamo che questa "epidemia" si propaga attraverso dei piccoli vermi ematofagi. Proprio come i parassiti, essi si insinuano nell'ospite fino a completarne la trasformazione.
I misteri non finiscono qui: dietro questa improvvisa epidemia c'è una regia tutt'altro che improvvisata. Ecco che una trama ambientata ai giorni nostri prende una strada completamente nuova. Questo male ha da sempre cercato di distruggere la vita umana, ma proprio come il concetto di Yin e Yang, c'è stato chi ci ha sempre protetto pur restando nell'ombra.