3) Carol – The Walking Dead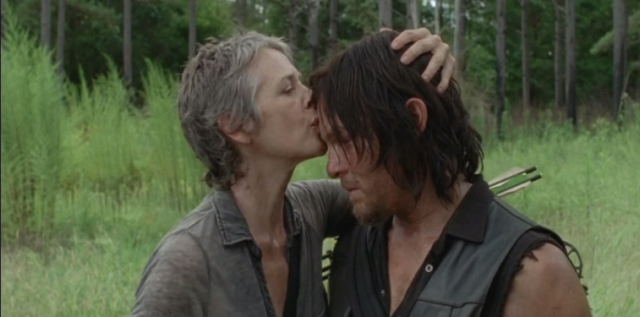 Conosciamo Carol come una donna quasi stereotipata, la classica madre di famiglia che accudisce la figlia e fa la "sottona" con il marito violento.
Il suo stravolgimento caratteriale è sicuramente il più ben accetto dei 5 inseriti in questo articolo, non solo perché tristemente supportato dalla perdita di Sophia ma perché questo dolore l'ha tramutata nella versione migliore.
Enigmatica e imprevedibile, fredda e pragmatica. Una descrizione che calza a pannello per lei ma anche per qualsiasi killer ben organizzato rintracciabile in tante serie crime.
Questo stravolgimento ci è piaciuto parecchio, lo ammettiamo, anche se lo stesso non si può dire delle ultime posizioni di questa lista.
4) Damon Salvatore – The Vampire Diaries
Ecco. Quando poi sono i cattivi a diventare dei bonaccioni proprio ci rode!
Questo qui sopra era l'unica cosa di vagamente interessante in The Vampire Diaries, soprattuto nella prima stagione quando la love story tra Stefan ed Elena ci faceva venire voglia di cambiare frettolosamente canale su qualche atroce film splatter per riequilibrare il livello di glicemia nel sangue.
Era cattivo, pazzo e anche piuttosto vendicativo e questo ci piaceva. Capiamo che quando l'amore ci mette lo zampino le cose cambiano e, tutto sommato, intravedere degli sprazzi di dolcezza in un villain così sexy ci poteva anche piacere.
A tutto c'è un limite però!
E la versione zuccherosa di Damon l'eroe, molte volte, ci ha fatti sbadigliare. Anche perché, tolto Klaus che insieme a lui ha reso lo show tollerabile, gli antagonisti che gli sono seguiti sono stati uno più palloso dell'altro.
Forse il suo non è stato uno stravolgimento di ruolo repentino ma ci ha comunque lasciati perplessi!
5) Daenerys Targaryen – Game of Thrones
Lei l'abbiamo tenuta alla fine, perché ancora si sente in lontananza l'eco di tutti quelli che maledicono ancora la premiata ditta Benioff & Weiss.
Il popolo di Westeros è ancora drasticamente diviso tra quelli che ai tempi cambiarono temporaneamente nome in Divino Otelma e Gloria la Zingara e dissero di aver previsto lo sclero, con conseguente sterminio di massa, della Madre dei Draghi con molti episodi di anticipo.
Per tutti gli altri, Emilia Clarke compresa, la fulminea entrata di Daenerys nel cast di The End of the f*****g world (il vero f*****g world considerato tutto il malcontento che ha generato!) è stato un fragoroso e fastidioso fulmine a ciel sereno.
Se ci fossero state meno lezioni di volo per Jon e Fierobecco e più scene di Daenerys che comincia a bollire cuccioli di volpe nel tempo libero, forse avremmo trovato meno drastico il suo mutamento in evil queen ma, ad oggi, ancora ci teniamo stretto il nostro livore.