È vero, ormai il mondo delle serie tv è diventato un universo, e se ci chiedessero di elencare quelle che secondo ognuno di noi hanno fatto la storia della televisione allora tutti potremmo gridare con certezza un titolo, che magari ci è rimasto nel cuore ma che poi, a conti fatti, ha stravolto solo la nostra vita pur essendo meraviglioso. Ed è così che la lista diventerebbe infinita. Pensandoci bene, però, negli anni sono state ideate delle serie tv (come Breaking Bad) inevitabilmente destinate alla grandezza. Hanno così ottenuto una fama incontestata e riconosciuta dall'intera società, che le ha rese dei fenomeni di massa anche anni dopo il loro inizio.
1) Boris
La fuori serie italiana, ecco cos'è Boris. È entrata a tal punto nella mente e nel cuore degli italiani che, anche a distanza di dieci anni dalla sua fine, è considerata ancora simbolo di comicità e stravaganza. Boris cattura lo spettatore grazie alla sua atmosfera comica, satirica e a tratti anche grottesca.
Probabilmente non sarà famosa tanto quanto Breaking Bad, ma possiamo ritenerci fieri di questo prodotto italiano.
Dal 2007 al 2010 Boris ha divertito il suo pubblico facendo sfilare sulla scena personaggi eccentrici e indimenticabili. Parlando proprio degli attori che hanno dato un volto a questa serie tv non possiamo non nominare Francesco Pannofino (René Ferretti), il celebre doppiatore di Hagrid nella saga di Harry Potter.
2) Black Mirror
Ha catturato il mondo! Black Mirror, specialmente dopo essere passata nelle mani di Netflix, è diventata un fenomeno di massa che ha rivoluzionato il nostro modo di concepire la tecnologia. Questo telefilm esplora e porta alla luce gli aspetti più oscuri e profondi della mente umana sfruttando quella tecnologia di cui noi oggi non possiamo fare a meno. Alcuni spettatori sono rimasti impietriti guardando gli episodi di questa serie antologica e altri, sebbene ne fossero affascinati, hanno inevitabilmente provato un senso di angoscia durante la visione di più di un episodio.
3) Breaking Bad
Il successo di Breaking Bad è indefinibile quantitativamente. È scoppiato nello stesso modo in cui Heisenberg fa scoppiare il fulminato di mercurio: improvvisamente e lasciandoci increduli.
Breaking Bad è come quelle montagne russe che partono lentamente ma che, giunte al culmine della suspense, non ci pensano due volte a cadere verso il suo innegabile successo.
Ormai è conosciuta e citata anche da chi non l'ha mai vista. I meme, così come accade ancora oggi con Boris, spopolano sul web e la figura di Walter White è diventata una leggenda. Infatti la sua impresa illegale è stata realmente tentata da un professore di chimica in America.
4) Sex and The City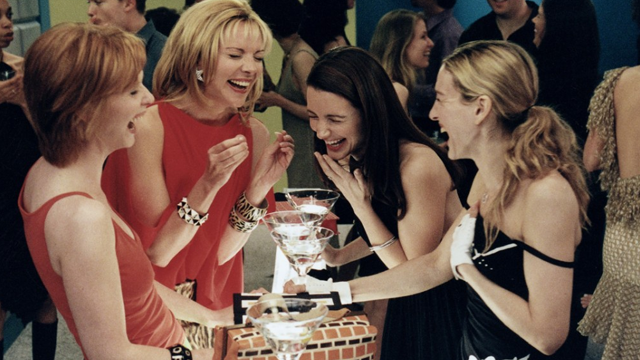 Sex and The City ha formato e continua a formare generazioni di donne forti, indipendenti e assetate di successo. Eppure dietro la telecamera, dietro il lustro e la bellezza di questa serie tv Sarah Jessica Parker ci racconta delle orribili molestie sessuali subite sul set ricordandoci che la realtà è sempre un'altra, diversa. Nonostante questo, Sex and the city riesce, a suo modo, anche a cogliere le sfumature più tristi della vita narrando le delusioni di Carrie, Samantha, Miranda e Charlotte. Guardando questa serie tv ci si innamorerà di New York, della moda, delle relazioni, dell'amore e delle avventure di cui parla la protagonista nei suoi articoli.
È di certo una serie diversa da Breaking Bad, ma che negli anni è diventata comunque un'icona di stile.
Non importa quanti anni passino perché Sex and the City resterà sempre una delle dramedy più maratonate e seguite degli ultimi trent'anni.
5) Lost
Un cast stellare, una trama misteriosa, personaggi controversi e tante emozioni. Lost è un must nel mondo delle serie tv e sono rari gli spettatori ancora ignari del traumatico e sconvolgente finale. Si tratta di una serie tv che, stagione dopo stagione, ha colto l'interesse del pubblico con la narrazione di avventure pregne di un forte spirito di sopravvivenza.
Si nasconde altro dietro questa, solo apparente, dinamicità e che va al di là della difficile quotidianità che i protagonisti sono costretti a vivere. Si tratta di una catastrofe che ha lo scopo di far nascere un dubbio e di consegnare un'analisi della mente e dell'uomo in chiave decisamente moderna.