Forse non tutti sanno che fuori dal set Emilia Clarke e Jason Momoa sono molto amici. Anzi ultimamente hanno passato una serata insieme in un pub ricordando i bei vecchi tempi. Inoltre, forse non tutti ricordano le dichiarazioni della Madre dei Draghi in merito al suo bel Khal Drogo. Vi spieghiamo subito cosa siamo andati a scovare: in una intervista è stato chiesto ad Emilia Clarke perché i personaggi maschili non ricevessero un nudo integrale in Game of Thrones compensando i nudi femminili che si sono sempre visti.
Ma in realtà Emilia dalla sua prospettiva ha visto il nudo integrale di Jason: "Oh, l'ho visto. Ho visto il suo membro, ma era coperto da un calzino rosa soffice. Mostrarlo avrebbe fatto stare male le persone, è troppo favoloso. Non so perché non ci sia più nudità maschile. Ma vorrei ricordare Mr. Michiel Huisman [Daario Nahris] la prima volta è iniziata con me che dicevo "Togliti i vestiti" e con il suo sedere perfetto.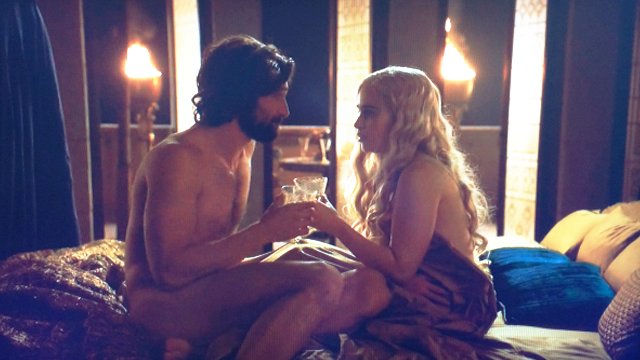 Sì, beh è difficile dimenticare quella scena. Effettivamente, una vecchia statistica ci suggeriva che Game of Thrones è visto dal 40% per un pubblico femminile. Emilia si dice contenta di questa statistica perché nonostante "sangue, tette e draghi" le donne rimangano affascinate dalla trama: dalla lotta di potere soprattutto sé al potere ci sono delle donne. E proprio due donne forti come Cersei e Daenerys sono quelle a contendersi il Trono di Spade, in attesa che Bran riesca a dire a Jon la verità.
Emilia Clarke in questa intervista rappresenta tutte noi, solo che lei ha avuto la fortuna di girare con Momoa e ! Ma voi eravate a conoscenza di queste dichiarazioni piccanti da parte della nostra amata Madre dei Draghi?