Attenzione, nel seguente articolo sono presenti spoiler su: La Casa de Papel, Una mamma per amica, Stranger Things, Riverdale, The Walking Dead, The Flash, Orange Is the New Black, Grey's Anatomy, Twin Peaks, Supernatural, Nip/Tuck, 13 Reason Why, Sex and The City e Dawson's Creek.
L'amore non è bello se non è litigarello: passionale, movimentato, sofferto, leggero, eterno o breve. Al canonico proverbio si possono aggiungere un'infinità di varianti. Ma c'è un aggettivo che stona al fianco della parola che fa girare il mondo: noioso. Alcune coppie delle serie tv le abbiamo amate. Ci hanno fatto sognare e appassionare per stagioni intere o solo per qualche episodio. Ma altre, come ad esempio Tokyo e Rio de La Casa de Papel ci hanno davvero stufati, riuscendo a non suscitare nemmeno nei più inguaribili romantici tra noi emozioni e sospiri.
Oggi dunque scaleremo insieme la classifica delle 15 coppie più noiose delle serie tv.
15) Lane e Zack (Una mamma per amica)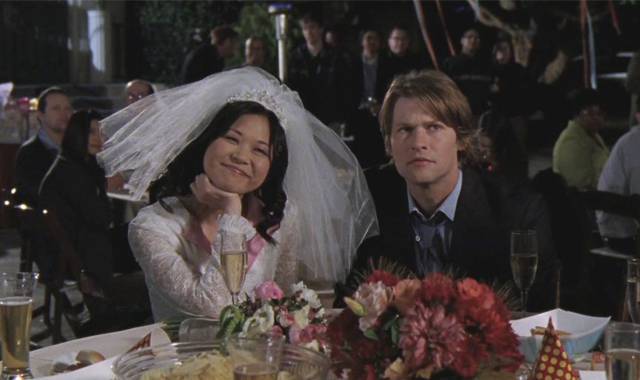 La relazione tra Lane e Zach in Una Mamma per Amica ha incontrato molti ostacoli e nel superarli si è rafforzata. È innegabile che il loro fosse un rapporto solido e ben strutturato, di quelli destinati a durare contro ogni avversità. In questo articolo però non parliamo di solidità e sicurezze: parliamo di chimica, parliamo di emozioni. Durante i primi approcci tra i due era davvero difficile non desiderare di vederli insieme, ma quando la storia tra i due compagni di band è iniziata, è stato difficile non sbadigliare durante quasi tutte le scene della loro storyline.
In soldoni, dopo poco dall'inizio della relazione tra i due, io ho iniziato a tifare per la Signora Kim!