La storia di Jane the Virgin, capitoli 23-44.
Ovviamente, spero che stiate seguendo @RogelioDeLaVega #Rogelifan #TeamJane #TeamRogelio #TeamMichael #Brogelio #Father-Zilla-of-The-Bride.
@IAMNOTROGELIO per le twitterwars.
Dice il narratore:
"Here we are! After the mother of all love triangles, Jane finally chose Michael.
And the wedding was supposed to be in the Villanueva house, only it flooded!
So Rogelio rebuilt the house, on the sound stage of his telenovela. Sweet, right?
Not as sweet, Xiomara slept with Rogelio's nemesis, Esteban. And poor Rafael, you see, he lost Jane.
Oh, and his mom turned out to be crime lord, and his step-mother Rose is one too!
Or, she was.
Yep. That's Raf's sister Luisa, and well, Rose was the love of her life. Until she met Michael's partner, Susanna.
And Speaking of complicated love lives: Rafael's other baby mama, Petra, still has feelings for him.
And her long lost twin, Anezka, was encouraging her.
Oh, and Anezka is also epileptic.
And honestly there are a million of other things happening, but we have a wedding to get to already, so let's go!"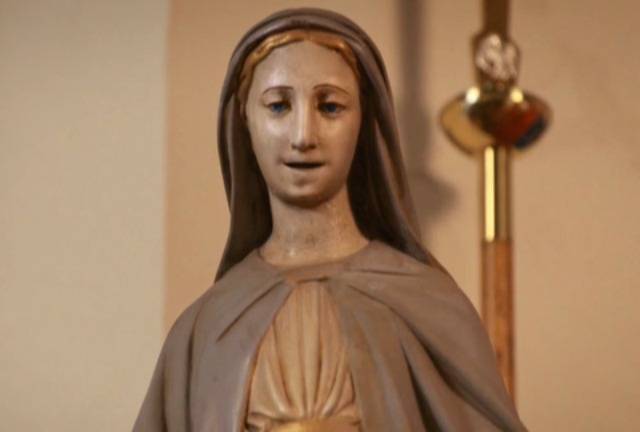 Ora, note sulla seconda stagione di Jane the Virgin:
Ave al ritorno della spilla-usb.
ps. altri episodi sfacciati nel pubblicizzare che ricordi? Uno molto peggiore in Cougar Town, dove Bobby Cobb incontra Jill Werner in trasferta da Suburgatory, di certo.
Le suore sembrano sempre pinguini, eh?
Michael & Rogelio sono così teneri!
Essere sposati da Chad Michaels non è una cosa brutta, anzi! È un grandissimo onore essere sposati da lei!
Toot agli addominali di Rafael. Li porta benissimo.
Come parlare di un triangolo? Bachelorettes, ovviamente!
Mateo abuelo non è niente male!
"What the *campane della chiesa che suonano*"
I diari di Rogelio! "Burn the diary"
Il miglior rimedio contro il peso preso in gravidanza? Contraccettivi.
Jane ubriaca è divertente, ma Jane da piccola che balla Nelly "Hot in Herre" è dolcissima.
Come spiegare Scientology senza sembrare completamente scemi? Difficile, molto difficile.
Continua il trend del raccontare a Michael i propri dettagli sessuali, specie se coinvolgono Rose. (2×4- 26)
Altri trend che continuano? Rafael emoticon.

Una espressione, una emozione, una condivisione. Con 140 di queste Kyle MacLachlan può raccontare la storia di Dune?

Heidi ha una pessima tempistica nel fare sesso.
Britney vs Rogelio. Una faida epica. Adoro Britney ma sopratutto le ballerine al suo seguito che le fanno da coro con tanto di sound effect quando si muovono.
"That's now 3 children for Rafael, and zero sex". E il narratore oramai si bulla degli avvenimenti, eh?
Chi pulisce le camere d'albergo nell'hotel di Rafael e Petra? Un morto in vasca da bagno e nessuno nota nulla?
Un uncino e una benda sull'occhio destro. A Magda manca un pappagallo.
Sempre felice per ogni riferimento a Mad Men ovunque, sopratutto qui. (2×7-29)
Dubbi sul guardaroba di Rafael: oltre al rosa, al blu e al color pesca, ha camicie di altro colore?
Rafael ha davvero sfortuna con le madri.
La rivolta di Stonewall! Un po' di storia lgbtq, finalmente, anche se non ci sono neanche lontanamente drag queen nere a sufficienza.
Anche se ogni volta penso a Liz Lemon, che Xo non voglia figli e Rogelio sì è davvero un dealbreaker e vederli correre verso una separazione che entrambi sanno avverrà è davvero triste.
#mansplaining ah… dare a Rafael alcune delle battute più saccenti, passivo aggressive, paternalistiche e condiscendenti verso una donna e sottolinearlo. "Are you serious with that crap?" Grazie, Petra.
Sempre in scia "importanti affermazioni femministe mollate là come parti integranti di questo mondo" c'è la lite tra Xo e Alba:

"I did not sleep around mom , do not make me feel like a slut!"
"Eso no es lo que estoy haciendo"
"You are. Like you always have. And I am not. I am just a normal woman who enjoys having sex and you made me feel like crap about it for my entire life. And that's why I'm so pissed"
La serie chiude anche la discussione con Jane, che esplicitamente difende la madre con "She's right, Abuela". Anche le scuse di Alba sono belle.

Petra nel capitolo 36 è il mio mito.
Rogelio è un po' troppo a suo agio con il mostrare il suo corpo nella sauna, eh?
Sweet Lady Jane!
Mateo is the shadiest baby ever! Love it! Love it! ("Daddy!")
"God is not sexy." #Rogelifan #Rogelioisalwaysright #chapter40
Charo!
Rogelio il sindacalista! #RogelioDeLaLabor
Tutti in bus per il finale di stagione!
Siamo tutti felici e infelici per i colpi di scena finali, ma la più grande storia d'amore mai raccontata è quella di "The Princess Bride", prego e tante grazie.